Chakan the Forever Man Glow Version
The Yetee Exclusive

Chakan the Forever Man Glow Edition
Item No.: No. n/a
Manufacturer: Toy Pizza
Includes: 2 swords, 1 scythe, 1 knife
Action Feature: Glows in the Dark, removable/swappable limbs
Retail: $22.00
Availability: October 2019
Other: If you're going to get an undead warrior, get the glowing one.

PREVIOUS
RSS
NEXT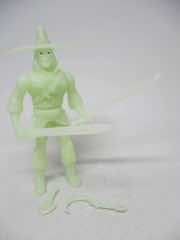 Known to some as a comic and many as a Sega Genesis game, this is not a character which many expected to see as a toy in 2019. Chakan the Forever Man Glow Version is one of no fewer than four versions of this long-running but not necessarily well-known undead swordsman from beyond. The mold is new for 2019, and so far we've seen a few nifty editions.
The 4 3/4-inch figure is often labeled as 3 3/4-inches, but he's taller. This figure is more in line with a lot of 1990s figures, very tall for the larger world of Glyos characters. Chakan towers over the Desert Rat by almost an entire head - not counting the tall hat - making this one of the bigger Glyos-compatible figures. Articulation is more or less standard, with 10 points of articulation, all of which are Glyos pegs except the neck. That's a ball joint. The hat is non-removable, and while you can swap parts with other Toy Pizza (and Glyos) figures they're a little big to fit well with everybody. They do fit, though.
Construction is similar to other Toy Pizza figures, except there's an added "belt" piece which provides the lower coat area. You can pop this part off if you like - this helps him sit. The figure has no problems standing, and it's worth noting his hands grip the weapons tightly. Chakan includes two big swords, a hooked scythe, and a smaller dagger thing. I don't know my weapon names, but they're good and more than you need.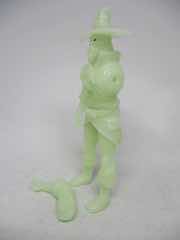 This particular Chakan comes cast in glow plastic with painted black eyes. It's not too fancy, but when you want a glow figure you want a lot of visible, bare glow plastic. This one gets the job done nicely, and if there needs to be a second edition they could always give him a green painted face or some other highlight. I'd rather they not. This is more or less perfect - although it is hard to make out details like the hourglass on one of the swords, or the weapons on his bandolier. Glow plastic may be gorgeous, but it gobbles up all the hard work and sculpted detail that clearly went into this figure. You'll want the painted versions if you really want to appreciate the hat's folds, the jacket's creases, and the subtle fringe of the boots. Here, it all just melts into that ghostly glow in the dark plastic.
I remember reading a lot about the Genesis game as a kid, before finding a copy for $1.50 at a Best Buy as 16-bit video games were going out of style. It's kind of remarkable to be getting a figure nearly two decades after I found the game on clearance, and it came in a plastic tray for packaging. It's nothing too fancy, but it's protective and gets the job done. Take note, other indie toy people, this is definitely cooler than a plastic bag. If you have $22, get this while you still can.
--Adam Pawlus
Additional Images


See more Toy Pizza figures in Figure of the Day:
Day 1,522: Toy Pizza Knights of the Slice Integer Knight Action Figure
Day 2,073: Toy Pizza Desert Rat LRDG Version Action Figure
Day 2,088: Toy Pizza Mikros Set BLT Version Action Figures
Day 2,114: Toy Pizza Regen Capsule Carrying Case with Lime Material Boy Action Figures
Day 2,118: Toy Pizza Forest Capsule Carrying Case
Day 2,123: Onell Design Glyos Rift Renegade Construct
Day 2,129: Toy Pizza Rift Killer Cola Action Figure
Day 2,160: Toy Pizza Chakan the Forever Man Glow Version Action Figure
Day 2,176: Toy Pizza Zoner Capsule Silver Vehicle Mode
Day 2,186: Onell Design CyMa Queen Kirallius
Day 2,187: Toy Pizza Meteor II Action Figure
Day 2,305: Creative Beast Beast of the Mesozoic Glow-in-the-dark Dinosaurs Zuniceratops Action Figure
Day 2,519: Toy Pizza Knights of the Slice Frankenslice Crowkin Action Figure
Day 2,531: Onell Design Glyos Rift Killer Grayvec Action Figure
Day 2,551: Toy Pizza Zoner Capsule GITD Vehicle
Day 2,555: Cappy Space Guardian Diver Action Figure
Day 2,571: Toy Pizza Noir Knight and Apotheosis Capsule Set
Day 2,607: Toy Pizza Green Ghost Capsule Carrying Case

Click here to see more Glyos Compatible figures in Figure of the Day.