Lost Sincrodrone Beta
Red, also sold in blue and orange

Glyos System Series
Item No.: No. n/a
Manufacturer: Onell Design
Includes: Propeller, drill, tons of bonus parts
Action Feature: Pops apart, customize it if you dare
Retail: $15.00
Availability: January 26, 2020
Other: A pretty good figure and a lot of extra parts and pieces

PREVIOUS
RSS
NEXT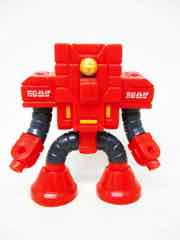 This Lost Sincrodrone Beta arrived on a particularly cold day - and that's important. Early Glyos releases sometimes needed to be warmed a bit so the plastic had a bit more "give" to it so you could swap parts - and this new set of parts requires some heat. I had to dip the lower torso in warm water so the legs could be inserted. The body block piece is very tight, and fitting stuff in there is initially difficult - but not impossible, if you've got a cup of boiling water.
Sold in three colorways with three configurations in its January debut, I got the red one because it reminded me of a figure I always wanted and never got - Adventure People Opticon. The feet could also be used as heads, the hands have ports for included weapons and gadget accessories, and the "eye" is a big orange dot with this absolutely wonderful mouth plate that looks like it could move so he could talk. It's not often you get a toy that looks like it could speak back to you, but this is one of those precious few that seems like you wouldn't have to change a thing to make a convincing animated model of it.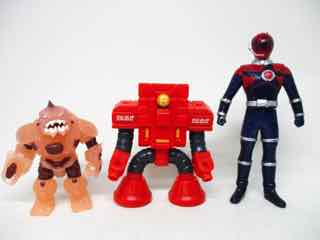 16 parts make up the core 3 1/4-inch robot is a weird gem. The body block is solid and heavy, in a "this will hurt if I fling it at your skull" way. The legs are tough to plug in to the lower body, but they pop out easily - take care when playing with it. The feet are connected by pins to the hose-like legs, giving this figure more articulation than is worth counting. It stands nicely and the hefty foot pieces help keep him upright when you have him tilting over or flailing his arms. It's a good design. I love the typical panel lines you see in most Glyos figures, but there are lots of bonus boxes and lights and other bits that the designers can paint to make countless variations using and reusing these same parts for years. There's a Transformers Shockwave-esque eye pattern on top of the head which could be visible if you rotated it properly, and each side of the body have multiple recessed elements that could be decorated to make a "face" of sorts. This one uses an orange piece and a red piece to make an eye and a mouth, and of course the arms are the arms. There's no magic there, it's just a good reuse of existing limb pieces.
If you need more parts, you've got a couple of pins, a Nazgar brain head, the propellor blade, and the drill. They're all a tight fit in the body.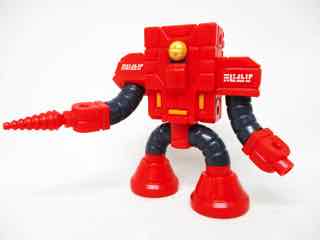 I hope Onell Design and ToyFinity both make good use of these parts and configurations in the future. It's not a completely new figure, but a new body and head are enough to make the existing limbs even more useful for a longer period of time. What's not to love? You can add fans or drills or other gizmos to him, or anything else in your Glyos toolbox. If it comes up for sale again, at $15, it has plenty of heft to it. Just be prepared to heat it up before assembling it.
--Adam Pawlus
Additional Images


Click here to see more Onell Design figures in Figure of the Day.
Click here to see more Glyos Compatible figures in Figure of the Day.