Autobot Grapple
WFC-E10

Transformers Generations War for Cybertron Earthrise Voyager
Item No.: Asst. E7121 No. E7164
Manufacturer: Hasbro
Includes: Blaster, claw, nozzle hand
Action Feature: Transforms from Robot to Crane
Retail: $29.99
Availability: February 2020
Other: Autobot Grapple again, again

PREVIOUS
RSS
NEXT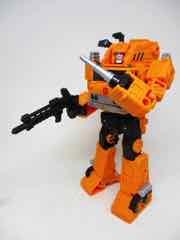 When Earthrise came up at Toy Fair this year, before the dark times, before the plague, I would cite Autobot Grapple as the benchmark of if you'll like this line or not. My feeling was that this figure was the best example of what you should buy to see if you'll like this line - it was effectively a simplified mini Masterpiece toy with tons of articulation for about thirty bucks.
I've heard there are some issues with the pegs related to transforming the toy, but mine did not seem to have this problem.
The 6 1/2-inch figure more or less grafts the design from the cartoon with the original 1984 toy. Hasbro and Takara-Tomy opted to give him the orange cartoon head rather than the toy (and occasional episode) black helmet, which makes sense as Takara-Tomy tend to favor the animation models. With about 22 meaningful points of articulation, it's a sturdy robot with great interaction with his accessories. Both fists flip around to give you 5mm sockets, so you can plug in the nozzle or the new claw arm. These accessories can also be stowed on the crane backpack. The nozzle was so nicely integrated it was fun to discover it was a bonus accessory and not just sculpted detailing.
The orange head can rotate in its cradle, which seems to prevent a lot of visibility but we're not here to dump on 36-year-old toy designs. No, we're going to say it's great to have the gear but it's unfortunate we lost the chrome and spring-loaded rocket fists in the era of choke hazards and contagions. Tilting ankles and tight joints allow for a number of poses, with the added claw arm giving the figure some more fun opportunities for play. There's a connection point hidden in there for the A.I.R. Lock System, so if you want to have him tow a playset or connect to a ramp, you can. Would you want to? I have no idea. I'm just impressed at the articulation and transformation for the price point.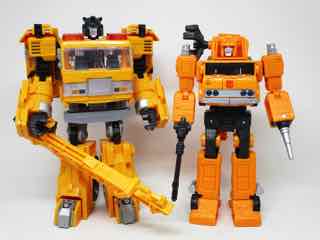 Transformations is pretty simple, and not unlike the toys from 2003's Energon line, you've got this whole assembly to detach along the figure's back to get the vehicle mode in place. The arms are the side of the vehicle, the feet are the rear, and the backpack is the crane. You can store all the gear on the sides with the 5mm pegs, too.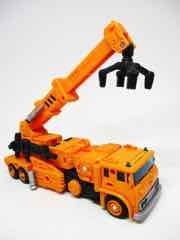 While most Transformers offer minimal play value as toys when it comes to their vehicle modes, Grapple does some stuff. The front tires - but not wheels - rotate, while the back wheels spin like you'd expect. The crane telescopes, and the hook can be rotated to allow you to attach other accessories. The claw can be used too, allowing you to tow or carry or otherwise interact with the aforementioned A.I.R. Lock elements. It's also bright orange with clear blue windows, making for a visually striking little (but not too little) vehicle. The toy is also peppered with 3mm pegs for the fireblasts if you have any of those sitting around.
If you like Grapple, this is as Grappley as they come. If you missed the G1 toy but have a vague memory of it, this is going to scratch that itch just fine. I missed the Masterpiece Edition of this toy - I'm cheap! - so this was a top-notch replacement. It doesn't take long to transform, it's easy to fidget with, and it has a new claw accessory that actually serves some limited purpose. I guess all that's left is to wait for the inevitable retool as Inferno, but while we wait for the big red fire engine I'd say go ahead and give Grapple a shot. It's a successful toy for a character you probably forgot about ages ago, and if this is the benchmark for future releases it's going to be a real blast to collect these things between now and the time the nostalgia snake finally gobbles its own tail and ends the fun.
--Adam Pawlus
Additional Images

Click here to see more Hasbro figures in Figure of the Day.
Click here to see more Transformers figures in Figure of the Day.

Want to buy this figure? Check Transformers availability at our sponsors:
Entertainment Earth