Xenomorph Runner, Planetary Rover Bike, and Weyland Commando
Clever reuse of old molds plus a new alien

Alien Collection Walmart Exclusive
Item No.: Asst. ??? No. 31304
Manufacturer: Lanard
Includes: Bike, human, alien, blaster
Action Feature: n/a
Retail: $9.87
Availability: January 2020
Other: Weird but good

PREVIOUS
RSS
NEXT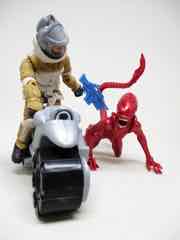 I spent a good amount of time in January tracking down the Alien Collection line, like this weird little Xenomorph Runner, Planetary Rover Bike, and Weyland Commando Action Figure Set. It's a lot like Hasbro's Star Wars Battle Packs, where you got about 4-5 figures for $20-$25 - except now you get two figures, an extra-large accessory, and a blaster for about $10. Given the ratio of new bits to old bits, it's probably worthwhile but it's also a little strange.
Drawing inspiration from Alien 3, this set delivers the kind of licensed product with bootleg-looking-madness you can only expect from Lanard. Their commitment to low prices and the immortality of its production tools mean you get a pretty nice new alien figure along with a human mold from at least the early 2000s and a bike from the late 1990s. It kind of works - if you were the kind of kid with a lot of Kenner toys and you were fond of the notion of mini-rigs, this is probably one of the greatest things ever. If you got ten bucks burning a hole in your pocket, run to the store and get one of these sets.
Our human pal showed up - it seems - as early as 2005, and was used to make a dude in a blue bomb squad suit, a guy named Ogre around 2015, and now a Weyland-Yutani Commando. If you squint. His construction is like the ca. 2002 T-crotch G.I. Joe figures from Hasbro, durable and sturdy without a great range of movement. The coloring is pretty darned close to the costume as made as a NECA figure, giving the figure a look of a cheap backyard cosplayer. It's charming - I assume kids that only saw the movie once wouldn't know the difference, and it's not like Kenner's 1990s Aliens or space marines were all that close to the films.
Our trooper has a scar over his right eye and a paint job that's good for the price. By no means is it amazing - but with his blue pretend-it's-a-pulse-rifle, it'll do fine. It's weird.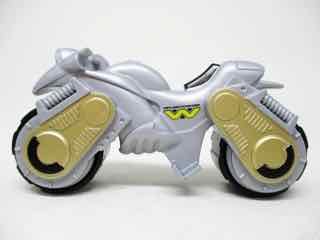 The bike doesn't work too well with the figure, as the limbs don't quite align with the foot pedals or hand grips. You can fidget it and stretch it to make him fit, but this bike might be better enjoyed by your other figures. As a leftover from the roughly 1997 Star Corps line, it somehow manages to look like a distant cousin or flea market knock-off of something you could've seen off-camera in Prometheus. The giant tires with huge treads spin fairly well, with the grey bike augmented by Weyland-Yutani stickers - and a barcode. It's charming, and it feels on-brand. It's not a great toy for this set, but you might enjoy using it with other, better-articulated 3 3/4-inch figures. This vehicle feels like it could hold up to some heavy abuse in the sand box, so if nothing else it's a sturdy plaything. Just not the best one for the figure in this set.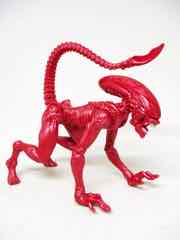 Lanard's "dogburster" or Xenomorph Runner is the selling point of this set. He's big - he might fit in with your old Kenner figures from the 1990s, and he's a weird gem of a figure. The bright red - almost pink - figure is metallic with swirls in it, which is a) gorgeous and b) the kind of thing that scares me for the long run. Swirly plastic has been known to have issues over time, and sometimes you hear they fixed it and sometimes you hear new toys crumble into dust. With 14 joints, this is a clever design - the neck, tail, and fists are all ball joints with the full range of motion. The elbows and shoulders bend-and-swivel, with the hips merely only swiveling. The range of movement is really good here, and the neck can look up and down which allows you to really make the most out of all those leg joints. You can pose this guy all kinds of ways, as long as the way is on all fours.
There's not much paint beyond the main teeth, but the sculpting is really good - lots of ridges and wrinkles, the bony exoskeleton, and the toes are all put together surprisingly well. It certainly brightens up a shelf with a shining, gleaming dome on the head and a color you don't get much on Xenomorph toys. I'd probably have gladly paid $10 for just this figure alone - it's nice I didn't have to do so.
Back in the 1990s - and rarely in the 2000s - you could pick up a figure for five bucks and have a little fun. That's increasingly rare, and even with the figure and vehicle compatibility issues you'll probably have $10 worth of fun in this boxed set. As a clever reuse of old parts for a license that no child probably wants to buy these days, I'd encourage you to pick it up just because Lanard had the guts to try something really weird - and somehow convince Walmart to buy it as an exclusive. Splendid and worthwhile, I can safely say there's not much else like this in the toy world today.
--Adam Pawlus
Additional Images

See more Lanard figures in Figure of the Day:
Day 1,912: Lanard Rampage The Movie Big City Brawl! Lizzie
Day 2,065: Lanard Primal Clash Mammoth with Shrapnel Action Figure
Day 2,167: Lanard Alien Collection Alien Queen Action Figure
Day 2,171: Lanard Alien Collection Xenomorph Drone, Egg & Facehugger, and Research Scientist Xenomorph Swarm Action Figure Set
Day 2,173: Lanard Alien Collection Advanced-APC Vehicle and Colonial Marine Sargent Xenomorph Attack Action Figure Set
Day 2,175: Lanard Alien Collection Xenomorph Runner, Planetary Rover Bike, and Weyland Commando Action Figure Set
Day 2,178: Lanard Alien Collection Power Loader, Colonial Marine, and Warrior Alien Xenomorph Attack Action Figure Set
Day 2,274: Lanard Toy Alien 7-Inch Drone Xenomorph Action Figure
Day 2,278: Lanard Toy Predator 7-Inch Jungle Hunter Predator Action Figure
Day 2,286: Lanard Toy Predator 7-Inch City Hunter Predator Action Figure
Day 2,292: Lanard Toy Alien 7-Inch Warrior Xeno Action Figure
Day 2,308: Lanard Alien Collection Xenomorph Warrior, Rotating Sentry Gun, and Colonial Space Marine Xenomorph Swarm Action Figure Set

See more ALIENS figures in Figure of the Day:
Day 195: Kenner ALIENS Arachnid Alien Action Figure
Day 234: Kenner ALIENS Scorpion Alien Action Figure
Day 250: Kenner ALIENS Panther Alien Action Figure
Day 256: Kenner ALIENS Gorilla Alien Action Figure
Day 261: Kenner ALIENS Bull Alien Action Figure
Day 285: Kenner ALIENS Hive Wars Warrior Predator
Day 317: Kenner ALIENS vs. Predator 10-Inch Alien Action Figure
Day 359: Kenner ALIENS Hive Wars Acid Alien Action Figure
Day 365: Kenner ALIENS Vasquez Action Figure
Day 381: Kenner ALIENS Action Masters Ripley
Day 397: Kenner ALIENS Mantis Alien
Day 792: Super 7 ALIEN SDCC Exclusive Sales Samples
Day 821: Super7 x Funko Alien ReAction Ripley
Day 844: Super7 x Funko Alien ReAction Dallas
Day 852: Super7 x Funko Alien ReAction Alien
Day 857: Super7 x Funko Alien ReAction Kane in Space Suit
Day 861: Super7 x Funko Alien ReAction Ash
Day 1,149: Super7 x Funko Alien Egg Chamber Action Playset
Day 1,183: Super7 x Funko Alien ReAction Alien (with Metallic Flesh)
Day 1,199: Super7 x Funko Alien ReAction Ripley (Spacesuit)
Day 1,272: Super7 x Funko Alien ReAction Kane (Chestburster)
Day 1,277: Super7 x Funko Alien ReAction Kane (Facehugger)
Day 1,324: Diamond Select Toys Aliens vs. Colonial Marines Figure Set
Day 1,327: Super7 x Funko Alien ReAction Nostromo Crew (Dallas, Kane, Lambert)
Day 1,656: Super7 Alien M.U.S.C.L.E. Set A
Day 1,676: Super7 Alien M.U.S.C.L.E. Set C
Day 1,686: Super7 Alien M.U.S.C.L.E. Set B
Day 1,693: Super7 Alien M.U.S.C.L.E. Set D
Day 1,846: Super7 Aliens M.U.S.C.L.E. Set E
Day 1,864: Super7 Aliens M.U.S.C.L.E. Set A
Day 1,884: Super7 Aliens M.U.S.C.L.E. Set D
Day 1,929: Titan Merchandise Alien vs. Predator The Whoever Wins Collection Scar
Day 1,985: Funko Pop! 8-Bit Alien Xenomorph (Video Game) Pop! Vinyl Figure
Day 2,163: NECA Aliens Classics Series Neomorph Alien Action Figure
Day 2,167: Lanard Alien Collection Alien Queen Action Figure
Day 2,171: Lanard Alien Collection Xenomorph Drone, Egg & Facehugger, and Research Scientist Xenomorph Swarm Action Figure Set
Day 2,173: Lanard Alien Collection Advanced-APC Vehicle and Colonial Marine Sargent Xenomorph Attack Action Figure Set
Day 2,175: Lanard Alien Collection Xenomorph Runner, Planetary Rover Bike, and Weyland Commando Action Figure Set
Day 2,178: Lanard Alien Collection Power Loader, Colonial Marine, and Warrior Alien Xenomorph Attack Action Figure Set
Day 2,179: Kenner Aliens Wild Boar Alien Action Figure
Day 2,274: Lanard Toy Alien 7-Inch Drone Xenomorph Action Figure
Day 2,292: Lanard Toy Alien 7-Inch Warrior Xeno Action Figure
Day 2,308: Lanard Alien Collection Xenomorph Warrior, Rotating Sentry Gun, and Colonial Space Marine Xenomorph Swarm Action Figure Set
Day 2,554: Super7 Alien UCCSS Nostromo Action Figure Set 1 with Kane with Facehugger, Ripley with Jonesy, Ash with Removable Head