Rotorstorm
WFC-GS19 - Shared Online Exclusive

Transformers Generations War for Cybertron Trilogy Selects Deluxe
Item No.: No. E9691
Manufacturer: Hasbro
Includes: Blaster
Action Feature: Transforms from Helicopter to Robot
Retail: $19.99
Availability: September 2020
Other: Spinister redeco with a lot of cockpit

PREVIOUS
RSS
NEXT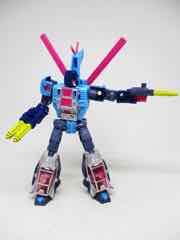 One of the Wreckers, made out of a Decepticon! Rotorstorm made for quite a confusing story - Hasbro revealed the toy with Spinister's head in different colors, leading to confusion when the product copy explicitly called out a new head based on the IDW comics. The final toy, as you can see, does indeed come with a comic-based head - what a strange thing to happen with a sample! Added bonus tale - in some price sheets the toy was mislabeled as "Ratchet" which, as of now you know was not a Selects release as a single figure.
The toy has the same basic functionality and weapons as Siege Spinister [FOTD #2,156], but is colored to look like the late-G1 Autobot. Is it worth it? Yeah, pretty much - all-new tooling is unlikely these days for second- and third-stringers.
Click here to check availability at Entertainment Earth.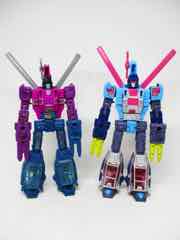 As a robot, he's big! Hasbro has been gradually putting out toys of the members of the Wreckers from the comics - and there have been quite a few in recent years. Just since this new War for Cybertron line started we got Springer and Impactor, and while we got a Sandstorm it wasn't the Autobot. It's a slow squad build, but Hasbro seems pretty good about putting out a few every couple of years - and there's plenty of opportunity for more.
The 6-inch robot is tall for a deluxe, plus loaded with articulation like double-jointed wrists and rocker ankles. I found Spinister held together a bit better, Rotorstorm's feet popped out without too much of a fuss. I loved that the figure's articulation rivals an average Marvel Legends toy, with largely unobstructed limbs and even a swivel waist. 28 points of articulation is rare for the robots in disguise, but this one pulls it off without useless joints to boost the numbers. There's no reason to give this mold swivel wrists, but Hasbro did!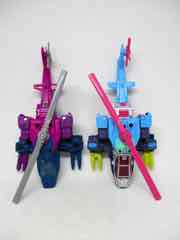 Transformation is a bit fiddly, getting the robot legs to tuck in with the arms folding up and tabbing into the panels and the feet can cause you and the plastic a lot of stress. I'd recommend using the instructions but you may need to rotate parts of the legs a bit more to get the pieces to actually fit together. Due to the paint, some areas are a little tight down there - but when you finish, you get a decent helicopter.
The chopper has spinning blades and you can mount on some guns - and that's about it. This means it actually does something, and does it well - most of the cars have rolling wheels and not much else. It's very stable once put together, and I love the colors - the clear pink of the window glass, the shiny silver, and the baby blue all come together to make a toy that's about as 1992 as you could get.
If you like UK Turbomasters, comic characters, Wreckers, or that late-G1 look this is the toy for you. I doubt we'd get an all-new mold for this guy, but at least they used a good mold to make him. It looks like the money went to the head and paint for this one, and it's hard to complain about colors that make the vents on the torso pop or bring out the ridges on the blasters. It makes a better robot than a fun puzzle conversion, but these repaints are probably going to be action figures or display pieces for adult fans - so if that's you, go ahead and pick one up if the price is right.
--Adam Pawlus
Additional Images

Click here to see more Hasbro figures in Figure of the Day.
Click here to see more Transformers figures in Figure of the Day.

Want to buy this figure? Check Transformers availability at our sponsors:
Entertainment Earth