Decepticon Mirage
New Deco!

Transformers Generations War for Cybertron Trilogy Walmart Exclusive Netflix Deluxe
Item No.: Asst. E9489 No. E9502
Manufacturer: Hasbro
Includes: C-20 Electro-Disruptor Cannon, W-15 Armor-Piercing Rocket-Dart Launcher, missile, Teletraan-1 backdrop piece
Action Feature: Transforms from Robot to Cybertronian Race Car
Retail: $19.87
Availability: April 2020 (February 2020 at Toy Fair)
Other: C.O.M.B.A.T. effects sold separately

PREVIOUS
RSS
NEXT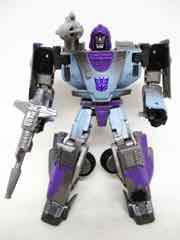 While I have largely trotted out "just different enough to make you mad" as a descriptor for the Netflix-inspired series of toys, Decepticon Mirage is a gem. A dirty, battle-damaged gem. According to Hasbro's copy the figure has "51 deco ops" - let's just say that's accurate, I'm not sure how it is counted. The excellent mold from Siege is rendered here in opaque grey and black plastics, but lovingly coated with paint. I've bought some really good customs here and there, and this figure is proof Hasbro can also do something on that level if they want. Nearly every visible piece of plastic - except the weapons, or elements mostly on the back or bottom - have grime, cracks, or other indications that someone just shot Mirage in 20 places.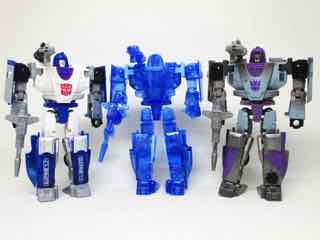 Like with Scrapface, this is another one that looks superb. While Scrapface looked more like a custom art piece, this one just looks like one of the higher-end paint jobs we've seen from Hasbro. The grey primer-ish color does absorb some of the sculpted detail, but that's OK because there are oil stains and grime and other bits you'll look at instead. The clear blue version absorbed almost all sculpted (and sadly painted) detail, while the first painted release did a good job ensuring you saw all the work the figure had put into it.
Because it's such a break from tradition, I'd say it's essential. The yellow eyes, purple helmet, and overall ruined look of the figure isn't the kind of thing we usually get from Hasbro or Takara-Tomy. Sure, we've had clear figures, and black repaints, and a few with some cheesy "energon crackles" - but fully- or mostly-painted figures are a scarcity. We still see some bare plastic here, but not a ton. Previous toys with "premium" paint jobs have some extra metallic sheen, or a few extra paint applications - but weren't this good. For better or worse, we've seen more expensive items and exclusives that weren't anywhere near as amazing as this fairly cheap retailer exclusive. Hasbro set the bar higher than they probably should have - I'd be keen to see more toys with paint like this. Had Hasbro done up Chromia in this fashion we'd all be running out to get one, rather than looking at her and going "Well, I guess this is different enough and I would like that Teletraan-1 piece!"
The mold is good too - with 22 points of articulation, give or take, there's a lot here to ensure you can pose him fairly well. There are, of course, better figures with superior joints, but they usually are larger and cost more. It would be nice to have swiveling wrists, but rocker ankles are just fine by me.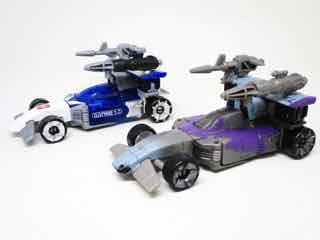 As a car, it's a car! We don't get enough Decepticon cars, and maybe we still don't as we don't know Mirage's full deal yet. You can see artificial paint chips all over with no clear bits and no rally marks or brand logos. It's... well, not clean, but certainly devoid of wordage. The wheels roll nicely and have silver spokes, the "window" is painted silver, and you can find all sorts of greasy stains over the mostly purple body of the car. It's grimy and I love the colors. You can mount weapons on the spoiler, and like most cars, it doesn't do much else. At least it looks cool!
This figure stood out the most when I was at Toy Fair back in February - when I saw the assortment in the gift bags, I was hoping I'd get Mirage! (Nope, it was Sideswipe.) The figure is so wildly different than the other ones I almost wish they just gave him a new name and called him something else - new characters based on old molds are a fun addition to expanding the story. If you only get one of the five deluxe Netflix figures, make it this one.
--Adam Pawlus
Additional Images

Click here to see more Hasbro figures in Figure of the Day.
Click here to see more Transformers figures in Figure of the Day.

Want to buy this figure? Check Transformers availability at our sponsors:
Entertainment Earth