C-Ps&Qs
Pals with R-Toolio

Glyos Nemo's Factory x Cappy Space
Item No.: No. n/a
Manufacturer: Nemo's Factory
Includes: 2 bonus heads
Action Feature: Pops apart, customize it if you dare
Retail: $14.00
Availability: November 2019
Other: Droidy

PREVIOUS
RSS
NEXT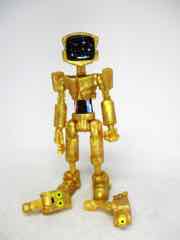 This is a gem. C-Ps&Qs was a D-Con 2019 debut which sold online later, and made use of the Nemo's Factory figure mold to make a gold robot that looks like another famous gold robot - sort of. The alternate heads are also nice - and you get three in all.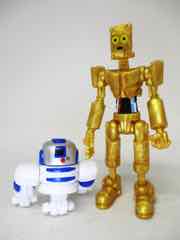 The 3 1/4-inch figure has a monitor head by default, and this time around it's covered in stars. It can also be removed and replaced on an alternate peg, giving a second face to your droid. Another head looks like a golden surveillance camera - complete with eye - while the last head is basically a flat surface with a smiley face on it. It just happens to remind people of C-3PO, while not even resembling the form - it's amazing what a little color can do!
The figure can be pulled apart at each of its parts, giving his body about 14 points of articulation. I love the little details - the sneaker-like feet, the wiring in the belly, even the pistons on the back of the leg do wonders when it comes to giving this robot a bit of its own personality, rather than borrowing on the one from the movies. One hand is a fist and another is open, which allows you to pose them fighting if you're so inclined.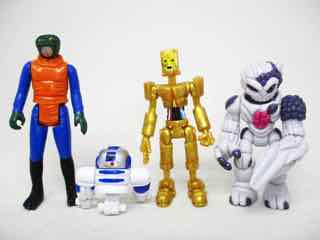 Nemo's original AV Robot has been sold in a few colorways, and you can see why it's been rather popular. It's big enough, the detail is great, and the extra heads do wonders when it comes to giving him a complete makeover just by changing one piece. The figure has no problems standing or sitting, but it may not be a good fit with a lot of your existing toy vehicles thanks to the scale being in between a lot of other existing action figures. I'd still recommend getting one - and I daresay, overpaying a bit for it if you are so inclined. It's a perfect tribute to a classic robot on the framework of a relatively new one, and I'm glad I have it.
--Adam Pawlus
Additional Images


Click here to see more Onell Design figures in Figure of the Day.
Click here to see more Glyos Compatible figures in Figure of the Day.