Megatron with Captive Pinpointer and Captive Lionizer
Fancy Paint Job with 2 Captured Battle Masters

Transformers Generations War for Cybertron Trilogy Walmart Exclusive Netflix Voyager
Item No.: Asst. E9490 No. E9500
Manufacturer: Hasbro
Includes: D50-R35 Fusion Cannon, HPR Telescopic Laserstrike Launcher, swoosh COMBAT effect, 2 blast COMBAT effects
Action Feature: Transforms from Robot to Car
Retail: $39.99
Availability: April 2020
Other: Better than I thought

PREVIOUS
RSS
NEXT

I saw Megatron with Captive Pinpointer and Captive Lionizer at Toy Fair and my reaction was "that's stupid, I don't need it." Which mutated into confusion when I thought, for some reason, the set had the Teletraan-1 pieces (it didn't) I figured I'd want to get it to assemble the backdrop and compare it to other releases - and it turned out it's pretty dang great. Megatron's paint job blows away the previous releases, and the two Battle Masters are significantly more interesting than their less-vibrant retail releases. If you missed these molds previously, or have a long-running collection, this is still a worthwhile set.
The Battle Pack tells a story in the names, with Megatron - seen here sporting a pretty lavish silver paint job over grey plastic, giving him a faux-weathered appearance that seems to just plain work, with "Captured Lionizer" and "Captured Pinpointer." Lionizer is the partner to Action Masters Rad, a toy from the first generation of toys that was given a nod in the form of Cybertron Smokescreen over 10 years ago. Pinpointer has previously been a Targetmaster partner to Crosshairs - a new version of which just came out last year - and Windblade over in Japan. If you happen to have those toys and are in need of extra accessories, they're exquisite matches. They also look nice as Megatron's unwilling armaments.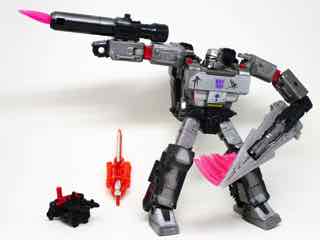 Megatron himself transforms in the exact same way, and the main reason to buy this version is the paint. A cel-shaded G1 version was sold at Walmart last year, and a standard battle-roughed release [FOTD #2,046] was sold back in 2018 and 2019. This still has some of that Siege splatter over his groin, but the rest of the toy has far superior sprays and brushings. The scrapes on the chest may not be perfect, but red highlights on the shoulders pop nicely as do the elbow markings. The face comes to life thanks to the silver paint, showing off the personality and sculpted detail that was completely obscured by the "Combat" Megatron head mold or the previous plain grey releases. It may not be a worthwhile upgrade, but for completists or people just wanting some version of this mold, it's excellent.
This all carries over to the tank, with Megatron's sword becoming the cannon and it generally looking like a tank. No complaints, no surprises.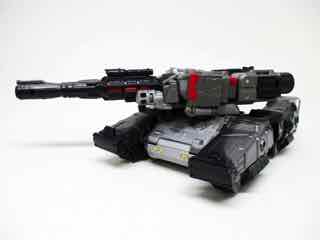 The weapon buddies are significantly different, with bright pink C.O.M.B.A.T. effects to match Ultra Magnus' Energon cubes. Lionizer is now red with a clear tail instead of the black and grey release from 2019. It's closer to the original toy, but not exact - after all, some of the colors are still different, and he's a sword now. Pinpointer's colors are a smidgen different but the red and black redeco of Firedrive that will go great with other toys you hopefully already bought. We sure haven't seen a Windblade lately and I assume Crosshairs is long gone from most stores. They're small and simple, but they're excellent companions for other toys.
As a gift set, the pricing is fine - you get two $6 toys and a $30 toy for $40. Walmart's exclusive bonus packs used to be a heck of a lot more impressive, but as an old fart collector I can see Hasbro had people like me in mind for this set. Putting in weapons for my older figures is always welcome, and Megatron is certainly improved and not merely "different." Granted, with 3 total versions of the Siege mold and at least one remold with Earthrise Megatron, we're kind of beyond needing more of it. It's still charming and probably the best of them so far, so if you see one while getting groceries and dodging diseases, go ahead and treat yourself.
--Adam Pawlus
Additional Images

Click here to see more Hasbro figures in Figure of the Day.

Click here to see more Transformers figures in Figure of the Day.

Want to buy this figure? Check Transformers availability at our sponsors:
Entertainment Earth