DeLorean Time Machine
with Marty, Doc, and Einstein

Back to the Future Set
Item No.: No. 70317
Manufacturer: Playmobil
Includes: Car, 2 human figures, 1 dog, plutonium, case, battery pack/electronics, remote control, skateboard, camcorder, watches, and a lot more
Action Feature: Hover conversion wheels, electronic lights, opening gull wing doors
Retail: $49.99
Availability: May 2020
Other: Lots of new toys from Back to the Future this year

PREVIOUS
RSS
NEXT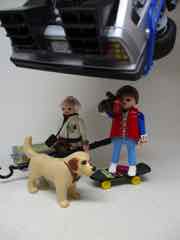 35 years on, the DeLorean Time Machine remains one of the quintessential automotive icons in cinema. The word "iconic" gets thrown around like it's going out of style, which it is, because it's so watered down that you hear it used referencing things nobody knows about. The representation of this car in this movie superseded the sordid tales of John DeLorean's own car company - and swept some of the dirt under the rug. Now the aluminum car is primarily known from being part of what may be the period piece of its decade. If you want to distill the 1980s down into a single movie, Back to the Future and its first sequel do a great job of showcasing our hopes, dreams, fears, fashion, entertainment, and disappointments.
Much like Ghostbusters Playmobil, this line is a bizarre choice for a preschool line. Designed for ages 6 and up, this "dadvertising" shows Playmobil following LEGO's lead on continuing to license things that appeal to the parents - and may inspire family movie nights where the kids can see the movie... warts and all. Pulling the car out of the movie is kind of brilliant - you can use it in your existing Playmobil cities, and it's compatible with nearly five decades of existing toys. Unlike some other manufacturer's excellent takes on the time machine, this one has "DMC" on the front grille and "DeLorean" stamped in the rear bumper!
It goes without saying that you should probably get one.
Click here to check availability at Entertainment Earth.
Toy lines for kids based on movies that may not be ideal for kids were a hallmark of the 1980s, and this probably fits that sort of ideal. The car itself is very good with a lot of features, and is priced similarly to Diamond Select Toys' excellent effort from over a decade ago - but it's smaller, and has no sounds. The front wheels don't roll as freely as the back due to seeming clearance issues, but there's a feature that makes me overlook this fault. The wheels can turn 90 degrees down for "hover conversion mode." You can also plug in the cable to grab the power line from the end of the movie to get the jolt of lightning, and it has seating for up to 2 figures - adult figures can drive, and kids or adult figures can sit in the passenger seat. The detail is excellent, with lots of snap-on cables, light-up elements, and details like the "DMC" logo so often missing from other collectibles based on this movie.
The electronics are impressive, but not robust - there's no sound effect. You get three modes of lighting - blinking, on, or off. The Flux Capacitor inside the car glows brightly and has the added benefit of making the dashboard look like it will glow. The blue cables also light up brightly, and if you're a parent you can also remove the electronic battery box completely if you prefer. It's not an option I often see on these toys.
What's missing? I would have loved more room to store the accessories inside. It's not really set for multiple passengers, a real DeLorean can seat four. Compromises have to be made for toys, though so unless Playmobil does a version 2.0 later you're not going to fit Einstein or Jennifer in the back. It assembles fairly quickly, and snapping on all the car bits is pretty easy.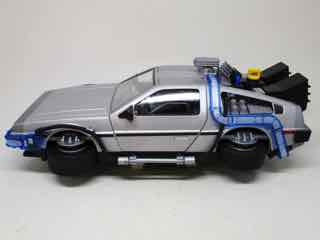 My one big complaint comes from the Plutonium Case - a fine accessory, but the stickers don't quite fit. This is almost unthinkable given Playmobil's labels have been the gold standard of being easy to apply straight and exactly the right size for decades. In this case, the yellow label is sickly translucent and not cut properly to fit the case on top. The side ones are fine - but again, the quality of these labels in particularly is poor given Playmobil's generally top-notch opaque sticker quality. The box itself is perfectly fine, with room to store some gear.
You also get a remote control for Doc, Marty's camcorder and skateboard, and a ton of Doc's other gear. Both figures have snap-on elements like Marty McFly's shirt sleeves and Doc's multiple watches. I love that you can plug in the plutonium can in the back of the car, but sadly the antenna from the movie's climactic trip back to the future has no storage space. It's just going to float around toy boxes and get lost unless you've got some fastidious young toy collector.
As always, the accessories always work - Doc has a bag to clip to his belt, Marty can film with his camera while on his skateboard, and there are a lot of parts and pieces to enjoy and/or lose here. For a few extra dollars it might have been interesting to see the set tricked out with Biff or George or a few other characters to make it even more complete. At this time, other than the 1950s Marty & Doc figure set, no other sets from the series are known to be planned for release - no Cafe 80s, no Clock Tower, no Time Train.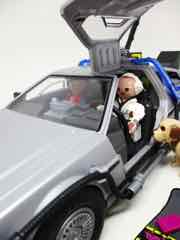 Both figures are mostly good and use a lot of preexisting parts. I admit, I'm unsure of Doc Brown's hair and head are new or reused - and it's one of the weaker elements in the set. Doc's hair doesn't quite fit on my sample, with a visible gap between the white hair and the head. I can't seem to wiggle it off or move it in a better position, so either it's just kind of weird or I got a strange one. The deco is on point, but it doesn't quite match his Twin Pines Mall look in 1985 - the pants are good, and you get to see hints of Doc's shirt under the radiation suit in the movie. It might not be exactly perfect as the figure's sleeves are partially rolled up and his pocket understates the orange stripe, but it is there!
Meanwhile, Marty McFly is perfect. He has the piffy vest, the blue shirt even has the blue triangles on the shoulders. The stripes shirt is here, the cuffs on his sleeves are here, and the shoes are as good as Playmobil gets. It's quite a feat that Playmobil pulled off such a good figure using existing tooling with some new paint. You couldn't ask for a better Marty figure.
It's by no means perfect, but Playmobil's "worst" is usually beyond other manufacturer's best. Other than the plutonium case stickers, Doc's hair, and the front wheel clearance in the car, everything is exactly as it should be. I would advise going back and picking up the other licensed sets while they're cheap, now that Hasbro has the Ghostbusters license the Playmobil sets won't be long for this world. It's a good collection, it's sturdy, and they're all compatible with decades of figures. This is a great set - and if Playmobil makes more in the future, you'll be glad you have this, clearly the most important one, in your hands from the get-go.
--Adam Pawlus
Additional Images

See more Playmobil toys in Figure of the Day:
Day 94: Playmobil African Safari 4831 Ostriches Set
Day 125: Playmobil Specials 4683 Mongollian Warrior Action Figure
Day 132: Playmobil Specials Cave Man Action Figure
Day 140: Playmobil Specials Palace Guard Action Figure
Day 163: Playmobil Figures Ghost Action Figure
Day 186: Playmobil Top Agents Secret Agent Action Figure
Day 266: Playmobil Dinosaurs 4173 Pteranodon
Day 271: Playmobil "Fi?ures" Figures Uncle Sam Action Figure
Day 276: Playmobil "Fi?ures" Figures Zorro Action Figure
Day 322: Playmobil Treasure Hunters 4848 Temple Guardian Figure
Day 363: Playmobil www.tourismus.nuernberg.de 6107 Albrecht Durer Figure
Day 764: Playmobil Stone Age 5105 Mammoth Family Set
Day 802: Playmobil Dino 5232 Stegosaurus
Day 811: Playmobil Specials 4748 Samurai
Day 887: Playmobil Toy Fair 2014 40th Birthday Knight
Day 1,030: Playmobil City Life 5605 PopStars! Band
Day 1,139: Playmobil School 4329 School Band
Day 1,148: Playmobil Dragon Tournament Knight Toy Fair Promo Figure
Day 1,154: Playmobil Magician with Genie Lamp Figure
Day 1,354: Playmobil Play Box 5638 Haunted House
Day 1,401: Playmobil 2016 Toy Fair Girl Figure
Day 1,451: Playmobil "Fi?ures" Figures Cat Burglar
Day 1,461: Playmobil 5197 Sports & Action Table Tennis Players
Day 1,499: Playmobil 4766 Special Plus Table Pizza Baker
Day 1,557: Playmobil "Fi?ures" Figures Asian Rice Worker
Day 1,577: Playmobil Toy Fair 2014 40th Birthday Princess
Day 1,581: Playmobil 2016 Toy Fair Pirate Figure
Day 1,583: Playmobil 5152 Future Planet E-Rangers Collectobot Figure
Day 1,584: Playmobil 6687 Super 4 Lost Island Figure Set
Day 1,585: Playmobil Figures Prisoner
Day 1,586: Playmobil 5572 City Life Ball Pit Set
Day 1,587: Playmobil 4741 Specials Space Ranger
Day 1,588: Playmobil 5562 Wild Life Beavers with Backpacker
Day 1,589: Playmobil 5239 Vampires
Day 1,590: Playmobil "Fi?ures" Figures Tall Ghost
Day 1,591: Playmobil Wild Life 5559 Inflatable Boat with Explorers
Day 1,592: Playmobil 5898 4-Wheel Drive with Kayak and Ranger
Day 1,598: Playmobil "Fi?ures" Figures Adventuress
Day 1,607: Playmobil "Fi?ures" Figures Granny
Day 1,609: Playmobil "Fi?ures" Figures France Fan
Day 1,613: Playmobil "Fi?ures" Figures Dark Fairy
Day 1,617: Playmobil 6824 Playmo-Friends Werewolf
Day 1,618: Playmobil 6823 Playmo-Friends Space Warrior
Day 1,631: Playmobil Knights Giant Troll with Dwarf Fighters
Day 1,641: Playmobil Playmo-Friends Flame Warrior
Day 1,650: Funko x Playmobil Willy Wonka
Day 1,654: Playmobil "Fi?ures" Figures Sauna Woman
Day 1,657: Funko x Playmobil Teenage Mutant Ninja Turtles Black and White Raphael
Day 1,662: Playmobil Tigers
Day 1,684: Playmobil NHL 5069 Zamboni
Day 1,699: Playmobil "Fi?ures" Figures Queen of Hearts
Day 1,728: Playmobil "Fi?ures" Figures Space Ranger
Day 1,731: Playmobil Ghostbusters 9222 Slimer
Day 1,737: Playmobil "Fi?ures" Figures Fire Wizard
Day 1,762: Playmobil 6099 Martin Luther
Day 1,764: Playmobil 5610 City Life Take Along
Day 1,772: Playmobil 6647 Alpacas
Day 1,774: Playmobil Summer Fun 5270 Porter with Luggage Cart
Day 1,784: Playmobil 6649 Penguins
Day 1,786: Playmobil 2017 Toy Fair Roman Troop Figure
Day 1,787: Playmobil "Fi?ures" Figures Zombie
Day 1,791: Playmobil Ghostbusters 9221 Stay Puft Marshmallow Man
Day 1,796: Playmobil "Fi?ures" Figures Ghoul Butler
Day 1,799: Playmobil "Fi?ures" Figures Pirate
Day 1,804: Playmobil "Fi?ures" Figures Gnome
Day 1,810: Playmobil "Fi?ures" Figures Captain America
Day 1,813: Playmobil Ghostbusters 9223 Venkman and Terror Dogs
Day 1,822: Playmobil "Fi?ures" Figures Flaming Skull
Day 1,828: Playmobil "Fi?ures" Figures Gladiator
Day 1,832: Funko x Playmobil Doctor Who Fourth Doctor
Day 1,836: Playmobil 6639 Gorillas
Day 1,839: Playmobil "Fi?ures" Figures Baker
Day 1,844: Playmobil Pianist with Piano
Day 1,851: Playmobil Ghostbusters 9224 Spengler and Ghost
Day 1,856: Playmobil "Fi?ures" Figures Buffalo Warrior
Day 1,861: Playmobil "Fi?ures" Figures Princess
Day 1,865: Playmobil 6525 Detective
Day 1,892: Playmobil "Fi?ures" Figures Rock Star
Day 1,899: Playmobil Special Plus Architect
Day 1,908: Funko x Playmobil Teenage Mutant Ninja Turtles Shredder
Day 1,913: Playmobil "Fi?ures" Figures Viking
Day 1,919: Playmobil "Fi?ures" Figures Steampunk Warrior
Day 1,934: Playmobil "Fi?ures" Figures Fisherwoman
Day 1,952: Playmobil 2018 Toy Fair Fairy Figure
Day 1,967: Playmobil 2018 Toy Fair Mountain Rescue Figure
Day 1,990: Playmobil 2013 Toy Fair Dinos Explorer Figure
Day 2,058: Playmobil Werewolf and Witch
Day 2,076: Playmobil The Real Ghostbusters 9387 Zeddemore with Aqua Scooter
Day 2,079: Playmobil 2019 Toy Fair Pet Hotel Cat Expert Figure
Day 2,082: Playmobil The Real Ghostbusters 9386 Spengler with Cage Car
Day 2,083: Playmobil Add-Ons 9804 Fire Brigade Accessories
Day 2,136: Playmobil Castle 6042 Castle Ghost with Rainbow LED
Day 2,139: Playmobil Mummy and Grim Reaper
Day 2,193: Playmobil 2020 Toy Fair Emergency Doctor Figure
Day 2,205: Playmobil Back to the Future DeLorean Time Machine Vehicle with Figures
Day 2,219: Playmobil Scooby-Doo! 70287 Scooby and Shaggy with Ghost Figures
Day 2,231: Playmobil Back to the Future Marty McFly and Dr. Emmett Brown Figures
Day 2,243: Playmobil Scooby-Doo! 70361 Adventure in the Mystery Mansion Playset
Day 2,255: Playmobil Back to the Future Advent Calendar with Figures
Day 2,325: Playmobil 2020 Toy Fair Mermaid Figure
Day 2,326: Playmobil 70177 Volkswagen Volkswagen Beetle
Day 2,327: Playmobil "Fi?ures" Figures Confederate Soldier
Day 2,328: Playmobil The Real Ghostbusters 9388 Stantz with Sky Bike
Day 2,329: Playmobil Pirates Ghost Whale Skeleton
Day 2,330: Playmobil 5754 Adventure Croc Boat
Day 2,331: Playmobil 5603 City Life Tour Bus
Day 2,332: Playmobil Scooby-Doo! 70286 Mystery Machine with Figures
Day 2,333: Playmobil The Movie Robotitron with Drone
Day 2,348: Playmobil "Fi?ures" Figures Witch
Day 2,350: Playmobil Vampire and Frankenstein's Monster
Day 2,352: Playmobil 70634 Back to the Future Part II Hoverboard Chase
Day 2,354: Playmobil 70548 Star Trek U.S.S. Enterprise NCC-1701 Playset
Day 2,356: Playmobil "Fi?ures" Figures Day of the Dead Woman
Day 2,360: Playmobil "Fi?ures" Figures Hula Girl
Day 2,362: Playmobil "Fi?ures" Figures Hippie
Day 2,363: Playmobil 70576 Back to the Future Part III Advent Calendar with Figures
Day 2,365: Playmobil 70026 "Fi?ures" Figures Fire Sorceress
Day 2,367: Playmobil "Fi?ures" Figures Skeleton Warrior
Day 2,368: Playmobil 5753 Seasonal Photo Santa Claus Figures
Day 2,370: Playmobil "Fi?ures" Figures Knight
Day 2,372: Playmobil Adventure Treasure Robber Crawler
Day 2,373: Playmobil 70148 "Fi?ures" Figures Ninja
Day 2,375: Playmobil The Real Ghostbusters 9385 Venkman with Helicopter
Day 2,377: Playmobil "Fi?ures" Figures Cowgirl
Day 2,378: Playmobil 70148 "Fi?ures" Figures Puppeteer
Day 2,380: Playmobil 70148 "Fi?ures" Figures Opera Fan
Day 2,382: Playmobil 70148 "Fi?ures" Figures Duck Feeder
Day 2,390: Playmobil 71060 "Fi?ures" Figures Steampunk
Day 2,398: Playmobil 2013 Toy Fair Dinosaur Explorer Figure
Day 2,408: Playmobil 70876 Special Plus Child with Monster
Day 2,415: Playmobil Special Plus Special Operations Agent
Day 2,422: Playmobil "Fi?ures" Figures Day of the Dead Man
Day 2,428: Playmobil 70873 Specials Plus Man with E-Scooter Action Figure
Day 2,430: Playmobil "Fi?ures" Figures Skater Action Figure
Day 2,432: Playmobil "Fi?ures" Figures Gargoyle
Day 2,466: Playmobil "Fi?ures" Figures Vampire
Day 2,475: Playmobil "Fi?ures" Figures Raffle Man
Day 2,481: Playmobil "Fi?ures" Figures Paintball Man
Day 2,496: Schaper Playmobil 3591 Space Series Astronaut and Robot Figures
Day 2,518: Playmobil "Fi?ures" Figures Gnome
Day 2,538: Playmobil 71010 Wiltopia Boat Trip to the Manatees Set

See more Back to the Future figures in Figure of the Day:
Day 552: Mattel Back to the Future II Hoverboard Prop Replica
Day 985: Funko Back to the Future Marty McFly ReAction Figure
Day 1,008: Funko Back to the Future George McFly ReAction Figure
Day 1,008: Funko Back to the Future Doc Brown ReAction Figure
Day 1,078: Funko Back to the Future Biff Tannen ReAction Figure
Day 1,290: Mattel Hot Wheels Back to the Future Time Machine - Hover Mode
Day 1,390: Funko Pop! Movies Back to the Future Marty McFly Vinyl Figure
Day 2,205: Playmobil Back to the Future DeLorean Time Machine Vehicle with Figures
Day 2,231: Playmobil Back to the Future Marty McFly and Dr. Emmett Brown Figures
Day 2,255: Playmobil Back to the Future Advent Calendar with Figures
Day 2,265: Hasbro Transformers x Back to the Future Deluxe Gigawatt Action Figure
Day 2,352: Playmobil 70634 Back to the Future Part II Hoverboard Chase
Day 2,363: Playmobil 70576 Back to the Future Part III Advent Calendar with Figures

Error processing SSI file