Phaseon Renegade Hybrid Caliber
Silver Beanbot/Phaseon with upgrade parts

Glyos System Series
Item No.: No. n/a
Manufacturer: Onell Design
Includes: New Renegade head piece, cloth cape/poncho, spare hand, spare head, spare phasse arm ball
Action Feature: Pops apart
Retail: $14.00
Availability: July 28, 2019
Other: These guys can build a robot

PREVIOUS
RSS
NEXT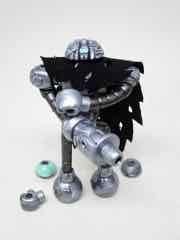 I got a lot of Glyos figures. I don't need more of them - but the Onell Design crew finds interesting ways to make multiple purchases interesting. This Phaseon Renegade Hybrid Caliber takes the very early odd ball Beanbot mold - which was tweaked to be a Phaseon - and transforms it yet again with parts from Phase Arm upgrade sets, a newly-tooled head, plus a new cloth cape which was also used with the Onell Design Glyos Gobon Renegade Hunter [FOTD #2,127] and a few other figures. The new head and cloth piece were designed to work in multiple configurations on multiple bodies, which is sort of the entire brilliance of this whole line. One small piece can give you a handful of new build options.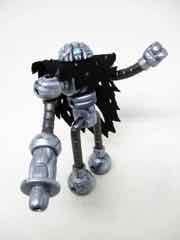 The four-inch robot stands tall and surprisingly sturdy, thanks to the massive Phase Arm balls serving as the feet. I expected the figure to topple over thanks to the bulky arm weapon and skinny legs, but it's had no problems standing up during the review process. You still need to be mindful of sweet spots, but the weighted feet do most of the work in keeping the figure from toppling over. It's the kind of thing lots of toy companies should note - heavy feet solve a lot of your problems with gravity.
The idea of robots with clothing is funny, but as action figures go it just plains works. Fake tattered rags can add bulk to a skinny robot and change its silhouette for pennies, plus all of the holes in the cloth piece allow you to change how it hangs, or where it hangs, or what function it serves. I bet you could make a swell vest out of it. By default it's a nice cape, which does a good job hiding the body made of various round discs and other elements. It even hides the Gendrone tampo on the chest, which is almost a pity because you want to see it when they put some paint on these things.
If you need more paint, you get it - not only does the head have a green eye on either side, but the arms are completely covered in dark brown paint. Thanks to the deft selection of silver plastic, the figure looks like it has panel lines or a wash - the light bounces off it in such a way that you're going to see every last bit of sculpted detail in the same way that you don't with glow plastic. It was great that they picked this color to show off this new mold configuration.
As always, you can pop the figure apart at every point of articulation and rebuild it in any way you like. It came to me partially unbuilt, and getting the hip joints in to the lower torso piece was a bit of a pain. It fits, but it can be a little challenging when the parts are in a cold room. I wouldn't necessarily say you should pop it apart to rebuild it, but you can if you want. It's excellent as it is, so I have no real desire to rebuild it in a new format.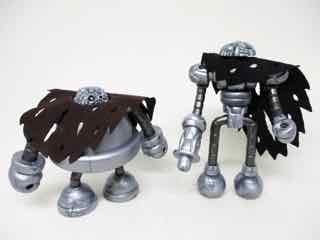 I'd recommend getting this configuration if you can - as of my writing this, it hasn't been made available too many times. The head has been used sparingly, as has the cloth cape, so it might not be too easy to build and customize one yourself out of a Beanbot and a couple of Phase Arms. Keep an eye on the Onell store in case it comes out again - it's worth picking up. For its time, this was quite a deal - a Phaseon typically ran about $12, so the extra head, poncho, and other parts certainly made it a better value as piece count goes. It also helps that it's an unusual configuration, so it's certainly good at scratching the itch for a new figure while bringing relatively little new to the table.
--Adam Pawlus
Additional Images


Click here to see more Onell Design figures in Figure of the Day.
Click here to see more Glyos Compatible figures in Figure of the Day.