Cliffjumper
WFC-E7

Transformers Generations War for Cybertron Earthrise Deluxe
Item No.: Asst. E7120 No. E7155
Manufacturer: Hasbro
Includes: Glass gas blaster, skis, car trunk
Action Feature: Transforms from Car to Robot
Retail: $19.99
Availability: February 2020
Other: Not a Repaint

PREVIOUS
RSS
NEXT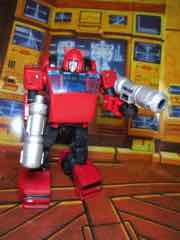 It's rare that Cliffjumper gets a new mold. There's a red Bumblebee toy for the Masterpiece line, the Classics toy was a red Bumblebee, the Legends toys were also red Bumblebees. The closest thing he seems to get to a "new" toy is when he's retooled from something else, like Prime Cliffjumper with a new head. Even though the toy is infamously small, the 4-inch robot is particularly impressive. Go ahead and compare it to the $10 Titans Return Bumblebee - similar size, smaller piece count, and it's nowhere near as cool. That's why it's twice as much.
To the average buyer this Cliffjumper may appear overpriced for a Generations toy, but it's cheap for a Masterpiece. With that in mind, I'd say buy it on sight. It's way better than the "Listen n' Fun" one I have from when I was a kid. Buy it now, because it's one of those toys you're going to wish you bought later.
Click here to check availability at Entertainment Earth.
Packed out in robot mode, the figure's size tells you that Hasbro is trying to keep the scale of new "Minicars" close to its Legends-class toys from 2013-2018. Those toys brought us excellent updates of Beachcomber, Seaspray, Powerglide, and many others - and some not so great like Huffer, Pipes, and Warpath - but at least we got them all in a consistent size. Cliffjumper is only a hair taller than they are. What's amazing is just how much more he has going on in terms of mobility, with CJ clocking in at 23 points of articulation. Within reach I count 13 on the Frenzy/Rumble mold and 10 on Wheelie.
His design looks a lot like the original character models, with a couple of minor twists. One, he lacks an Autobot brand on his torso - which is upside-down compared to the original toys. Two, he's a partsformer as his rear window and trunk op off to be either shield or kibble on the figure's back. He has a head that looks like the cartoon model and loads of 5mm ports all over to plug in accessories.
Unlike most previous "minicar"-style toys, he has a weapon! A five-piece bazooka can be split into blasters and skis (and kibble) to mount on vehicle mode. You can also use them in varying configurations for the robot. It's a wonderful idea that we don't see often, and it adds more "oomph" to a small toy that sorely needs to convince you it's worth the asking price. You can also use the back chunk of the car as a shield - if you like. Me, I'm on the fence, but I appreciate anything that adds to the play value of one of my figures.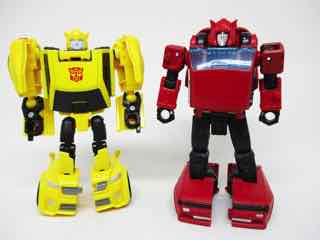 Since the original 1984 Cliffjumper was a super-deformed Choro-Q-ish Porsche, there's a lot of room for vehicular interpretation. No doubt thanks to his more complex transformation, the car is elongated and altered with more room to stuff the extra limbs, panels, and other elements needed to change him from Autobot to car and back again. Some wheels serve as shoulders, while others tuck into the large boots. There's a lot more going on here than "G1 with knees."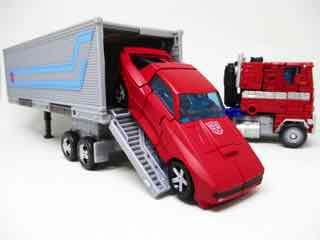 Unlike a lot of other toys, there are some decent play options for the car. Sure, it's a car with wheels - and paint, as the red is actually decorated and not merely molded in color. That should please a lot of collectors out there, but what made me happy was that you can dismantle the bazooka to serve as a body kit for the car. Well, maybe it's more of a spy kit - little skis and turbines can click in place to give him a water conversion kit. It fits in the Optimus trailer, it's decent. You might feel that you should get more, but as piece count goes this figure delivers.
Unless you were satisfied with the Cliffjumper and Suppressor [FOTD #1,101] set from 2014, a toy that seemed pretty good with some nice deco on car mode for its time, this 2020 figure is a worthy upgrade. And twice as expensive. And you don't get a micro buddy. But the head is better, the deco is better in robot mode, but the car mode... I'd say that's a toss-up. If you've got the cash, and you just need to buy a toy to make the day feel "normal," I'd steer you to get this one. If you're a minicar fan you should've bought it by now.
--Adam Pawlus
Additional Images

Click here to see more Hasbro figures in Figure of the Day.
Click here to see more Transformers figures in Figure of the Day.

Want to buy this figure? Check Transformers availability at our sponsors:
Entertainment Earth