Skywarp & Thundercracker
WFC-E29

Transformers Generations War for Cybertron Earthrise Voyager Target Exclusive 2-Pack
Item No.: No. E8624
Manufacturer: Hasbro
Includes: 2 cannons each
Action Feature: Transforms from Robot to Jet
Retail: $29.99
Availability: February 2020
Other: Skywarp & Thundercracker again, again

PREVIOUS
RSS
NEXT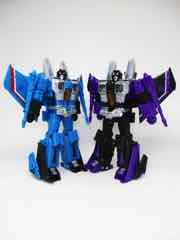 Essential? Maybe! For the crew that bought Skywarp & Thundercracker in G1, Masterpiece, Classics/Henkei, and other scales, you might be done. You might not need these. I've got these characters in Robot Masters, Classics/Universe/BotCon, and the Leader/Legends-class toys from Combiner Wars too - it's a bit much, I admit, but I'm also a shameless fan of this particular gang of repaints.
If you wanted Classics Skywarp & Thundercracker, only bigger, with more detail and more articulation, this is it. Just like Earthrise Starscream - it's not very original, the paint masks are pretty much the same shape, and other than the new face on Skywarp there's no new tooling here. But Amazon's Siege Skywarp just shot up like a rocket, and if you missed it and want a Skywarp, you should get this set while you still can.
The design is incredibly similar to the Classics Seeker mold, which was pretty great over a decade ago. The torsos are a bit boxier, but it's a simple transformation that just plain works. The Siege Cybertronian seekers have less boxy torsos, but these guys look a bit more like the ideal of the old cartoons - despite the proportions not being perfect. There's room for Hasbro to improve on this, but it's still very good - and if they keep repainting this mold, there's always a chance it might be the new definitive Seeker.
The robots stand about 6-inches tall each with 25 points of articulation. While it lacks swivel wrists or a swivel waist, you do get tilting ankles and double-jointed elbows. I am hesitant to say these are better or worse than the Siege versions, but they do fit in well with the current range of toys. And Skywarp has a cool new screaming mouth!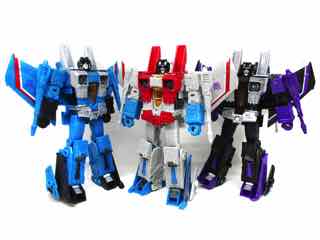 Transformation offers little new, but it's pretty secure with lots of tabs, slots, and pegs. Again - if you had the 2006 Seeker mold, you can probably figure this one out easily. You can also see how it could easily adapt to Thrust, Ramjet, or Dirge, which we are all hoping get made.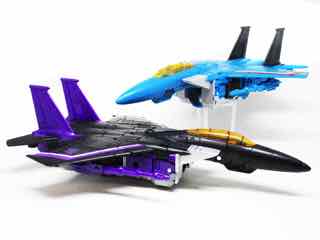 The jet is very old-school. There's a lot of undercarriage junk, and unlike the G1 toy everything stays on the jet - no fists to lose! Lots of 5mm holes to place your cannons! A few 3mm pegs to put C.O.M.B.A.T. effects! And that's about it - sadly there are no action features, opening secret compartments, or other elements to make this into a great toy. Think of it as the Marvel Legends of Transformers - there are limited opportunities for play, but tons of things you can use to make the pair into a great display set.
If you're a long-term collector you probably would rather have something new. If you missed G1 or the Classics revivals, you need these. Since Hasbro effectively reboots the line every few years now, these may well be essential just to build out your "1984" collection - and if Hasbro announces more character redeco figures of this mold, you will likely regret not having this pair. We don't know if Sunstorm or the rest are likely in this particular format, but I am operating under "better safe than sorry" after the remarkable showing of the Siege mold. It's ridiculous, I admit, but I've been enjoying this line a lot and I hope we see Action Masters Thundercracker, the generic purple soldier, and other characters using this mold. This set doesn't really innovate, but you're buying consistency here.
--Adam Pawlus
Additional Images

Click here to see more Hasbro figures in Figure of the Day.
Click here to see more Transformers figures in Figure of the Day.

Want to buy this figure? Check Transformers availability at our sponsors:
Entertainment Earth