Delphi Ryllcedia
A Legend, in Plastic

Glyos System Series
Item No.: No. n/a
Manufacturer: Onell Design
Includes: 2 switchpins, gun arm, helmet head
Action Feature: Pops apart, customize it if you dare
Retail: $16.00
Availability: August 23, 2020
Other: Long awaited doesn't begin to describe it

PREVIOUS
RSS
NEXT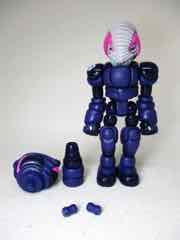 It is not the slightest bit hyperbolic to call the the Delphi Ryllcedia a long-awaited release - which is amazing, when you think about it. Glyos, Pheyden, and friends are relatively young in the world of figure collecting but through the power of innovative storytelling, they created demand for a product that wouldn't exist for over a decade. Take a look at the Onell Design blog to see how far back it goes - and there's even more buried in their Passcode animation. The creatures' backstory is, to say the least, kind of vague - but they're ancient beings that had something to do with the origin of the Armorvor, or something. Custom "Armored Delphi" figures appeared in a Custom Corps drop in 2010, and have remained a hot-ticket item demanded by fans for mass production. This figure is based very much on those early releases, with pale grey skin and a pink accent plus lots of ridges and a pink swoosh. In other words, this is pretty much exactly what you have been waiting for all these years.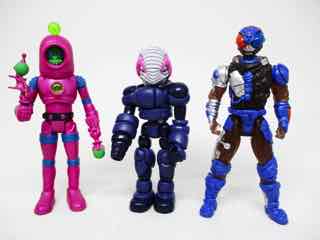 The figure seems to be entirely new parts - and we don't get a lot of those. He's taller than Pheyden and most of his cohorts, standing about around 3 3/4-inches tall. By default it has two hands and an unmasked head. Each hand is the gonzo two-thumbed fist, capable of holding accessories if you're so inclined. The helmeted head is double-sided with a pink visor and an interesting crest on the top - it's cool, but not as cool as the alien head. Painted grey and ridged for your pleasure, it has beedy little black eyes and no obvious mouth. It's incredibly cool, and something I hope the Onell Design crew considers reissuing later.
The figure is loaded with about as much detail as a typical Onell Design release, with lots of rounded elements and secret building things. The body in particular is packed with secrets, as the lower torso is in fact a large "belt" over the body, and the collar and back of the figure are a fancy backpack. You can pop it off and see a backpack peg in there for additional building opportunities.
This creature has no problems standing or sitting, and reconfiguring it is a breeze - the pieces pop apart so much more easily than those early releases. You can see elements of the original build which inspired this new body - the shoulders and blaster look like the old Phase Arm pieces, and so do the knees. Admittedly, the original Custom Corps seemed to be a bit more heavy duty, but these are still cool.
Despite the larger sized figure, it's easy to swap the heads with a standard Pheyden and most other Glyos bodies - so if you want to make a Custom Corps-style build using old parts, assuming you have those parts, this is perfect for the job. And, I assume, a lot of these figures sold specifically for that purpose and will continue to sell down the road.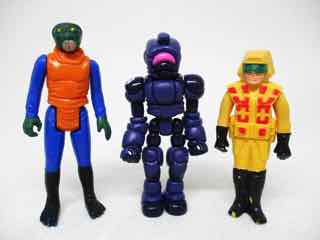 This figure has been teased for years, "coming soon" for so long it's almost unthinkable that I have one here right now. It's also the end of an era for a lot of fans, as there aren't a whole heck of a lot of Glyos characters from Onell Design getting a lot of requests other than Rechlan and Aves, who have been seeded for quite some time. If nothing else, the Delphi is a great example of toy marketing done right - collectors can hang on for a while if you keep giving them neat things to look forward to that are new and different, and having an awesome alien dangling out there for years has certainly kept things worth watching. I hope you got one - and if you did, I guess join me in wondering what's next.
--Adam Pawlus
Additional Images


Click here to see more Onell Design figures in Figure of the Day.
Click here to see more Glyos Compatible figures in Figure of the Day.