R-Toolio
Pals with C-Ps&Qs

Glyos Onell Design x Cappy Space
Item No.: No. n/a
Manufacturer: Onell Design
Includes: n/a
Action Feature: Pops apart, customize it if you dare
Retail: $6.00
Availability: November 2019
Other: Droidy

PREVIOUS
RSS
NEXT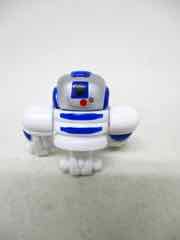 If you saw the Glyos Hub Set a few years ago and said "hey, that looks kind of like a droid," it turns out Cappy Space agreed with you. Their exclusive R-Toolio was a D-Con 2019 debut which sold in short order, which is good, as this order is short. It's not a big figure, but for a certain kind of fan it's a perfect thing to buy. It's small, it looks like R2-D2, but it ain't R2-D2.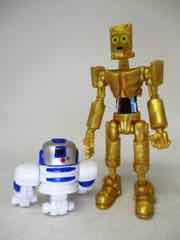 The 1 1/2-inch figure looks like R2-D2 and Mr. T merged into this - the key landmarks of the movie R2-D2 design are all there with little rings around the back feet standing in for the cables and the blue panel covers on the chest. The blue dome is there on top - and this is a detail Hasbro has forgotten a lot in 2018 and 2019 - in addition to a smattering of blue on the arms. It's very R2-D2ey, minus the wheels and any obviously overt elements.
The figure can be pulled apart if you're so inclined, and is jointed at each piece. The arms/legs and central leg all move, as does the head, so you can reconfigure the bit if it isn't to your liking by default. He's short, which means you may find him a bit out of scale with the golden C-Ps&Qs AV Robot (sold separately.)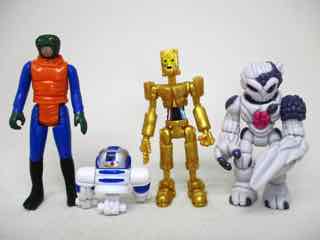 I wouldn't say this is a must-have figure, but there aren't all that many Star Wars allusions in Glyos deco for whatever reason - sure, there are some, but not a ton. As such, I'd say get this one if it shows up for sale at a fair price, but if you're new to collecting Glyos I'd recommend just getting any old Hub Set first and seeing if you like it before paying a premium. And then be sorry you missed it last year.
--Adam Pawlus
Additional Images


Click here to see more Onell Design figures in Figure of the Day.
Click here to see more Glyos Compatible figures in Figure of the Day.