Xenomorph Drone, Egg & Facehugger, and Research Scientist
Clever reuse of old molds plus a new alien, egg, facehugger

Alien Collection Walmart Exclusive
Item No.: Asst. ??? No. 31302
Manufacturer: Lanard
Includes: Egg, alien, facehugger, helmet, human, blaster
Action Feature: Facehugger goes in egg, helmet is removable
Retail: $9.87
Availability: January 2020
Other: With the blue guns I can't believe these aren't intentionally Kenner nods

PREVIOUS
RSS
NEXT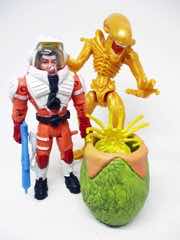 Old fans were cranky in the 1990s - Kenner frequently made action figures from big fan properties in weird colors, with few to no releases accurately matching the films from which they were licensed. By 2019, NECA and Hot Toys and many others get stuff so accurate it's scary - so now it's time to swing back the other way with Lanard's Alien Collection. Based on the 1979 Alien movie, this Xenomorph Drone, Egg & Facehugger, and Research Scientist Xenomorph Swarm Action Figure Set is quite a departure from the past couple of decades. The brightly-colored green packaging has more in common with Kenner's The Lost World and later Hasbro Jurassic Park line looks, while the figures are garish things for ages 7 and up. I have no idea who at Lanard or Walmart said "It's 2020, there's no new movie coming, so let's make a new kid Alien line for some reason." It doesn't make sense, but it's cheap and cool. So I bought them all.
The Research Scientist draws inspiration from Dallas' suit as seen on planet LV-426. It's based on a 2004 Lanard Star Force Personnel Planet Rover pilot, just painted up in colors that seem pretty close to Dallas'. The result looks like something you'd see from an Eastern European comic book made from the movie's pre-release scripts and notes, or perhaps a bootleg at the flea market. It includes a Kennery Blue Pulse Rifle-alike, and a removable helmet. Articulation is close to the early 2000s G.I. Joe relaunch with a t-crotch and a grand total of 14 points of articulation - it's convincingly Alien-esque, much in the same way Walrus Man and Hammerhead were pretty close to Star Wars. How they passed approvals, I'll never know, but this Research Scientist isn't all that much weird if you compare it to Kenner's original Bishop figure and its movie namesake.
The figure stands and sits with no problems, and seemingly can hold the pulse rifle in one hand without a fuss. The left arm is rotated strangely in a way that reminds me more than a bit of the old Adventure People (and some modern Chap Mei) figures. If you're like me and have been lamenting the lack of weird space toys, this ticks all the boxes of some genuine weirdness. I imagine that under Disney, we'll never see anything like this for the Alien series (or Star Wars) ever again. It's so wrong, but it certainly looks like something that could've been sold as a licensed product in the past. In 2020, it doesn't make a lick of sense.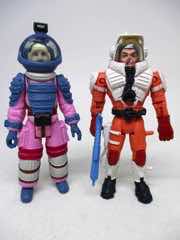 The egg and facehugger are a nifty addition to the set - other packs at this price point got a cannon or a bike, so this may or may not seem like a great deal. Cementing this particular Xenomorph Swarm as being inspired by the original Alien, the egg is wide open with a very low-quality Facehugger inside. A friend of mine noted that the look and feel of the fingery alien was not unlike that of a gumball machine toy, and I'd take it a step further and say it's close to a 1980s Skee-Ball prize. The yellow plastic has a wonderful shine, but has very little give - it won't grip to much of anything, and if you're feeling careful you might be able to wrap it around a limb or a torso to hug the aforementioned faces. It has a wonderful sculpt for something that feels so cheap, but be careful with it - I don't think it'll last long in a toy box.
The companion egg, aside from color, is pretty robust. It has a little give to it, some painted detail, and excellent sculpted detail. It looks like it belongs in a comic book where the colorist was having fun. It sits without any problems and - amazingly - has a foot peg hole in the bottom of it. Why? I have no idea. It's there, though, and you too can be impressed by it.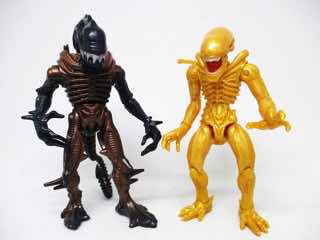 Lanard's Xenomorph Drone comes in multiple flavors, but in this set it has unique tooling and coloring compared to the other appearances in other sets. The blue and green ones have Aliens-derived appearances, while this one is a cross between Alien and The Simpsons. Three fingers and a thumb? How odd! The 1989 creature was often shown with 6 fingers - so why four here? My head immediately went to the yellow skin because The Simpsons, and everything is a reference to The Simpsons now. The feet don't seem to resemble the original costume. Its arms are different from the blue and green releases too, with different greeblies hanging off the sides - spines, in this case. The head was also retooled for that smooth dome, rather than the exposed one from the sequel. The body, legs, and tail don't seem too terribly different.
At a towering five inches tall, this golden swirly plastic figure is an odd gem. The hands and feet are ball-jointed. So are the hips! The tail and knees move, while the shoulders are old Joe-like bend-and-swivels - just like The Corps humans. The level for detail would be impressive for nearly any action figure manufacturer, but it's particularly impressive thanks to the lower expectations we've had from Lanard over the past few decades. They've wildly improved their game since making Rampage toys, and with no paint save for one set of silver teeth this is an imposing - if goofy - creature. I'm having a ton of fun fidgeting with these, and I should note I drove all over town for a few weeks to try to track them down first. I largely succeeded.
If you're wondering if you should buy this, it's ten dollars. If you can find it for ten dollars, you should buy it - you get a human figure, an alien figure, and an egg/facehugger for less than Hasbro currently charges for a single 3 3/4-inch action figure. If you demand authenticity, go over to NECA - because Lanard doesn't care. They have brightly-colored goofy things using a few new Alien molds and human molds dating back at least 20 or more years, but Lanard is all about keeping it cheap. And oh, are they cheap. If I were you I'd run - don't walk - to the store to pick up one or more of these packs, and if you like it, skip lunch for a month and buy the entire collection. As I write this the entire ball of wax will set you back about $80 before tax, which isn't bad for a handful of vehicles, five humans, and about six aliens.
--Adam Pawlus
Additional Images

See more Lanard figures in Figure of the Day:
Day 1,912: Lanard Rampage The Movie Big City Brawl! Lizzie
Day 2,065: Lanard Primal Clash Mammoth with Shrapnel Action Figure
Day 2,167: Lanard Alien Collection Alien Queen Action Figure
Day 2,171: Lanard Alien Collection Xenomorph Drone, Egg & Facehugger, and Research Scientist Xenomorph Swarm Action Figure Set
Day 2,173: Lanard Alien Collection Advanced-APC Vehicle and Colonial Marine Sargent Xenomorph Attack Action Figure Set
Day 2,175: Lanard Alien Collection Xenomorph Runner, Planetary Rover Bike, and Weyland Commando Action Figure Set
Day 2,178: Lanard Alien Collection Power Loader, Colonial Marine, and Warrior Alien Xenomorph Attack Action Figure Set
Day 2,274: Lanard Toy Alien 7-Inch Drone Xenomorph Action Figure
Day 2,278: Lanard Toy Predator 7-Inch Jungle Hunter Predator Action Figure
Day 2,286: Lanard Toy Predator 7-Inch City Hunter Predator Action Figure
Day 2,292: Lanard Toy Alien 7-Inch Warrior Xeno Action Figure
Day 2,308: Lanard Alien Collection Xenomorph Warrior, Rotating Sentry Gun, and Colonial Space Marine Xenomorph Swarm Action Figure Set

See more ALIENS figures in Figure of the Day:
Day 195: Kenner ALIENS Arachnid Alien Action Figure
Day 234: Kenner ALIENS Scorpion Alien Action Figure
Day 250: Kenner ALIENS Panther Alien Action Figure
Day 256: Kenner ALIENS Gorilla Alien Action Figure
Day 261: Kenner ALIENS Bull Alien Action Figure
Day 285: Kenner ALIENS Hive Wars Warrior Predator
Day 317: Kenner ALIENS vs. Predator 10-Inch Alien Action Figure
Day 359: Kenner ALIENS Hive Wars Acid Alien Action Figure
Day 365: Kenner ALIENS Vasquez Action Figure
Day 381: Kenner ALIENS Action Masters Ripley
Day 397: Kenner ALIENS Mantis Alien
Day 792: Super 7 ALIEN SDCC Exclusive Sales Samples
Day 821: Super7 x Funko Alien ReAction Ripley
Day 844: Super7 x Funko Alien ReAction Dallas
Day 852: Super7 x Funko Alien ReAction Alien
Day 857: Super7 x Funko Alien ReAction Kane in Space Suit
Day 861: Super7 x Funko Alien ReAction Ash
Day 1,149: Super7 x Funko Alien Egg Chamber Action Playset
Day 1,183: Super7 x Funko Alien ReAction Alien (with Metallic Flesh)
Day 1,199: Super7 x Funko Alien ReAction Ripley (Spacesuit)
Day 1,272: Super7 x Funko Alien ReAction Kane (Chestburster)
Day 1,277: Super7 x Funko Alien ReAction Kane (Facehugger)
Day 1,324: Diamond Select Toys Aliens vs. Colonial Marines Figure Set
Day 1,327: Super7 x Funko Alien ReAction Nostromo Crew (Dallas, Kane, Lambert)
Day 1,656: Super7 Alien M.U.S.C.L.E. Set A
Day 1,676: Super7 Alien M.U.S.C.L.E. Set C
Day 1,686: Super7 Alien M.U.S.C.L.E. Set B
Day 1,693: Super7 Alien M.U.S.C.L.E. Set D
Day 1,846: Super7 Aliens M.U.S.C.L.E. Set E
Day 1,864: Super7 Aliens M.U.S.C.L.E. Set A
Day 1,884: Super7 Aliens M.U.S.C.L.E. Set D
Day 1,929: Titan Merchandise Alien vs. Predator The Whoever Wins Collection Scar
Day 1,985: Funko Pop! 8-Bit Alien Xenomorph (Video Game) Pop! Vinyl Figure
Day 2,163: NECA Aliens Classics Series Neomorph Alien Action Figure
Day 2,167: Lanard Alien Collection Alien Queen Action Figure
Day 2,171: Lanard Alien Collection Xenomorph Drone, Egg & Facehugger, and Research Scientist Xenomorph Swarm Action Figure Set
Day 2,173: Lanard Alien Collection Advanced-APC Vehicle and Colonial Marine Sargent Xenomorph Attack Action Figure Set
Day 2,175: Lanard Alien Collection Xenomorph Runner, Planetary Rover Bike, and Weyland Commando Action Figure Set
Day 2,178: Lanard Alien Collection Power Loader, Colonial Marine, and Warrior Alien Xenomorph Attack Action Figure Set
Day 2,179: Kenner Aliens Wild Boar Alien Action Figure
Day 2,274: Lanard Toy Alien 7-Inch Drone Xenomorph Action Figure
Day 2,292: Lanard Toy Alien 7-Inch Warrior Xeno Action Figure
Day 2,308: Lanard Alien Collection Xenomorph Warrior, Rotating Sentry Gun, and Colonial Space Marine Xenomorph Swarm Action Figure Set
Day 2,554: Super7 Alien UCCSS Nostromo Action Figure Set 1 with Kane with Facehugger, Ripley with Jonesy, Ash with Removable Head