Power Loader, Colonial Marine, and Warrior Alien Xenomorph
Mostly recycled parts, new 2020 Xenomorph

Alien Collection Walmart Exclusive
Item No.: Asst. ??? No. 31307
Manufacturer: Lanard
Includes: Axe, Marine, Alien, Power Loader vehicle
Action Feature: Power loader claws open, gun moves, seats 1 figure
Retail: $14.87
Availability: January 2020
Other: A Yellow Mech Is Close Enough to a Power Loader

PREVIOUS
RSS
NEXT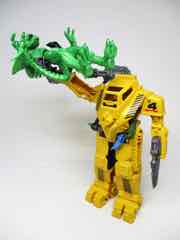 It's off-model, but the Power Loader, Colonial Marine, and Warrior Alien Xenomorph Xenomorph Attack Action Figure Set is fun enough. The Power Loader is probably the signature vehicle to the Aliens franchise - despite notable military items - thanks to its personable look and schoolbus yellow frame. While toys of them have been made over and over again, they're usually based on the film design - this one is just a redeco of The Corps Exo Battle-Mech from a few years ago. The alien is shared with another figure in the line, and the marine... well, he's here too. It's a pretty meaty set for $15.
The Colonial Marine continues the thread of Lanard taking its least interesting 3 3/4-inch military figures, removing some deco, and calling it a day. It's barrel-chested, with a decent quality of plastic that's better than your average cheap dollar store figure - but it doesn't "wow." It's fine, it fits in the Power Loader, and for some reason it has an axe that looks kind of like a sci-fi weapon.
The competent figure stands and sits, taking a design from about 2001 that looks like it would've been pretty typical for the 1980s. It's sturdy, but if you've seen Lanard's actual offerings from the 1980s those were a lot more impressive. At least he fits in the Power Loader.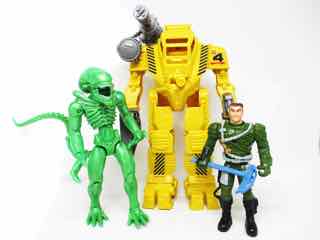 So how is that exo-suit? A big robot suit is a go-to toy in so many toy lines, it's no surprise Lanard built their own - Hasbro did a few for G.I. Joe over the years, too. Casting an existing mech in yellow seems like a cop-out, but it looks good. The caution marks and other labels enhance the look, as do upgrades like a claw hand, a giant gun, and a chainsaw hand. These are the kind of things that make it less of a mechanical forklift suit and more of a futuristic battlefield weapon that's more at home with the Colonial Marines.
Lanard's last version was a greenish brown, and you can always snag one of those with some yellow paint and do it yourself. I wouldn't, because this is pretty nice. You get limited arm and leg movement, an opening claw, and a jointed cannon as well as a hatch that pops open with a claw that grips the figure like a safety belt. The figure fits just fine, as do the other 3 3/4-inch figures I had around to test. It's a nice vehicle, but one of the legs is a little loose on mine - I don't know how it might stand up to intense play over time.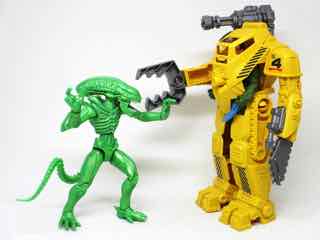 The green Warrior Alien is modeled after the Aliens model - note the hands and arms, the tail, and the dome. There are changes in the suits for each film, with this one having more ridges on the dome, only three fingers, and what appear to be violin bows on the forearms. As with the others, I love the ball-jointed wrists and ankles - it gives the figure a heck of a lot more movement with only 15 points of articulation. It feels like the weird mutant cousin of the Mantis Alien, or a malevolent green crayon. The only paint is on the silver teeth, the rest of the detail is all sculpted or baked in to the green, swirly plastic. It looks really good up-close,
This is the last set I opened, and it's a good one. The Power Loader is pretty good, the figure is fine, and the green alien does the best job of showing off Lanard's consistently improving sculpting chops. They've been good, but things just keep getting better and better - for the regular retail asking price, any set in this line is well worth picking up. I assume they'd be good fun for kids too - cheap, colorful, and fun.
--Adam Pawlus
Additional Images

See more Lanard figures in Figure of the Day:
Day 1,912: Lanard Rampage The Movie Big City Brawl! Lizzie
Day 2,065: Lanard Primal Clash Mammoth with Shrapnel Action Figure
Day 2,167: Lanard Alien Collection Alien Queen Action Figure
Day 2,171: Lanard Alien Collection Xenomorph Drone, Egg & Facehugger, and Research Scientist Xenomorph Swarm Action Figure Set
Day 2,173: Lanard Alien Collection Advanced-APC Vehicle and Colonial Marine Sargent Xenomorph Attack Action Figure Set
Day 2,175: Lanard Alien Collection Xenomorph Runner, Planetary Rover Bike, and Weyland Commando Action Figure Set
Day 2,178: Lanard Alien Collection Power Loader, Colonial Marine, and Warrior Alien Xenomorph Attack Action Figure Set
Day 2,274: Lanard Toy Alien 7-Inch Drone Xenomorph Action Figure
Day 2,278: Lanard Toy Predator 7-Inch Jungle Hunter Predator Action Figure
Day 2,286: Lanard Toy Predator 7-Inch City Hunter Predator Action Figure
Day 2,292: Lanard Toy Alien 7-Inch Warrior Xeno Action Figure
Day 2,308: Lanard Alien Collection Xenomorph Warrior, Rotating Sentry Gun, and Colonial Space Marine Xenomorph Swarm Action Figure Set

See more ALIENS figures in Figure of the Day:
Day 195: Kenner ALIENS Arachnid Alien Action Figure
Day 234: Kenner ALIENS Scorpion Alien Action Figure
Day 250: Kenner ALIENS Panther Alien Action Figure
Day 256: Kenner ALIENS Gorilla Alien Action Figure
Day 261: Kenner ALIENS Bull Alien Action Figure
Day 285: Kenner ALIENS Hive Wars Warrior Predator
Day 317: Kenner ALIENS vs. Predator 10-Inch Alien Action Figure
Day 359: Kenner ALIENS Hive Wars Acid Alien Action Figure
Day 365: Kenner ALIENS Vasquez Action Figure
Day 381: Kenner ALIENS Action Masters Ripley
Day 397: Kenner ALIENS Mantis Alien
Day 792: Super 7 ALIEN SDCC Exclusive Sales Samples
Day 821: Super7 x Funko Alien ReAction Ripley
Day 844: Super7 x Funko Alien ReAction Dallas
Day 852: Super7 x Funko Alien ReAction Alien
Day 857: Super7 x Funko Alien ReAction Kane in Space Suit
Day 861: Super7 x Funko Alien ReAction Ash
Day 1,149: Super7 x Funko Alien Egg Chamber Action Playset
Day 1,183: Super7 x Funko Alien ReAction Alien (with Metallic Flesh)
Day 1,199: Super7 x Funko Alien ReAction Ripley (Spacesuit)
Day 1,272: Super7 x Funko Alien ReAction Kane (Chestburster)
Day 1,277: Super7 x Funko Alien ReAction Kane (Facehugger)
Day 1,324: Diamond Select Toys Aliens vs. Colonial Marines Figure Set
Day 1,327: Super7 x Funko Alien ReAction Nostromo Crew (Dallas, Kane, Lambert)
Day 1,656: Super7 Alien M.U.S.C.L.E. Set A
Day 1,676: Super7 Alien M.U.S.C.L.E. Set C
Day 1,686: Super7 Alien M.U.S.C.L.E. Set B
Day 1,693: Super7 Alien M.U.S.C.L.E. Set D
Day 1,846: Super7 Aliens M.U.S.C.L.E. Set E
Day 1,864: Super7 Aliens M.U.S.C.L.E. Set A
Day 1,884: Super7 Aliens M.U.S.C.L.E. Set D
Day 1,929: Titan Merchandise Alien vs. Predator The Whoever Wins Collection Scar
Day 1,985: Funko Pop! 8-Bit Alien Xenomorph (Video Game) Pop! Vinyl Figure
Day 2,163: NECA Aliens Classics Series Neomorph Alien Action Figure
Day 2,167: Lanard Alien Collection Alien Queen Action Figure
Day 2,171: Lanard Alien Collection Xenomorph Drone, Egg & Facehugger, and Research Scientist Xenomorph Swarm Action Figure Set
Day 2,173: Lanard Alien Collection Advanced-APC Vehicle and Colonial Marine Sargent Xenomorph Attack Action Figure Set
Day 2,175: Lanard Alien Collection Xenomorph Runner, Planetary Rover Bike, and Weyland Commando Action Figure Set
Day 2,178: Lanard Alien Collection Power Loader, Colonial Marine, and Warrior Alien Xenomorph Attack Action Figure Set
Day 2,179: Kenner Aliens Wild Boar Alien Action Figure
Day 2,274: Lanard Toy Alien 7-Inch Drone Xenomorph Action Figure
Day 2,292: Lanard Toy Alien 7-Inch Warrior Xeno Action Figure
Day 2,308: Lanard Alien Collection Xenomorph Warrior, Rotating Sentry Gun, and Colonial Space Marine Xenomorph Swarm Action Figure Set
Day 2,554: Super7 Alien UCCSS Nostromo Action Figure Set 1 with Kane with Facehugger, Ripley with Jonesy, Ash with Removable Head