Black and Green
4 each of 5 Aliens, 3 each of 5 Marines

Aliens Army Men
Item No.: No. JUL158144
Manufacturer: Diamond Select Toys / EMCE Toys
Includes: 35 figures
Action Feature: n/a
Retail: $9.99
Availability: October 2015
Other: Emce Toys Nanoforce

PREVIOUS
RSS
NEXT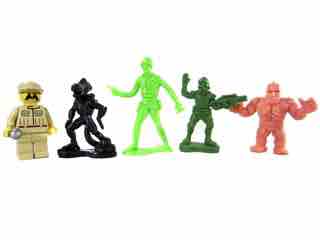 As a weird kitschy thing, I like the idea of Army Men toys. Hasbro's push of the underrated (but expensive per-figure) Star Wars Command line stank of failure, not because it was a bad concept but because Hasbro is the wrong crew to do it - it had about a year before collapsing, but it's neat and you might be able to get it on the cheap on closeout. More new toys are coming, like upcoming Universal Monsters sets (with monsters and villagers) plus the swell Aliens vs. Colonial Marines Figure Set right now. For ten bucks, it meets my standard of a decent deal - 35 cents per figure is pretty decent for something new with a license.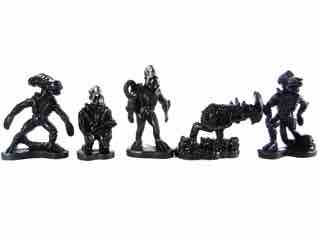 I've bought a few bags (and tubes) of figures and generally speaking, you don't get much more than 10-12 unique styles per sack. This one has 10 on the nose - and they're appropriately retro. The sculpts range from pretty good (Hicks!) to pretty awkward (the Xenomorph horde). While completely licensed, the alien monsters remind me a lot of close-but-not-quite toys (and bootlegs) of the 1970s and 1980s. These feel like they were filtered through whatever lens was employed to get us Kenner's first Cantina aliens in the 1970s - except instead of swim fins, we have creatures with massive overbites. Each black creature is pretty close to the common 60mm scale, but it's notable that these have very high platform stands. The alien bases are largely plain, while the marines have unique detailing - they look like floor grates. I don't know for a fact that they were made by different sculptors, but it wouldn't surprise me as the monsters are shorter than the humans.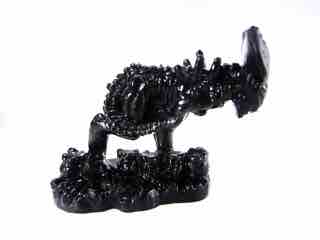 The Alien Queen stands out as bizarre. She's bent over, probably to give the illusion of a tall menace towering over smaller prey. Since there's no smaller prey to be had, the mother of all bugs is posed head-butting the other figures of this set. Her head sculpt and detailing are great - the teeth, the tubes, all of the movie creature's form has been replicated in a way that does it few favors. The proportions are weird, and she has a half dozen eggs at her feet. It's quite charming, and it really does look and feel like it fell out of another decade.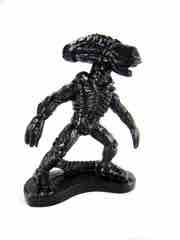 The other creatures are all basically similar - they also feel like potentially unlicensed role-playing miniatures of the 1980s. Some have only three fingers, with high-quality squeezings of less than stellar sculpts. The level of detail is there, but the poses are oddly endearing. One is crouching, with a massive overbite. Another stands tall, his tail raised over his shoulder with an even more massive overbite. Another has a massively opened jaw with a similarly large overbite, reminding me more of certain forms of sea life thanks to the lack of secondary inner jaws. This one has an egg on his base, with hands basically going on his hips. Rounding out the set is a creature with a longer neck, arms spread out, looking like he's creeping around a corner. It's not bad.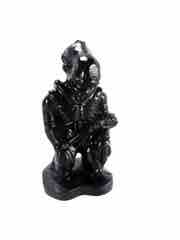 Each figure has detailing more or less true to the movie, with the revised domes and the bony chests. The tails are sculpted with the various segments and pointy tips, ensuring that you have something that fits the requirements of your expectations while not necessarily requiring the same level of amazing detail we saw on the Palisades/Tree House Kids "army men" from over a decade ago. They were larger and more impressive, but that's sort of antithetical to the play pattern's need to be cheap and plentiful - which this is. After opening these I felt disappointed that I opened the bag after Halloween, because these seem like a cool thing to annoy kids by handing out instead of candy.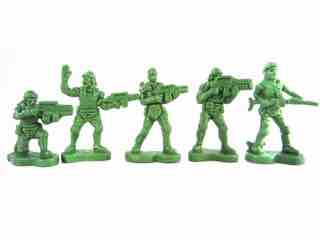 Joining the iconic creatures are arguably the most perfect thing you could take from a movie and make as green army men - the Colonial Marines. With pulse rifles and fancy space body armor, these were designs that should have been army men years earlier - and I'd posit they're the real reason to buy the set. One is clearly Hicks, with a visible face and recognizable hair. He's taller than the monster figures, and the detail is just as good - it's a little soft in spots, but it's on the happy side of a good 1980s miniature toy. He's got a big pulse rifle, pockets, armor panels, and added detailing on the back of the legs which vaguely resembles camo. More authentic recreations of Hicks exist, but this is meant to be super cheap. It succeeds.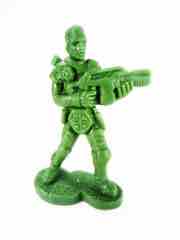 The remaining figures are all pretty great - but they're also pretty hard to identify for me. (Admittedly, I don't have the roster memorized.) One looks like Apone, one looks like Drake, some have their faces somewhat obscured. The good thing is that you get a variety of poses and weapons, but the one thing missing is obviously Ripley. An army of Sigourney Weavers would be somewhat ridiculous, but I think I can get behind the ridiculous. The fact that you can now get super cheap sci-fi soldiers with pulse rifles should be enough to get you to look at these. The fact that they feel like old toys is a nice bonus, as that sort of thing has been going around a bunch with this series in recent years. (Hello, ReAction.)
I got my money's worth here - although as I get more of these, I find that quantity is increasingly annoying. Variety makes all the difference, and simple things like color variations do a bunch of good. For example, if half the aliens were red or dark purple that'd be fantastic - as it is, it's still pretty good. I think I'll be sending out spares to some people as gifts, because I am a terrible gift giver. If you've enjoyed the various Tim Mee reissues, Hasbro's Command line, and whatever the 99 cent store had, these are on the higher end of the quality spectrum. There are no nasty mold seam marks, they're sturdy, and they have the benefit of being inspired by one of the great James Cameron movies. They are not amazing, they will impress no one - but they're fun enough that I'm hoping the Ghostbusters and Universal Monsters sacks make it out soon. I'd buy some Predators too.
--Adam Pawlus
Additional Images

See more Diamond Select Toys figures in Figure of the Day:
Day 76: Diamond Select Toys Black and White Wolfman
Day 82: Diamond Select Battle Beasts Minimates SDCC Gold Alligator Action Figure
Day 373: Diamond Select Battle Beasts Minimates Case Red Alligator Action Figure
Day 390: Diamond Select Battle Beasts Minimates C2E2 2012 Red Vorin
Day 395: Diamond Select Battle Beasts Minimates C2E2 2012 Grey Vorin
Day 450: Diamond Select Battle Beasts Minimates SDCC 2012 Vorin & Zik
Day 460: Diamond Select Battle Beasts Minimates SDCC 2012 Gold Vorin
Day 463: Diamond Select Battle Beasts Minimates C2E2 Exclusive Black Alligator
Day 610: Diamond Select Battle Beasts Minimates Gruntos the Walrus & Tate Reynolds
Day 720: Diamond Select Battle Beasts Minimates Shadow Merk
Day 1,324: Diamond Select Toys Aliens vs. Colonial Marines Figure Set
Day 1,756: Diamond Select Independent Comic Book Minimates Battle Beasts Ruminant and Spyrnus
Day 1,815: Diamond Select Battle Beasts Minimates Stealth Vorin
Day 1,905: Diamond Select Battle Beasts Minimates Antalor and Nychirix

See more ALIENS figures in Figure of the Day:
Day 195: Kenner ALIENS Arachnid Alien Action Figure
Day 234: Kenner ALIENS Scorpion Alien Action Figure
Day 250: Kenner ALIENS Panther Alien Action Figure
Day 256: Kenner ALIENS Gorilla Alien Action Figure
Day 261: Kenner ALIENS Bull Alien Action Figure
Day 285: Kenner ALIENS Hive Wars Warrior Predator
Day 317: Kenner ALIENS vs. Predator 10-Inch Alien Action Figure
Day 359: Kenner ALIENS Hive Wars Acid Alien Action Figure
Day 365: Kenner ALIENS Vasquez Action Figure
Day 381: Kenner ALIENS Action Masters Ripley
Day 397: Kenner ALIENS Mantis Alien
Day 792: Super 7 ALIEN SDCC Exclusive Sales Samples
Day 821: Super7 x Funko Alien ReAction Ripley
Day 844: Super7 x Funko Alien ReAction Dallas
Day 852: Super7 x Funko Alien ReAction Alien
Day 857: Super7 x Funko Alien ReAction Kane in Space Suit
Day 861: Super7 x Funko Alien ReAction Ash
Day 1,149: Super7 x Funko Alien Egg Chamber Action Playset
Day 1,183: Super7 x Funko Alien ReAction Alien (with Metallic Flesh)
Day 1,199: Super7 x Funko Alien ReAction Ripley (Spacesuit)
Day 1,272: Super7 x Funko Alien ReAction Kane (Chestburster)
Day 1,277: Super7 x Funko Alien ReAction Kane (Facehugger)
Day 1,324: Diamond Select Toys Aliens vs. Colonial Marines Figure Set
Day 1,327: Super7 x Funko Alien ReAction Nostromo Crew (Dallas, Kane, Lambert)
Day 1,656: Super7 Alien M.U.S.C.L.E. Set A
Day 1,676: Super7 Alien M.U.S.C.L.E. Set C
Day 1,686: Super7 Alien M.U.S.C.L.E. Set B
Day 1,693: Super7 Alien M.U.S.C.L.E. Set D
Day 1,846: Super7 Aliens M.U.S.C.L.E. Set E
Day 1,864: Super7 Aliens M.U.S.C.L.E. Set A
Day 1,884: Super7 Aliens M.U.S.C.L.E. Set D
Day 1,929: Titan Merchandise Alien vs. Predator The Whoever Wins Collection Scar
Day 1,985: Funko Pop! 8-Bit Alien Xenomorph (Video Game) Pop! Vinyl Figure
Day 2,163: NECA Aliens Classics Series Neomorph Alien Action Figure
Day 2,167: Lanard Alien Collection Alien Queen Action Figure
Day 2,171: Lanard Alien Collection Xenomorph Drone, Egg & Facehugger, and Research Scientist Xenomorph Swarm Action Figure Set
Day 2,173: Lanard Alien Collection Advanced-APC Vehicle and Colonial Marine Sargent Xenomorph Attack Action Figure Set
Day 2,175: Lanard Alien Collection Xenomorph Runner, Planetary Rover Bike, and Weyland Commando Action Figure Set
Day 2,178: Lanard Alien Collection Power Loader, Colonial Marine, and Warrior Alien Xenomorph Attack Action Figure Set
Day 2,179: Kenner Aliens Wild Boar Alien Action Figure
Day 2,274: Lanard Toy Alien 7-Inch Drone Xenomorph Action Figure
Day 2,292: Lanard Toy Alien 7-Inch Warrior Xeno Action Figure
Day 2,308: Lanard Alien Collection Xenomorph Warrior, Rotating Sentry Gun, and Colonial Space Marine Xenomorph Swarm Action Figure Set
Day 2,554: Super7 Alien UCCSS Nostromo Action Figure Set 1 with Kane with Facehugger, Ripley with Jonesy, Ash with Removable Head