Drone Xenomorph
White 7-Inch Collectible Fully Posable Alien

Lanard Toy 7-Inch Action Figure
Item No.: No. 2730WH
Manufacturer: Lanard Toy
Includes: Egg, facehugger
Action Feature: n/a
Retail: $9.99
Availability: January 2021
Other: Surprisingly robust for ten bucks

PREVIOUS
RSS
NEXT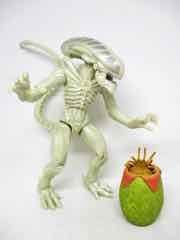 Lanard Toy apparently does not understand why people like black repaints - none of its sci-fi figures are in the right colors! Of course, they're dirt cheap, so this off-white pearly Drone Xenomorph is kind of an oddity. Why is it only $10? Similar NECA, Hasbro, Mattel, and McFarlane figures are north of $20 - admittedly those come in the right colors, so unless the license was written specifically to be "off" I don't comprehend how or why they can deliver the goods at such a low price.
The Drone Xenomorph is inspired by the 1979 original film, but it takes a few liberties - it's not as skinny. It's not black. The hands have three fingers and one thumb, rather than four fingers and two thumbs. It has a lot of the right elements, but they're all changed just enough that it would still require a license and not pass the smell test as a bootleg of some sort. Why make so many changes to the core design? I have no idea - it's still pretty neat but in many respects it feels more like a designer toy, or an authorized knock-off.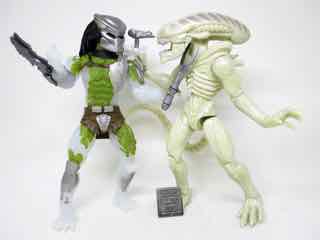 It's hard to not think of the Kenner figures when picking these new guys up. Back in 1993, those things infuriated fans who wanted true-to-movie designs, and fans who just wanted to buy creatures. The colonial marines sat on pegs while the bugs immediately sold at a cheap $5. Nearly 30 years later they seem more like designer toys than movie or kid toys, but sometimes that works - this time around, the black Alien creature is now a pearly menace with silver teeth and dark grey markings along the dome. There's not a lot of deco here, and the design seems like something done by someone who was familiar with the design but didn't have good reference photos. The exoskeletal, biomechanical body trappings are mostly all here. You've got the weird vented legs, the bony chest, the long scorpion-like tail, and even the second set of jaws hidden behind an opening mouth - but not articulated. This ticks off most of the elements of the costume, without getting most of them completely correct.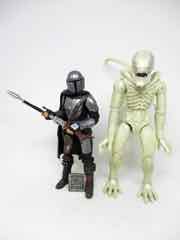 The figure has 21 points of articulation, and in many respects is about on par with the quality of Toy Biz' early Marvel Legends and Spider-Man Classics action figures from two decades ago. It's big and cheap, represents a huge leap forward for the manufacturer, but could be better.
His accessories are more than I would expect - a decent egg, and a new Facehugger that's a lot better than the super-cheap one from 2020's sets. It felt like a cheap skee-ball prize. While this one can't stand, the coloring and sculpting are a lot nicer. The fingers are posed so it can grip on the front of your 6- or 7-inch human figures, but the coiled-up tail might get in the way of sitting flush against the body. The tail also won't help him stand, so really it just raises the facehugger up in the egg a bit. It's a decent extra.
It's sort of the opposite of ambitious - and that may be a good way to hook new people into toy collecting at lower prices. I went out to get these when the stores were emptier because, well, why not? It's a nice big toy for ten bucks. I assumed they might be $15, but I suppose NECA's offerings are arguably much better for an adult collector. For a kid or a fan who just wants something weird and cheap, this is a gem. I'd also like to see a black repaint if Lanard is so inclined. With the dome from the first movie and hands... not, this is likely to irritate purists and delight those who just want a surprisingly good chunky toy. I like it - but because it's weird. Those wanting perfect replicas have dozens of other options, this is just for the customizers and the toy people.
--Adam Pawlus
Additional Images

See more Lanard figures in Figure of the Day:
Day 1,912: Lanard Rampage The Movie Big City Brawl! Lizzie
Day 2,065: Lanard Primal Clash Mammoth with Shrapnel Action Figure
Day 2,167: Lanard Alien Collection Alien Queen Action Figure
Day 2,171: Lanard Alien Collection Xenomorph Drone, Egg & Facehugger, and Research Scientist Xenomorph Swarm Action Figure Set
Day 2,173: Lanard Alien Collection Advanced-APC Vehicle and Colonial Marine Sargent Xenomorph Attack Action Figure Set
Day 2,175: Lanard Alien Collection Xenomorph Runner, Planetary Rover Bike, and Weyland Commando Action Figure Set
Day 2,178: Lanard Alien Collection Power Loader, Colonial Marine, and Warrior Alien Xenomorph Attack Action Figure Set
Day 2,274: Lanard Toy Alien 7-Inch Drone Xenomorph Action Figure
Day 2,278: Lanard Toy Predator 7-Inch Jungle Hunter Predator Action Figure
Day 2,286: Lanard Toy Predator 7-Inch City Hunter Predator Action Figure
Day 2,292: Lanard Toy Alien 7-Inch Warrior Xeno Action Figure
Day 2,308: Lanard Alien Collection Xenomorph Warrior, Rotating Sentry Gun, and Colonial Space Marine Xenomorph Swarm Action Figure Set

See more ALIENS figures in Figure of the Day:
Day 195: Kenner ALIENS Arachnid Alien Action Figure
Day 234: Kenner ALIENS Scorpion Alien Action Figure
Day 250: Kenner ALIENS Panther Alien Action Figure
Day 256: Kenner ALIENS Gorilla Alien Action Figure
Day 261: Kenner ALIENS Bull Alien Action Figure
Day 285: Kenner ALIENS Hive Wars Warrior Predator
Day 317: Kenner ALIENS vs. Predator 10-Inch Alien Action Figure
Day 359: Kenner ALIENS Hive Wars Acid Alien Action Figure
Day 365: Kenner ALIENS Vasquez Action Figure
Day 381: Kenner ALIENS Action Masters Ripley
Day 397: Kenner ALIENS Mantis Alien
Day 792: Super 7 ALIEN SDCC Exclusive Sales Samples
Day 821: Super7 x Funko Alien ReAction Ripley
Day 844: Super7 x Funko Alien ReAction Dallas
Day 852: Super7 x Funko Alien ReAction Alien
Day 857: Super7 x Funko Alien ReAction Kane in Space Suit
Day 861: Super7 x Funko Alien ReAction Ash
Day 1,149: Super7 x Funko Alien Egg Chamber Action Playset
Day 1,183: Super7 x Funko Alien ReAction Alien (with Metallic Flesh)
Day 1,199: Super7 x Funko Alien ReAction Ripley (Spacesuit)
Day 1,272: Super7 x Funko Alien ReAction Kane (Chestburster)
Day 1,277: Super7 x Funko Alien ReAction Kane (Facehugger)
Day 1,324: Diamond Select Toys Aliens vs. Colonial Marines Figure Set
Day 1,327: Super7 x Funko Alien ReAction Nostromo Crew (Dallas, Kane, Lambert)
Day 1,656: Super7 Alien M.U.S.C.L.E. Set A
Day 1,676: Super7 Alien M.U.S.C.L.E. Set C
Day 1,686: Super7 Alien M.U.S.C.L.E. Set B
Day 1,693: Super7 Alien M.U.S.C.L.E. Set D
Day 1,846: Super7 Aliens M.U.S.C.L.E. Set E
Day 1,864: Super7 Aliens M.U.S.C.L.E. Set A
Day 1,884: Super7 Aliens M.U.S.C.L.E. Set D
Day 1,929: Titan Merchandise Alien vs. Predator The Whoever Wins Collection Scar
Day 1,985: Funko Pop! 8-Bit Alien Xenomorph (Video Game) Pop! Vinyl Figure
Day 2,163: NECA Aliens Classics Series Neomorph Alien Action Figure
Day 2,167: Lanard Alien Collection Alien Queen Action Figure
Day 2,171: Lanard Alien Collection Xenomorph Drone, Egg & Facehugger, and Research Scientist Xenomorph Swarm Action Figure Set
Day 2,173: Lanard Alien Collection Advanced-APC Vehicle and Colonial Marine Sargent Xenomorph Attack Action Figure Set
Day 2,175: Lanard Alien Collection Xenomorph Runner, Planetary Rover Bike, and Weyland Commando Action Figure Set
Day 2,178: Lanard Alien Collection Power Loader, Colonial Marine, and Warrior Alien Xenomorph Attack Action Figure Set
Day 2,179: Kenner Aliens Wild Boar Alien Action Figure
Day 2,274: Lanard Toy Alien 7-Inch Drone Xenomorph Action Figure
Day 2,292: Lanard Toy Alien 7-Inch Warrior Xeno Action Figure
Day 2,308: Lanard Alien Collection Xenomorph Warrior, Rotating Sentry Gun, and Colonial Space Marine Xenomorph Swarm Action Figure Set
Day 2,554: Super7 Alien UCCSS Nostromo Action Figure Set 1 with Kane with Facehugger, Ripley with Jonesy, Ash with Removable Head