Inferno
WFC-K19

Transformers Generations War for Cybertron Kingdom Voyager
Item No.: Asst. F0365 No. F0694
Manufacturer: Hasbro
Includes: Blaster, 2 hand tools, 2 coiled hoses
Action Feature: Transforms from robot to fire engine
Retail: $29.99
Availability: February 2021
Other: He is the new thing

PREVIOUS
RSS
NEXT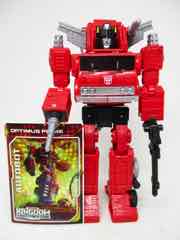 "More of the same (but different)" is the recipe for success in the 21st century fan space. If you give fans something exactly like they have, they might get bored. If you give them something entirely new, they may not be interested. With toys like Inferno here, it follows a predictible-but-good pattern of repaints, retools, and new super-articulated toys that give the impression of what you may remember as a kid of the 1980s. Other than the packaging, someone might see this toy and say "I had a toy just like this when I was a kid!" It won't be true, but I've seen enough people say things like that to know the pattern when I see it.
Click here to check availability at Entertainment Earth.
If you got Earthrise Grapple [FOTD #2,185] in 2020, you more or less know what to expect here as Grapple and Inferno (and sometimes Roadhauler and Artfire) tend to share a lot of parts. While the deco is significantly different, the robots are pretty similar with enough changes to keep it interesting. Pretty much everything new on Inferno's robot mode is either a new accessory or above the neck, as all the fire ladder bits are effectively a big kibble ponytail. The head is new, the assembly around the neck is new to accommodate the "wings" and of course, the latter replaces the hook from the orange release. The windshield wipers are now a different color so they stand out, too, and bits and pieces of the legs are decorated differently with more paint. Also added, a couple of coiled-up hoses that can be stored on existing 5mm holes on the legs. Clearly, teams Hasbro and Takara-Tomy were planning ahead.
The 6 1/2-inch red robot has about 22 points of meaningful articulation, and I love that you can swap out the fists with sockets for tools. If you don't want to use the included blaster - now black, rather than almost-black-dark-grey, there is an on-board storage socket on the back of the figure. I have no real connection to the character, but I love the toy and all of its articulation. It's super poseable, he stands well, he looks good, and it offers sufficiently different play features than most of the nostalgia-era Inferno toys. He lacks the G1 rocket firing mechanisms, but beyond that it's pretty close to the 1984 toy. The 2009 Universe 2.0 "G2" toy has a clear blue water projectile and a much stockier build, which helps it stand out on the shelf. The 2015 Combiner Wars toy doubles as a combiner torso, which may be the best way to keep it now that you have this Kingdom robot. While they're all fire trucks, they're also all a little different and I find that it makes for a surprisingly fun subset of new toys of the same basic guy.
It's also worth noting each Inferno toy since the late 2000s also has been recolored or remolded - so if you don't want a shelf of red Infernos, you can also pick up Grapple, Pyra Magna, Artfire, or Hot Spot - just to name a few.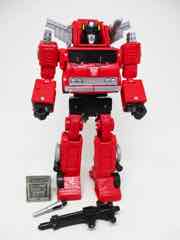 Transforming the toy is pretty easy - you unfurl the backpack when you decapitate the robot, the arms fold back, and the legs fold back. It's kind of easy and simple, which I appreciate. I didn't need to consult the instructions and odds are you won't either, other than to confirm that the ladder does indeed telescope out. It's just supremely stiff, so don't be afraid to apply a little pressure. Just a little. If it snaps, that's on you.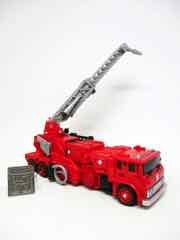 It's a fire engine! The wheels roll, but not terribly well. There's not a lot of clearance there, but other than that it's pretty good. The telescoping ladder is articulated so you can swivel it around, plus there's a 3mm peg for a blaster bolt. It would be great if there were more blue ones you could pretend were water. The truck looks pretty good from some angles, and like a robot contorted into a truck block from others. This makes it a lot like the original 1984 toy. "Blocky but good" is the G1 calling card, making this likely to appeal to people who enjoyed and want more of what they had as a kid in the 1980s. I'm sure a lot of long-term fans would rather have something completely new, but the demand for more G1 remakes continues to be high since there's a pretty steady supply of 30- and 40-somethings looking to grab on to a better version of a childhood memory.
It's a good toy for the price, cheaper than the Masterpiece Edition and simpler to change up. Short of decking it out with chrome accessories (that do not exist) this is likely to be the last toy of inferno (as Inferno) I'm going to want to buy. It would not shock me to see Hasbro or Takara-Tomy rerelease it with stickers (or tampos that look like stickers) to bring it an appearance more like the original toy, but it's not like we need that. This is a toy that will likely scratch your itch for Inferno, and then you can go back to buying new things, or not spending money at all.
--Adam Pawlus
Additional Images

Click here to see more Hasbro figures in Figure of the Day.
Click here to see more Transformers figures in Figure of the Day.

Want to buy this figure? Check Transformers availability at our sponsors:
Entertainment Earth