Quintesson Deseeus Army Drone
Deez Nutz Jokes Aplenty

Transformers Generations War for Cybertron Trilogy Walmart Exclusive Netflix Deluxe
Item No.: Asst. E9489 No. F0988
Manufacturer: Hasbro
Includes: W-35 LR Doomblast Forge Launcher
Action Feature: Transforms from Robot to Van
Retail: $19.99
Availability: March 2021
Other: Army Builder

PREVIOUS
RSS
NEXT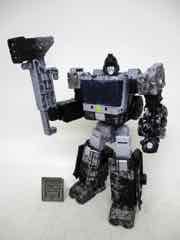 This is a good one. The Quintesson-branded Quintesson Deseeus Army Drone is one of very few figures to be marked as such on the box, and even fewer to have the marking on the actual toy. Oddly, this figure showed up in stores before it was announced officially and I got one before Hasbro told anyone it existed - and it's good. The black plastic with silver "dry brushing" is very similar to Hasbro's gorgeous Siege dioramas at Comic-Con and other Hasbro events, some of which I am not able to admit exist, but you've seen and/or been to the other ones. The drone matches out the scorched surface of Cybertron and it's a joy to see on a mass-released toy.
Quintesson Deseeus Army Drone is what he says on the box - a Quintesson on the Netflix cartoon had a couple of army drones which just happen to be reused black Ironhide models. They don't have much to say, and they stand around because it was much cheaper than animating Sharkticons or Alicons. The figure itself is pretty great and fixed the problems with Ironhide's initial release - namely the flaps that hang off his shins are super-tight now and don't fall off if you look at them sideways.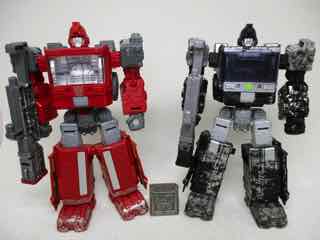 This is another new guy - and new guys are a rare thing. The black Ironhide will probably be repurposed as a Movie-ish black Ironhide if someone stickers over the Quintesson faction marking, because the colors certainly match and it's a neat way to do the black Diaclone Van thing that's not just "because it was that way 35 years ago." A little backstory goes a long way, which is why this guy is potentially going to be more interesting over the long haul than Spin-Out and Cordon.
The paint applications are a healthy slathering of silver paint that sticks perfectly - there's no weak spots here. Nearly every black piece of plastic on the robot mode has some paint on it - even both sides of the shin flaps! It's pretty gorgeous and a high benchmark as to what fans will probably expect from paint going forward. They'll be disappointed, probbaly, but at least this figure's strangly painted shoulders and consistent scrapes show that Hasbro really can do a good job with this kind of deco. Articulation is great too, with 24 moving parts - many of which are in the arms. I have no problems getting this figure to stand or to pose.
To get a new army builder is rare, particularly one for an underserved faction. Hasbro has done more for the Quintessons in the last year than the last three decades, so it's pretty great to have something - even if it's a simple thing - to add to the lore.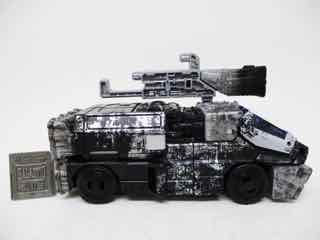 The black box on wheels is covered in silver panels and paint, with a transformation that's pretty easy minus one thing. There's a twist in the torso to get the cab to spin around, and that's a very tight joint on my sample - it works better after you finally snap it in place once. Be careful!
The battering ram holds together way better than Ratchet, Ironhide, and Crosshairs. I don't know what it is, but it just feels they tweaked it a bit to fit better. Or maybe I got better at shifting these things around. Either way, I am not sorry I got this mold yet again.
I assume this is going to get gobbled up due to its troop building nature - a lot of fans will probably buy two. Heck, I'm even considering it even though I do not have the space for more armies. It's a lovely design with an excellent gritty paint job, and part of a third faction. This is the kind of thing that would usually wind up as a BotCon exclusive, and in this weird landscape is now a cheap exclusive at America's biggest big box store. I never would have guessed, but I'm not complaining. Kudos to Hasbro and the Walmartians for trying something weird.
--Adam Pawlus
Additional Images

Click here to see more Hasbro figures in Figure of the Day.
Click here to see more Transformers figures in Figure of the Day.

Want to buy this figure? Check Transformers availability at our sponsors:
Entertainment Earth