Pheyaos Rothan
One of Four Green Releases

Glyos System Series
Item No.: No. n/a
Manufacturer: Onell Design
Includes: Switch pin accessory
Action Feature: Pops apart, spin head around for alternate face
Retail: $11.00
Availability: June 13, 2019
Other: A classic

PREVIOUS
RSS
NEXT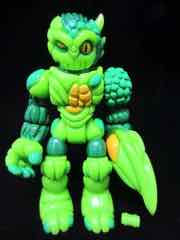 With fewer Onell Design drops, it's time to dig into the unpublished photos in the archive! I shot the Pheyaos Rothan in 2019, but today, we're reviewing it. It's good! We don't see this mold very often, so next time it comes around you should grab it.
Inspired by a line of Japanese soft vinyl figures, this 3-inch PVC release is one of several awesome releases from Onell Design. Its only bonus part is a switch pin - handy for custom builds! - but the core figure is quite a treat, especially at its initial $11 price. Sometimes you look back at figures and say "how come I paid so much for that?" The Pheyaos is one I look back and go "wow, this was only eleven bucks!"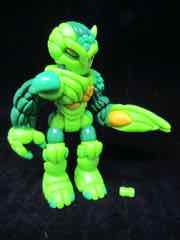 Cast in green, this lumpy little looker was given two shades of green paint as well as some yellow and black highlights. With 12 points of articulation, his build is pretty similar to Pheyden - swivel wrists, swivel ankles and knees, rotating shoulders and hips, and so on. The head and waist turn nicely, too. The figure is sized to fit with your other Onell Design things, but also Playmobil and Imaginext figures.
The left hand is a monster fist, and the right hand... I really don't know what kind of claw this is. It's weird - it looks like a mutant limb from an anime nightmare monster of some sort, ribbed in many places and painted with a yellow highlight near what would probably be the wrist. I like that the hand is big enough to hold an accessory, but there aren't many Glyos accessories sized for this big meaty paw.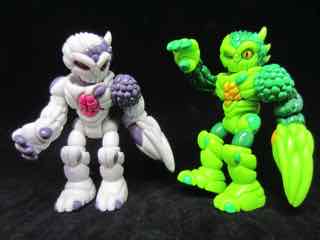 The head is really something, and typical of Onell Designs you get two faces for the price of one. By default, you get a two-eyed skull-faced creature with horns and some grooves on the skull. He's got sculpted eyebrows, a nose-like design between the peepers, and one cat-like eye on his left with one Takara-like robot eye on his right. This is enough to be cool - but a whole second face is on the back of the head with a cat-eyed cyclops. The fleshy panels look like an armored fish from the right angles, making this one of the finer, weirder alternate heads you've seen in this line.
There are also unpainted green, unpainted clear green, and painted clear green from this wave - all of which are long sold out. Other Pheyaos figures have been in circulation, but they're far and few between these days. I'd love to see more of this mold done up in ridiculous paint schemes, something truly ridiculous, metallic, and overly colorful - but not to play with. That would be for looks. This is the kind of figure you buy to play with since it has enough paint to look cool while being pretty cheap and durable. Sadly Pheyaos debuted after the Onell Design comics were as integral to the marketing and sales of the toys, so we don't get to see his adventures. It's still a gorgeous toy and I hope you can get one.
--Adam Pawlus
Additional Images


Click here to see more Onell Design figures in Figure of the Day.
Click here to see more Glyos Compatible figures in Figure of the Day.