Blurr
Hasbro Pulse Exclusive

Transformers Shattered Glass Deluxe Class Toy
Item No.: No. F2705
Manufacturer: Hasbro
Includes: Blaster, spark welder hand attachment, IDW Comic Book (outside of box)
Action Feature: Transforms from car to robot
Retail: $29.99
Availability: August 2021
Other: Another new repaint line

PREVIOUS
RSS
NEXT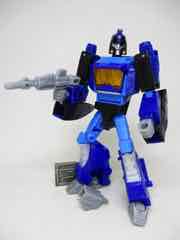 A different version of this Shattered Glass "Evil Autobot" Blurr was released as a BotCon Exclusive in 2008, and is famous for being one of few toys the club apologized for making. Why? Well, the toy took Armada Blurr, which was retooled to be given a G1 head for Cybertron, and the club spent its tooling budget on retooling Blurr's head as Blurr - albeit with an eye patch - which was a real waste of budget on very expensive toys. The premise of this toy was "Mirror, Mirror" - the evil alternate universe, a TV cliche popularized by Star Trek over 50 years ago.
Hasbro basically repeated history by giving us the $20 Studio Series Blurr [FOTD #2,289] from earlier this year, and retooled the Blurr head as - you guessed it - Blurr. This is actually sort of fortuitous, as the Studio Blurr head wasn't very good and this is arguably an improvement. For those seeking to buy a bit of BotCon history on the cheap, this is a figure worth tracking down. You'll find that Hasbro did a nice job on this one, unless your are morally opposed to it from existing in the first place.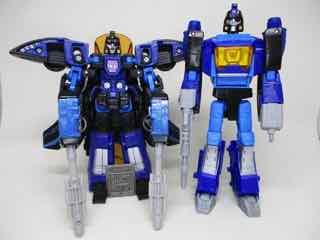 The robot's grimace and coloring don't seem to be obviously inspired by another character, beyond the obvious inspiration of the 2008 toy from BotCon or if you squint, maybe a little bit of Thundercracker's original toy. Thanks to the new head, complete with new crest, the eyes look like they're damaged. One red and one eye covered in a patch give the figure lots of personality, which is good, because the comic didn't give him a whole heck of a lot. He has a rather grotesque grin, not unlike some of the recent Siege Seeker molds. Also notable, he's got darker blue elements and a lot of black.
If you have the previous Studio Series release of Blurr, you know what to expect. There are no launching rockets or surprise gimmicks, but you do get a nice blaster and a welder attachment for your highly-posable robot. The 2008 BotCon version had a key that unlocked spring-out wings for a flight mode as well as two rocket launchers, which made for a fun figure based on a fairly nice toy from 2002. Of course, today any figure that doesn't have rocker ankles is declared a failure from conception so it's unlikely we'll see a lot of fun toy elements on these collector toys ever again unless it's intrinsic to the character, like Soundwave's tape door or Fangry's little headmaster buddy.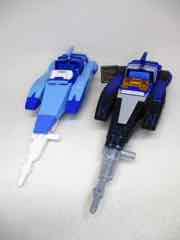 Transformation is the same as before, and the car mode is also quite similar except deco. The glass is now in that weird amber color, with an evil purple Autobot symbol under the glass. I really like the streaks, and the new paint masks that give him a lot more silver on the hood. Even if this isn't your cup of tea, it's hard to argue that it isn't interesting to look at.
As exclusive go, this is arguably more interesting than the four (or more) unique instances of Siege Megatron as Siege Megatron with varying battle damage and accessories. If you're going to get Blurr as another Blurr, the tinted window and lightning bolts make it a lot more interesting on a shelf, and while it's still blue it's absolutely different. I don't know if it will be a line that goes on forever, but it's a heck of a lot more interesting than those Takara-Tomy Premium Finish figures. Even with the mark-up to $30, at least you get a comic book in the deal. I like this figure, but I don't know if I'd necessarily recommend overpaying for it on the secondary market after it sells out. I like this release more than the "movie" version of the mold because this year looks fine and the other one looks a bit ghoulish.
--Adam Pawlus
Additional Images


Click here to see more Hasbro figures in Figure of the Day.
Click here to see more Transformers figures in Figure of the Day.

Want to buy this figure? Check Transformers availability at our sponsors:
Entertainment Earth