Glow-in-the-dark Dinosaurs Zuniceratops
Pangea Island Ceratopsian (Orange)

Beast of the Mesozoic Toy Pizza Exclusive
Item No.: No. n/a
Manufacturer: Creative Beast x Toy Pizza
Includes: Tail (some assembly required)
Action Feature: Opening mouth
Retail: $30.00
Availability: May 2021 (pre-order December 2020)
Other: Also available in green

PREVIOUS
RSS
NEXT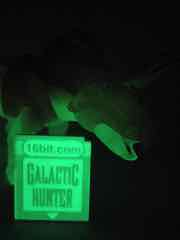 Creator David Silva has a lot of good ideas. He understands how to sculpt, how to get the most out of your tooling, how to color dinosaurs as realistic, believable animals. He also understands novelty. Two flavors of the Glow-in-the-dark Dinosaurs Zuniceratops were made to appeal to people that appreciate top-of-the-line sculpting and the very best articulation you can buy in a toy dinosaur... but also want it to look like a skee-ball prize from 1988.
There are incredible, gorgeous painted versions of Zuniceratops you can and should buy. But I collect a lot of glow things, so when I saw the green and orange versions of this feller with 29 points of articulation, I wanted both. But I just bought one, because as you can see after a few thousand toy reviews, I have issues. They're some of the best-looking dinosaur toys money can buy and they're pretty big too - and this 1:18 scale figure is basically sized for your 3 3/4-inch figure collection. It's sized perfectly to go with the various Toy Pizza offerings... and also decades of Kenner and Hasbro figures.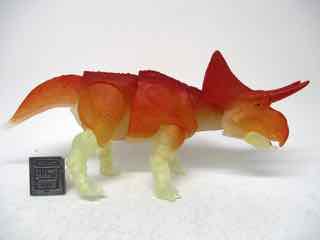 Articulation is good - ball-jointed front leg hips and tail and neck. Hinge jaw. Bend-and-swivel almost everything else. It's like they took the best from collector figures and put them in a toy dinosaur that, most likely, you would have (and have) passed up for a couple of bucks in the supermarket toy section. The orange spray on top brings out some of the sculpted detail, but the glow plastic absorbs most of it. You can see they did a nice job here, and the figure has no problems standing. Granted, there aren't a ton of action poses you can get, but it's a heck of a lot more interesting than the $1 rubber figures at Walmart - he can look up! He can bend in the middle! This is the toy you want to pose fighting your other two-legged carnivore dinosaur toys.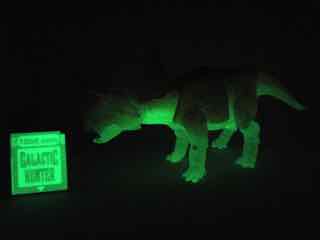 It feels sturdy and is satisfyingly chunky, comparable or better than a Hasbro or Mattel equivalent. It's truly the (goofball glow redeco) Marvel Legends of dinosaur toys, with just a bit of orange that reminds me of the Adventure People Alpha Star alien creature. Only here, there's a painted tongue and tiny, teeny black eyes. Other than that, it's a fairly simple paint job that doesn't look particularly complex - it's just a glow toy.
I really dig it, but I should note the glow is imperfect. Some body parts glow brighter than others, and that's truly odd - why should one chunk of one leg outshine the rest of the toy? I'm not sure. But it's still neat enough to pick up, and for all I know I got stuck in the middle of some weird batch variations. I'd advise you check it in person if you can, but since these toys are rarely stocked in actual stores that may not be possible. This is a pity, because the boxes - which usually have lavish paintings and gorgeous photography - needs to be seen to be appreciated. It's a lice of 1980s cheese, with iffy dirt and rocks and low-rent plastic trees on a packing shoot that appeared to take great pains to look super cheap. The glow text and red outlines look like something out of a 1990s fish tank decoration, which is a gleefully delightful design choice for this particular kind of toy. For fans over a certain age, this is a bizarre treat. You don't see many weird throwbacks like this, so I'd recommend getting it if you've spent $20 or more on an indie toy. I love me some glow The Outer Space Men (and recommend them highly), but at just a couple of bucks higher this is a bigger, meatier figure in more impressive packaging. Don't miss it.
--Adam Pawlus
Additional Images

See more Creative Beast figures in Figure of the Day:
Day 2,120: Creative Beast Beast of the Mesozoic Dromaeosaurus Action Figure
Day 2,305: Creative Beast Beast of the Mesozoic Glow-in-the-dark Dinosaurs Zuniceratops Action Figure

See more Toy Pizza figures in Figure of the Day:
Day 1,522: Toy Pizza Knights of the Slice Integer Knight Action Figure
Day 2,073: Toy Pizza Desert Rat LRDG Version Action Figure
Day 2,088: Toy Pizza Mikros Set BLT Version Action Figures
Day 2,114: Toy Pizza Regen Capsule Carrying Case with Lime Material Boy Action Figures
Day 2,118: Toy Pizza Forest Capsule Carrying Case
Day 2,123: Onell Design Glyos Rift Renegade Construct
Day 2,129: Toy Pizza Rift Killer Cola Action Figure
Day 2,160: Toy Pizza Chakan the Forever Man Glow Version Action Figure
Day 2,176: Toy Pizza Zoner Capsule Silver Vehicle Mode
Day 2,186: Onell Design CyMa Queen Kirallius
Day 2,187: Toy Pizza Meteor II Action Figure
Day 2,305: Creative Beast Beast of the Mesozoic Glow-in-the-dark Dinosaurs Zuniceratops Action Figure
Day 2,519: Toy Pizza Knights of the Slice Frankenslice Crowkin Action Figure
Day 2,531: Onell Design Glyos Rift Killer Grayvec Action Figure
Day 2,551: Toy Pizza Zoner Capsule GITD Vehicle
Day 2,555: Cappy Space Guardian Diver Action Figure
Day 2,571: Toy Pizza Noir Knight and Apotheosis Capsule Set
Day 2,607: Toy Pizza Green Ghost Capsule Carrying Case

See more Dinosaurs figures in Figure of the Day:
Day 990: Louis Marx Toys Dinosaurs Trachodon Figure
Day 1,019: Louis Marx Toys Dinosaurs Brontosaurus Figure
Day 1,023: Schleich Dinosaurs Kragensaurier (Triceratops) Figure
Day 1,034: Schleich Dinosaurs Mammut (Mammoth) Figure
Day 1,062: Tim Mee Toys Green and Yellow Prehistoric Dinosaurs Figure Set
Day 1,073: Louis Marx Toys Dinosaurs Stegosaurus Figure
Day 1,126: Schleich Dinosaurs Ursaurier (Dinosaur) Figure
Day 1,418: Jesse Narens Stegoforest Brown Stegoforest with Acorn Warrior
Day 1,419: Wendy's Playskool Definitely Dinosaurs Triceratops
Day 1,420: Tootsietoy Dinosaurs Stegosaurus Action Figure
Day 1,421: Imperial Dinosaurs Styracosaurus
Day 1,434: Wendy's Playskool Definitely Dinosaurs Anatosaurus
Day 1,446: Wendy's Playskool Definitely Dinosaurs Apatosaurus
Day 1,726: Unknown Wind-Up Brown Tyrannosaurus Rex
Day 1,990: Playmobil 2013 Toy Fair Dinos Explorer Figure
Day 2,023: Boley Nature World Edaphosaurus, Allosaurus, Styracosaurus Action Figures
Day 2,026: Unknown Diplodocus Figure
Day 2,051: Hasbro Dinosaurs Baby Sinclair Action Figure
Day 2,057: Half Toys Dino Series T-Rex
Day 2,065: Lanard Primal Clash Mammoth with Shrapnel Action Figure
Day 2,120: Creative Beast Beast of the Mesozoic Dromaeosaurus Action Figure
Day 2,126: Boley Nature World Mosasaurus Action Figure
Day 2,167: Boley Nature World Apatosaurus Action Figure
Day 2,305: Creative Beast Beast of the Mesozoic Glow-in-the-dark Dinosaurs Zuniceratops Action Figure
Day 2,394: Glow-in-the-dark Dinosaurs Dimetrodon Action Figure
Day 2,398: Playmobil 2013 Toy Fair Dinosaur Explorer Figure
Day 2,550: Blip Toys Animal Planet Electronic Battling Dinos Set

See more Beasts of the Mesozoic figures in Figure of the Day:
Day 2,120: Creative Beast Beast of the Mesozoic Dromaeosaurus Action Figure
Day 2,305: Creative Beast Beast of the Mesozoic Glow-in-the-dark Dinosaurs Zuniceratops Action Figure