Apatosaurus
Brown... beautiful brown

Nature World Dinosaurs
Item No.: No. 74512
Manufacturer: Boley
Includes: Tag
Action Feature: Cheap, sits there
Retail: $1.00 each
Availability: Summer 2018
Other: This one was marked "Jan 18"

PREVIOUS
RSS
NEXT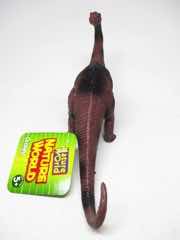 I have had this Apatosaurus from Boley sitting on my coffee table for about a year - we were at a Walmart last year when the power went out, which was surprising. They had some sort of back-up power for the registers so even though the lights were out and there was a bonkers storm out, I could pay my dollar and buy this dumb toy. Progress! This story is kind of funny because on the day I wrote this, I went to a Burger King whose computers went down and they just decided to give me my food for free. Some days are good days.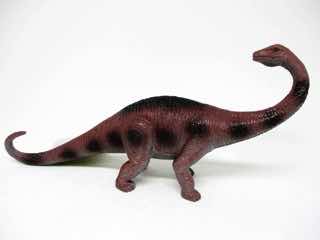 I picked this one up because it reminded me a lot of how I drew dinosaurs as a kid. Long necks. Brown. Sometimes the head is turned back, because a lot of my toy dinosaurs were posed like that. It's surprisingly nice for the asking price. The rubbery creature has nostrils on the top of its head, textured skin, and a grey belly that fades to brown with black stripes painted on top. It has tiny black eyes and a smirk. It's a gem, but admittedly it doesn't do anything. It's peak "cheap toy."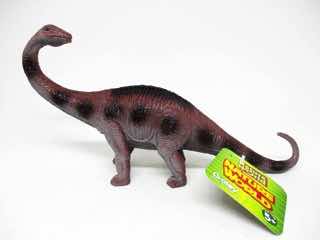 It's hollow with a little "squish" to it, making it light enough to throw in a box with other dinosaurs without worrying about too much damage. It comes tagged and is about 8 1/2-inches from head to the tail, giving it a decent visual presence. If you have action figures with hip joints that swing out, I believe they would enjoy riding him.
This is one of those toys you should just go look to futz with in a Walmart bin, and maybe you'll like it. Maybe it's good custom fodder. It's a dollar - you've bought worse for more.
--Adam Pawlus
Additional Images

See more Boley toys in Figure of the Day:
Day 2,023: Boley Nature World Edaphosaurus, Allosaurus, Styracosaurus Action Figures
Day 2,126: Boley Nature World Mosasaurus Action Figure
Day 2,167: Boley Nature World Apatosaurus Action Figure

See more Dinosaurs figures in Figure of the Day:
Day 990: Louis Marx Toys Dinosaurs Trachodon Figure
Day 1,019: Louis Marx Toys Dinosaurs Brontosaurus Figure
Day 1,023: Schleich Dinosaurs Kragensaurier (Triceratops) Figure
Day 1,034: Schleich Dinosaurs Mammut (Mammoth) Figure
Day 1,062: Tim Mee Toys Green and Yellow Prehistoric Dinosaurs Figure Set
Day 1,073: Louis Marx Toys Dinosaurs Stegosaurus Figure
Day 1,126: Schleich Dinosaurs Ursaurier (Dinosaur) Figure
Day 1,418: Jesse Narens Stegoforest Brown Stegoforest with Acorn Warrior
Day 1,419: Wendy's Playskool Definitely Dinosaurs Triceratops
Day 1,420: Tootsietoy Dinosaurs Stegosaurus Action Figure
Day 1,421: Imperial Dinosaurs Styracosaurus
Day 1,434: Wendy's Playskool Definitely Dinosaurs Anatosaurus
Day 1,446: Wendy's Playskool Definitely Dinosaurs Apatosaurus
Day 1,726: Unknown Wind-Up Brown Tyrannosaurus Rex
Day 1,990: Playmobil 2013 Toy Fair Dinos Explorer Figure
Day 2,023: Boley Nature World Edaphosaurus, Allosaurus, Styracosaurus Action Figures
Day 2,026: Unknown Diplodocus Figure
Day 2,051: Hasbro Dinosaurs Baby Sinclair Action Figure
Day 2,057: Half Toys Dino Series T-Rex
Day 2,065: Lanard Primal Clash Mammoth with Shrapnel Action Figure
Day 2,120: Creative Beast Beast of the Mesozoic Dromaeosaurus Action Figure
Day 2,126: Boley Nature World Mosasaurus Action Figure
Day 2,167: Boley Nature World Apatosaurus Action Figure
Day 2,305: Creative Beast Beast of the Mesozoic Glow-in-the-dark Dinosaurs Zuniceratops Action Figure
Day 2,394: Glow-in-the-dark Dinosaurs Dimetrodon Action Figure
Day 2,398: Playmobil 2013 Toy Fair Dinosaur Explorer Figure
Day 2,550: Blip Toys Animal Planet Electronic Battling Dinos Set