Apatosaurus
One of Many - Store Versions Exist, Too

Definitely Dinosaurs Vinyl Figure
Item No.: No. n/a
Manufacturer: Playskool
Includes: A full dadgum meal, if you can believe it
Action Feature: n/a
Retail: $2.99
Availability: 1988
Other: Available in red and brown, too

PREVIOUS
RSS
NEXT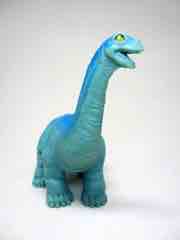 And with an Apatosaurus, our trip to Wendy's in the 1980s ends. If memory serves, this was the one I wanted the most - it's blue, and it was big and neat. Who doesn't love a giant tubby lizard giraffe? It has a little more wear and tear than the others, but I think that's due to the last 26 years in a box with other, cheap dinosaurs toys. Don't store your toys that, way, is what I'm saying.
At about 6-inches long, fellow has an articulated neck and a delightfully rubbery plastic hide. The blue on top brings out some nice detail, plus he has big toes and meaty legs - I can't imagine someone wasn't thinking "food" when this was designed. His only point of articulation is at the neck, which seems more useful on this guy thanks to his long neck. While a smaller dinosaur can just rotate his head on a stumpy neck, this one can almost reach the floor. It certainly adds a little more personality to a figure with an expression that does not necessarily convey consciousness. He's cute, he's got a goofy mouth, but this is a decent piece of plastic.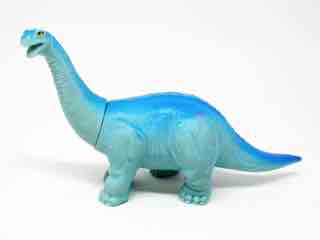 The detail is on par with the rest of the line, as is the deco. And it holds up pretty well in a cardboard box with skeeball prizes and toy erasers. The Definitely Dinosaurs brand is an Apatasaurus in a circle, and this little guy has one in his belly. It's better than the cheap plastic dinosaurs from most companies, but to put this in context his competition included Dino-Mites and Dino-Riders - both nifty lines. It's a wonderful era of toys, and the only line at the time that seemed overly concerned with authenticity was Tyco's Dino-Riders - but the Definitely Dinosaurs range seemed very good given how these creatures were portrayed in that era. Which is to say, imperfectly, but that's probably gong to be the case until we nail down cloning or time travel.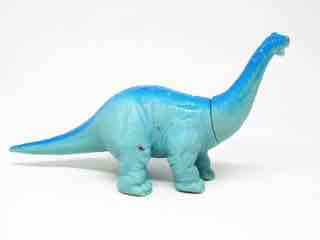 Given the size and price, this is a phenomenal piece that deserves more respect than it got. I'm not saying the full retail range is necessarily worthwhile but there weren't a ton of decent articulated dinosaurs with paint in those days. I doubt we'll ever see hollow vinyl figures given away with food again, and after Hasbro's brief flirtation with sofubi-esque figures a few years ago I don't doubt the era of seeing them sold to American kids may be over. Well, except for BanDai - perhaps Godzilla Resurgence will inspire them to make fun cheap kaiju toys again.
--Adam Pawlus
Additional Images

See more Playskool toys in Figure of the Day:
Day 273: Playskool Transformers Rescue Bots Optimus Prime Action Figure
Day 1,405: Playskool Transformers Rescue Bots Roar and Rescue Heatwave
Day 1,419: Wendy's Playskool Definitely Dinosaurs Triceratops
Day 1,434: Wendy's Playskool Definitely Dinosaurs Anatosaurus
Day 1,446: Wendy's Playskool Definitely Dinosaurs Apatosaurus
Day 1,473: Playskool Transformers Rescue Bots Deep Water Rescue High Tide
Day 1,473: Playskool Transformers Rescue Bots T-Rex Optimus Prime
Day 1,513: Playskool Transformers Rescue Bots Quickshadow
Day 1,523: Playskool Transformers Rescue Bots Salvage
Day 2,109: Hasbro Playskool Heroes Series 2 Marvel Super Hero Adventures Clear Spider-Man

See more Wendy's figures in Figure of the Day:
Day 1,091: Wendy's Scooby-Doo Monster Mystery Figure
Day 1,146: Wendy's Night at the Museum 3 Jedediah in the Wild West
Day 1,419: Wendy's Playskool Definitely Dinosaurs Triceratops
Day 1,434: Wendy's Playskool Definitely Dinosaurs Anatosaurus
Day 1,446: Wendy's Playskool Definitely Dinosaurs Apatosaurus

See more Dinosaurs figures in Figure of the Day:
Day 990: Louis Marx Toys Dinosaurs Trachodon Figure
Day 1,019: Louis Marx Toys Dinosaurs Brontosaurus Figure
Day 1,023: Schleich Dinosaurs Kragensaurier (Triceratops) Figure
Day 1,034: Schleich Dinosaurs Mammut (Mammoth) Figure
Day 1,062: Tim Mee Toys Green and Yellow Prehistoric Dinosaurs Figure Set
Day 1,073: Louis Marx Toys Dinosaurs Stegosaurus Figure
Day 1,126: Schleich Dinosaurs Ursaurier (Dinosaur) Figure
Day 1,418: Jesse Narens Stegoforest Brown Stegoforest with Acorn Warrior
Day 1,419: Wendy's Playskool Definitely Dinosaurs Triceratops
Day 1,420: Tootsietoy Dinosaurs Stegosaurus Action Figure
Day 1,421: Imperial Dinosaurs Styracosaurus
Day 1,434: Wendy's Playskool Definitely Dinosaurs Anatosaurus
Day 1,446: Wendy's Playskool Definitely Dinosaurs Apatosaurus
Day 1,726: Unknown Wind-Up Brown Tyrannosaurus Rex
Day 1,990: Playmobil 2013 Toy Fair Dinos Explorer Figure
Day 2,023: Boley Nature World Edaphosaurus, Allosaurus, Styracosaurus Action Figures
Day 2,026: Unknown Diplodocus Figure
Day 2,051: Hasbro Dinosaurs Baby Sinclair Action Figure
Day 2,057: Half Toys Dino Series T-Rex
Day 2,065: Lanard Primal Clash Mammoth with Shrapnel Action Figure
Day 2,120: Creative Beast Beast of the Mesozoic Dromaeosaurus Action Figure
Day 2,126: Boley Nature World Mosasaurus Action Figure
Day 2,167: Boley Nature World Apatosaurus Action Figure
Day 2,305: Creative Beast Beast of the Mesozoic Glow-in-the-dark Dinosaurs Zuniceratops Action Figure
Day 2,394: Glow-in-the-dark Dinosaurs Dimetrodon Action Figure
Day 2,398: Playmobil 2013 Toy Fair Dinosaur Explorer Figure
Day 2,550: Blip Toys Animal Planet Electronic Battling Dinos Set