The Legend of Zelda: A Link Between Worlds Link Deluxe Action Figure
EX-032

The Legend of Zelda: A Link Between Worlds Figma Action Figures
Item No.: n/a
Manufacturer: Good Smile Company
Includes: Master Sword, Hylian Shield, display stand, Mai Mai, Rupee, rupee stand, Hookshot (extended and short), Pot, Tornado Rod, Tornado Rod Effect, Wall Link, Wall Link stand, 6 total sets of hands, hand tree, 2 total faces, bomb
Action Feature: n/a
Retail: $55.99
Availability: October 2016
Other: From The Legend of Zelda: A Link Between Worlds

PREVIOUS
RSS
NEXT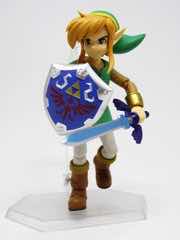 I'm impressed. Figures like this Link make me think that devoting my life to toys-that-are-primarily-toys is a waste, because it's just that good. The Jakks Pacific and other Link figures I've bought are nice - really, they are! But geez, you can't compete with Figma. I'm sure you can find better figures. Nobody else is doing the 3DS version from A Link Between Worlds, though, and the amount of gear for the money is stunning. A regular edition lacks the bomb, hookshot, Mai Mai, pot, rupee, and Tornado Rod for about $10 less. Why you'd skip the deluxe version is beyond my ability to understand. You need to buy this figure, and you need to bite the bullet for the deluxe version. Skip lunch for a few days. Do what you have to do.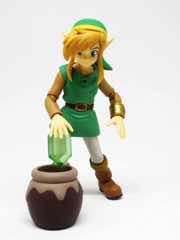 Standing about 4 1/2-inches tall, Link is not what you would call particularly tall. Sure, he's bigger than other American figures but it's not like he's necessarily scaled to too many other recent American Nintendo toys, although I assume he's in scale with the other Figmas you now regret not buying. You know the one. Link has two facial expressions - pop off the hair to change them - and four sets of hands. Four! Fists, open hands, open hands with pegs, and normal gripping hands are here for you. It's worth noting the Hookshot, shield, sword, and Tornado Rod require disassembly to fit in the tight hands - each one pops apart around the grip for this purpose. The Tornado Rod's top also pops off to add the tornado effect if you're so inclined. What's more, I should note the "peg hands" are designed with a peg to help Link hold a bomb or a Rupee. The hands were not designed for pot-throwing in mind, but it does make for a nice little accessory.
The sculpted detail is great - he looks as good as if not better than his on-screen counterpart, almost completely molded in color with little paint to offend the eye. The eyes are big and bright, and the boots have the pigment you'd expect where you'd expect it. What you might not expect are things like 3 points of articulation per hand, a jointed hat, or jointed toes on his boots. I'm not even going to bother to count the points of articulation for you - rest assured, it's a lot. A lot. You can even pop off Ravio's bracelet if you like - but why bother? It's nice that the figure manufacturer treated it as an accessory, even though in the game it's basically stuck on you once you get it.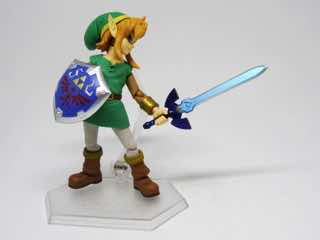 Once you plug the stand into his back, this goes from action figure to the best statue you've ever bought. There are so many places to pose him and so many accessories that you might be crippled with indecision. The jointed arm means you can have him jumping, flying, or flinging himself over a chasm. You've got options - and it's almost infuriating. Most of the time I buy a figure and once you find the sweet spot, that's it. That's how he's going to stand on your shelf. Link's stand and gear means you can pose him differently each day of the week without fear of bumping a desk or a shelf and having to find it again.
It's expensive. The idea that an action figure costs more than the game which inspired it is, to my aged brain, ridiculous - but here we are, and it was worth it. This is probably going to be one of very few toys ever made from this game, and I bet it'll be the best one we see for a while. Unless someone comes up with some next-level way to do action figures with invisible points of articulation that cost nothing, I'm not sure what else you can do. The fact that the waist swivels and has a hidden ab crunch (more or less) is amazing. The fact you can change the direction of the hat to indicate movement is crazy. And the cartoon-style bomb? Magnificent. If you can find a better Link figure, you need to buy it. Sure you can lament that this one doesn't have a companion Ravio or Hilda... or anything. The package brings you a lot of stuff, though, so as the best one-off and the closest thing I assume we're going to get to a proper A Link to the Past version of the character you should just grab it. I'll probably never need to buy another Zelda toy but I know and you know that if they start up with Adventure of Link stuff, I'll cave immediately.
--Adam Pawlus
Additional Images

See more Good Smile Company figures in Figure of the Day:
Day 1,568: Good Smile Company The Legend of Zelda: A Link Between Worlds Link Deluxe Action Figure
Day 1,896: Good Smile Company Metroid Prime 3: Corruption Samus Aran Action Figure

See more Nintendo figures in Figure of the Day:
Day 134: Applause Super Mario Bros. Super Mario with Koopa Troopa Action Figure
Day 369: Applause Zelda II: The Adventure of Link Link PVC Figure
Day 833: K'Nex Super Mario Blind-Bagged Series #2 Boo Action Figure
Day 926: Hasbro Pokemon Ash & Pikachu
Day 1,032: Jakks Pacific World of Nintendo Skyward Sword Link Action Figure
Day 1,083: Nintendo Super Smash Bros. Amiibo Samus Aran
Day 1,107: Nintendo Super Smash Bros. Amiibo Link
Day 1,125: Jakks Pacific World of Nintendo Metroid Action Figure
Day 1,162: Jakks Pacific World of Nintendo Metroid Samus Action Figure
Day 1,182: Jakks Pacific World of Nintendo Mario Action Figure
Day 1,186: Jakks Pacific World of Nintendo Luigi Action Figure
Day 1,280: Nintendo Super Mario Maker Classic Color Mario
Day 1,296: Nintendo Super Smash Bros. Amiibo Mega Man
Day 1,299: Nintendo Super Smash Bros. Zero Suit Samus
Day 1,320: Jakks Pacific World of Nintendo 8-Bit Link Action Figure
Day 1,335: Mattel Hot Wheels Nintendo Cool-One (Super Mario)
Day 1,336: Jakks Pacific World of Nintendo 8-Bit Luigi Action Figure
Day 1,341: Jakks Pacific World of Nintendo 8-Bit Donkey Kong Action Figure
Day 1,345: Nintendo Super Smash Bros. R.O.B., Mr. Game & Watch, and Duck Hunt
Day 1,347: Jakks Pacific World of Nintendo ComicConBox.com Metallic Metroid Samus Action Figure
Day 1,349: Jakks Pacific World of Nintendo 8-Bit Mario Action Figure
Day 1,363: Jakks Pacific World of Nintendo Shy Guy Action Figure
Day 1,367: Jakks Pacific World of Nintendo Convention Exclusive Jakks Giants Link Action Figure
Day 1,369: Jakks Pacific World of Nintendo Jakks Giants Mario Action Figure
Day 1,380: Jakks Pacific World of Nintendo Tanooki Mario Action Figure
Day 1,392: Toy Biz Video Game Super Stars Mario Kart 64 Mario Action Figure
Day 1,398: Jakks Pacific World of Nintendo Boo Action Figure
Day 1,404: Medicom Nintendo Series Legend of Zelda Link Ultra Detail Figure
Day 1,430: Sonic Drive-In Mario & Luigi Paper Jam Mario Figure
Day 1,433: Nintendo Shovel Knight Amiibo
Day 1,438: Jakks Pacific World of Nintendo Metroid Gravity Suit Samus Action Figure
Day 1,444: Jakks Pacific World of Nintendo 8-Bit Red Link Action Figure
Day 1,447: Jakks Pacific World of Nintendo 8-Bit Star Power Mario Action Figure
Day 1,454: Jakks Pacific World of Nintendo 8-Bit White Link Action Figure
Day 1,475: Jakks Pacific World of Nintendo Samus Mini Action Figure
Day 1,490: Jakks Pacific World of Nintendo 8-Bit Classic Mario Action Figure
Day 1,537: Jakks Pacific World of Nintendo Metroid Action Figure
Day 1,568: Good Smile Company The Legend of Zelda: A Link Between Worlds Link Deluxe Action Figure
Day 1,599: Nintendo Toad Amiibo
Day 1,601: The Octavirate Forge Shapeways NES Inspired Zapper Gun 5mm Grip
Day 1,605: Nintendo The Legend of Zelda Link Amiibo
Day 1,624: Jakks Pacific World of Nintendo Blooper Action Figure
Day 1,647: Jakks Pacific World of Nintendo Metroid Phazon Suit Samus Action Figure
Day 1,649: Nintendo Super Smash Bros. Little Mac Amiibo
Day 1,652: Jakks Pacific World of Nintendo Goomba Action Figure
Day 1,668: Jakks Pacific World of Nintendo 8-Bit Toad Action Figure
Day 1,672: Jakks Pacific World of Nintendo Boo Glow Action Figure
Day 1,677: Jakks Pacific World of Nintendo 8-Bit Star Luigi Action Figure
Day 1,691: Nintendo Super Smash Bros. Zelda Amiibo
Day 1,733: Nintendo Super Smash Bros. Wii Fitness Trainer Amiibo
Day 1,751: Jakks Pacific World of Nintendo 8-Bit Toad Variant Action Figure
Day 1,795: Nintendo Super Mario Boo Amiibo
Day 1,811: Hasbro Nintendo Diddy Kong Monopoly Gamer Power Pack
Day 1,812: Nintendo Metroid Samus Aran and Metroid Amiibo
Day 1,823: Hasbro Nintendo Boo Monopoly Gamer Power Pack
Day 1,843: Hasbro Nintendo Luigi Monopoly Gamer Power Pack
Day 1,858: Hasbro Nintendo Wario Monopoly Gamer Power Pack
Day 1,896: Good Smile Company Metroid Prime 3: Corruption Samus Aran Action Figure
Day 1,897: Hasbro Nintendo Fire Mario Monopoly Gamer Power Pack
Day 1,991: Jakks Pacific World of Nintendo 8-Bit Princess Peach Action Figure
Day 2,068: Nintendo Super Smash Bros. Ridley Amiibo
Day 2,159: The Legend of Zelda: Link's Awakening Amiibo Link
Day 2,170: Nintendo Super Smash Bros. Simon Amiibo
Day 2,340: Mattel Hot Wheels HW Screen Time Standard Kart
Day 2,361: Nintendo Metroid Dread Samus Aran and E.M.M.I. Amiibo