Batlar
Twist-Bolt Construction

Robostrux American Rebranding of Zoids
Item No.: No. 5250
Manufacturer: Tomy
Includes: 1 vac-metal pilot, slide-out cannon
Action Feature: Wind-up motor
Retail: $4.99
Availability: September (or earlier) 1985
Other: Recolored Japanese "Geruder" from Zoids

PREVIOUS
RSS
NEXT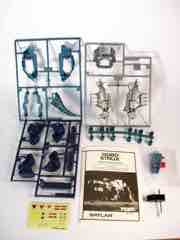 The next Robostrux kit I wanted to get as a kid was Battlar, and thanks to high prices (and not showing up on eBay much) I had to wait. He came out in 1985, I got mine around 2013. I actually stumbled on the Japanese release in a sealed box first - proof that hunting around for toys can always be a surprising experience. The toys are very similar, except the head, stickers, and non-silver sprues are changed. The stickers are significantly different, switching from a metallic foil sticker to a clear one that also happens to use completely different graphical designs.
It's also worth noting through dumb luck, the motor in mine was broken - so I can't show you the wind-up mechanism. (If any of you have a spare working motor that fits Batlar/Geruder, do let me know.) In working condition, the figure shares a few parts with Zatton/Brox and has a motor which causes him to walk as his legs carry him across a table. As it is, he doesn't do that - but there's a little door on the head where you can pop out a third gun mount, therefore making this toy - barely - a triceratops.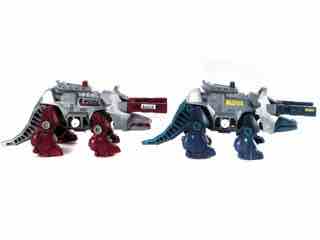 Since the mechanism provides the toy's movement, the dinosaur robot has no real articulation. It can move on its own, but it is not meant to be a posed toy. From horn to tail, he measures just a hair under 6-inches long - so he's not too much bigger or smaller than an average deluxe Transformers toy. One fun feature I neglected to mention is that the head is the pilot's seat - the mouth opens to reveal a shiny silver chrome pilot figure, a standard feature of this line.
The sculpting is good for the time, with little vents, panels, coils, and other details to give it the look of a robotic dinosaur war machine. It doesn't necessarily seem superbly functional, but if you look at 1980s toys as a whole there's a fine line between the fantastical and the practical. Little animals in armor were given vents and rivets and panels, but some of the car-based robot toys were - in some cases - quite simple. Here, you've got things like fake foot joints and even a place on the back to mount additional weapons - upgrade sets were sold, but not many specific ones to each individual war machine. You can also pluck parts from other sets, but at least in the USA this wasn't really something they talked about. The Japanese packaging showed illustrations of other customized versions you could build. Heck, there are communities dedicated to the kit-bashed efforts of industrious fans - people were encouraged to do their own repainting.
What's particularly odd about Robostrux is that Tomy took Zoids - a perfectly good line - and recolored toys that the US market hadn't yet received. These guys were all new, but got new stickers, new boxes, new branding, and new colors - and it didn't work. They came and went pretty quickly, but toys from this line would come and go over the years. In the early 1980s we got Zoids, and Radio Shack got the Mammoth at their stores. Then we got Robostrux, and later Techno Zoids, to be followed by a full-blown Zoids relaunch in the 2000s which has been, so far, sadly the end of it. Imports come and go - I used to find some on a local model and hobby shop - but toys like Batlar wouldn't come back much, save for a boxed set reissue in Japan. If you want the blue version, though, that's unique to Robostrux and will set you back about $25 on eBay. That's actually not too bad considering the scarcity of the toy relative to the number of people who might want one, so lucky you - nobody really cares. Get one if you can!
--Adam Pawlus
Additional Images


See more Tomy toys in Figure of the Day:
Day 170: Tomy Zoids Wardick
Day 263: Tomy Zoids Gorgodos Action Figure
Day 364: Tomy Robostrux Brutox Figure Kit
Day 382: Tomy Robostrux Slithor Figure Kit
Day 406: Tomy Zoids Twinhorn Action Figure
Day 484: Tomy Robostrux Brox Figure Kit
Day 486: Tomy Zoids 24 Scale Neptune Figure Kit
Day 1,352: Tomy Robostrux Batlar Figure Kit
Day 1,422: Tomy Zoids Gator Figure Kit

See more Zoids, Robostrux, and Techno-Zoids in Figure of the Day:
Day 170: Tomy Zoids Wardick
Day 263: Tomy Zoids Gorgodos Action Figure
Day 364: Tomy Robostrux Brutox Figure Kit
Day 382: Tomy Robostrux Slithor Figure Kit
Day 406: Tomy Zoids Twinhorn Action Figure
Day 484: Tomy Robostrux Brox Figure Kit
Day 486: Tomy Zoids 24 Scale Neptune Figure Kit
Day 1,352: Tomy Robostrux Batlar Figure Kit
Day 1,422: Tomy Zoids Gator Figure Kit
Day 1,471: Takara-Tomy Zoids Masterpiece Shield Liger
Day 2,000: Takara-Tomy Zoids Wild ZW-05 Gannontoise Figure Kit
Day 2,008: Takara-Tomy Zoids Wild ZW-01 Wild Liger Figure Kit
Day 2,013: Takara-Tomy Zoids Wild ZW-03 Kabtor Figure Kit
Day 2,017: Takara-Tomy Zoids Wild ZW-04 Scorpear Figure Kit
Day 2,039: Takara-Tomy Zoids Wild ZW-06 Gabrigator Figure Kit
Day 2,075: Takara-Tomy Zoids Wild ZW-07 Kuwaga Figure Kit