Autobot Stripes
Totally Not Steeljaw

Transformers Generations Titans Return Legends
Item No.: Asst. B7771 No. B5610
Manufacturer: Hasbro
Includes: Card
Action Feature: Transforms from phone to plane to cat
Retail: $9.99
Availability: June 2016
Other: US Character Toy Debut

PREVIOUS
RSS
NEXT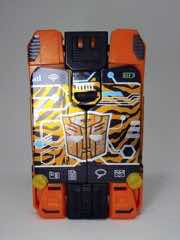 I love new character toys, but Titans Return Autobot Stripes was not my favorite. As an obvious precursor to Ravage [FOTD #1,548] it had to also get some remolding, most likely because it was supposed to be Steeljaw at some point. It's not a good mold for Steeljaw, and not really for Stripes, and it ain't perfect for Ravage either. Stripes (at least my sample) has tolerance issues so cramming it in Blaster's chest is tough and the design, well, you've seen it. Here it is.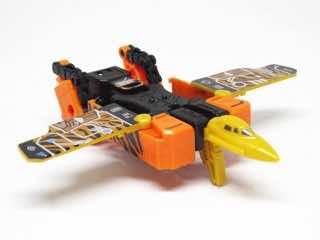 The jet is how the toy is packaged and if this is Hasbro putting its best foot forward, you may take it as a warning. It's stable, but dull - a box with wings and a cockpit of sorts is here to... exist? A figure can ride on the back, but it is what it is - it's not really convincing, and it takes away from the cat mode. The wings become "guns" in another form, but here they're perfectly nice wings. Triple-changing at this scale is not necessarily the best you could hope for, so while you have a thing you can pretend is a plane it's still not great.
Futzing it all into a box for the smart phone mode isn't a huge challenge, and it's a convincing mode - the tiger-stripe wallpaper on the foil stickers looks great. The theme carries through nicely, and it makes a convincing little box - you just can't cram it inside Blaster's chest as easily as the other toys. Maybe it's just me, but I couldn't massage Stripes down as well as Ravage. It's a brick - it doesn't do anything but look interesting. So there's that.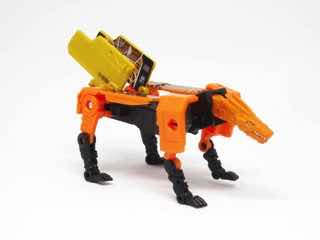 Cat mode is the character's key form, and like Ravage it's a box with feet, a head, and a tail. The flappy butt wings are meant to mimic the Steeljaw chrome gun accessories which were also present on the Japanese Stripes toy, but here it just looks goofy. Perhaps paint would improve them, but I doubt it - they're just kind of silly. A Titan Master robot (sold separately) can be placed on pegs on Stripes' back, and the figure has decent leg articulation. It also has holes in places, which is true of the G1 toy counterpart but at least they were smaller, more functional openings. He stands, the coloring is good, and the head sculpt is... uh... unique to the character so far.
For ten bucks, it's disappointing - the novelty of being the first use of the mold and an accessory for Blaster wears off fast. I appreciate what Hasbro did here - the unique modes, features, the ambition are all wonderful. I can't say I'm very happy with the final product, and given how good most of the toys have been over the last couple of years it's a bit of a downer. While the 2009 take on Ravage wasn't perfect, it was a little more fun than this toy - and much cheaper. You can do better for your money, and I would advise making this toy the last stop on your Titans Return Legends-class shopping list unless you get it for $5 or less on clearance. Based on his distribution so far, I would not hold my breath.
--Adam Pawlus
Additional Images

Click here to see more Hasbro figures in Figure of the Day.

Click here to see more Transformers figures in Figure of the Day.

Want to buy this figure? Check Transformers availability at our sponsors:
Entertainment Earth