Pup
The Dog, in 3 known flavors

Animal Series 1 Bit Figs
Item No.: No. n/a
Manufacturer: Bit Figs
Includes: n/a
Action Feature: Pops apart
Retail: $0.25-$1.00
Availability: July, 2016
Other: Available from SSM Vending or in a vending machine

PREVIOUS
RSS
NEXT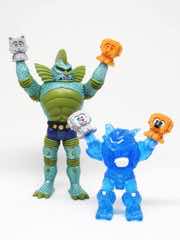 I bought a sack of animals and a sack of ninjas, and didn't complete either set. With the animals, I think there were some oddities. For example, Pup - the dog - came in unpainted orange and painted orange, as expected. He also came in grey, the cat color, with a pink nose. Well, I was surprised - but I like weird variants, and this was indeed a surprise as we're not entirely sure what all got made yet. In addition to all of these, the manufacturers sold gold and blue sets of these figures direct to the consumer.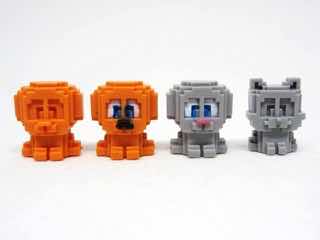 As with the ninjas, the animals are tiny little figures that are sized to go with the mini Mattel Minecraft figures, and they're also Glyos-compatible. There is no articulation. At 3/4-inch (.75) they are small, but cute. By default, the orange color reminds me a lot of the NES Duck Hunt dog - the legendary pooch which laughs at you if you miss the fowl targets in the game. He comes most commonly unpainted, in orange. However if you get a painted variant, he'll sport a black nose and blue eyes with whites around them. Most likely.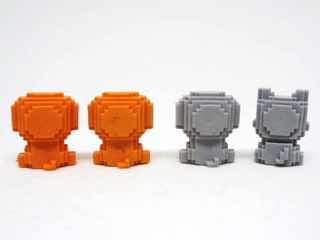 In the sacks I got, there were also grey dogs with pink noses and white/blue eyes - the cat colors - but no actual painted kitties. The grey dogs may be chase pieces - I have no idea - but they have much cleaner paint than the orange counterparts. My dogs all had sloppy black noses with overspray that looks like a mustache, with blues that don't quite stay within the lines. In this respect, the unpainted orange dogs look better than the painted ones. However, the carded displays have dogs which came out pretty cleanly - so why is this one special? Was the factory worker taking a nap? No idea.
Each puppy has floppy ears, big eyes, a giant head, and tiny paws. It's quite adorable. It's also notable that these tiny guys are the only Glyos figures that I know of with markings identifying them as such - for whatever reason, the Onell Design guys, the Outer Space Men, and the rest come unmarked. At least this will help kids of the distant future to figure out just what the heck these are/were if they don't become a phenomenon.
At press time, as far as I know, nobody has yet to actually find these in vending machines. You may be able to get some directly from Bit Figs or SSM Vending, so good luck on that. I'd say your best bet is to snag singles rather than a giant sack - or buy/trade for some online. They're worth getting a few, but considering that a sack of over 200 of these won't even guarantee you one of each of the main 10 - or 11, or more - figures? Buying singles (or complete sets) is the way to go.
--Adam Pawlus
Additional Images

Additional Bit Figs Drop 1 Images

See more Bit Figs figures in Figure of the Day:
Day 1,510: Bit Figs Ninja Series 1 Ku Mini Figure
Day 1,531: Bit Figs Mega Bit Pheyden Trophy Set
Day 1,551: Bit Figs Animal Series 1 Pup Mini Figure
Day 1,555: Bit Figs Mega Bit Pheyden Standard Set
Day 1,689: Bit Figs Mega Bit Pheyden Flesh Set
Day 1,779: Bit Figs Trophy Set
Day 1,800: Bit Figs Matryx Pheyden
Day 1,805: Bit Figs Mega Bit Spectre Pheyden

Click here to see more Glyos Compatible figures in Figure of the Day.