Protectobot Streetwise
Defensor #5 of 5

Transformers Generations Combiner Wars Deluxe
Item No.: Asst. B0974 No. B2394
Manufacturer: Hasbro
Includes: Comic book, rifle, hand/foot/weapon
Action Feature: Transforms from Robot to Police Car to Hand to Foot
Retail: $15.99
Availability: May 2015
Other: Retooled from Dead End and Brake-Neck, retooled to Prowl, also Unit-3 and others

PREVIOUS
RSS
NEXT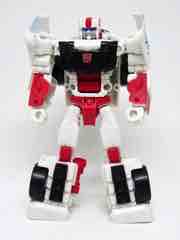 Normally I can't wait for a new Transformers line to start, and I guess I still can't - I'm incredibly excited for the recent plopping of Titans Return. I'm still not feeling that I'm done with Combiner Wars though, because all the toys were fun despite a massive amount of mold reuse and shared tooling/engineering. Over a half of a dozen toys share the basic structure of Protectobot Streetwise and some change little other than deco and the head - and it's still worth owning.
Streetwise, as a character, is a bit of a mystery to me. As a toy, I never had the original but I can clearly see that the new one was engineered to become Prowl [FOTD #1,318] as part of a smart budget move. Other than the robot heads, they share all of their parts and can become cop cars, arms, legs, or robots. Even though you know this, you'll probably still want all of these toys so you can put together Defensor or any of the many other super robots afforded to you for the low-low price of whatever 6 robots costs in your neck of the woods these days.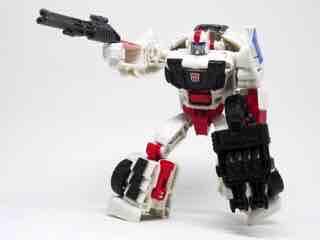 Streetwise' robot mode owes a lot to Prowl, but the paint job takes pains to bring you something colored like the original 1986 toy. A black chest resembles the windshield kibble on the original, and the red accents on the legs are a nice touch too. The robot mode sends the blue bits of the car (which were not on the original) to the back seat, leaving you with a nicely decorated robot. There's a lovely silver face, blue eyes, and a red-striped helmet to make this more than just another white robot toy. Each hand can easily hold his weapons, although the left elbow on my sample does not seem to agree with gravity enough to hold up the handfootgun easily. Streetwise has all the articulation you've seen on other toys based on this general design - over 14 moving parts, or more if you count some elements like the (arguable) double-shoulders. The white-but-not-bright plastic helps show off some sculpted detailing - you should notice a few of the grooves and techie bits even in less than optimally lit situations.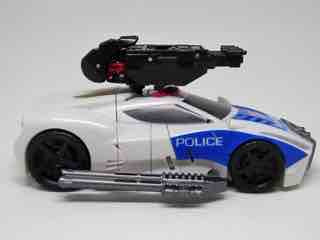 The transformation is nothing new, but the car is - they kept the red lightbar, but lost the big stars. We also saw added "POLICE" markings and some blue bits on the front half of the cruiser, which makes for a nice bit of updating to what could have been a slightly more boring looking toy. Of course, the blue is largely hidden in combined mode, so you'll probably never actually see it long enough to enjoy the extra mile to which Hasbro's deco team went to not bore you.
The limb works just as well as any of the others, and I've got him as a foot. The parts plug in nicely, with the handfootgun working just as well as you're used to, and the same can be said for his rifle. You won't be disappointed, but if you own the entire line you won't be particularly impressed either since you may own several of each part in unique colors.
Most Transformers toys ask one thing of their owners - to be in robot or vehicle modes. As Combiner Wars wraps up it's truly a conundrum of how to display them. Do you show them off as a big combined robot? Or how about a team of individual robots? And if you do go the combiner route, which guys are legs and which guys are arms? I've rarely seen Streetwise as anything but a leg in my collection, but the robot mode is nice and the car mode is similarly charming. Hasbro did a fine job here, which is almost unfortunate as most collectors are only going to make his acquaintance as a part of a whole. The cartoons and comics didn't go out of their way to make him a memorable player either, so maybe it's appropriate that he's just a piece of a whole rather than his own man. It's still a neat toy.
--Adam Pawlus
Additional Images

Click here to see more Hasbro figures in Figure of the Day.

Click here to see more Transformers figures in Figure of the Day.

Want to buy this figure? Check Transformers availability at our sponsors:
Entertainment Earth