Alpha 7 Zekroyas
The Man from Mars - Special Edition

Outer Space Men Onell Design Special Edition Crossover with the Outer Space Men
Item No.: No. n/a
Manufacturer: Onell Design
Includes: Ray gun, 2-piece helmet, other blaster, bent arms, jetpack, disc
Action Feature: Pops apart
Retail: $12.00
Availability: September 7, 2016
Other: Not bad at all

PREVIOUS
RSS
NEXT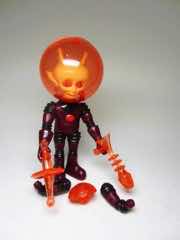 The gap between the first and second The Outer Space Men Onell Design specials was five years. Five years. Thankfully Alpha 7 Zekroyas was only 3 months after the last one, bringing the man from the red planet back as a figure that's not only red, but has a unique color layout. It's not just a color-swap, but there are significant changes to where you'll find paint this time around. If you've been collecting this line for a while you may have six (or seven, if you dig variants) and more or less know what to expect. This is the first wholly original painted version to see release in quite some time, as the original Alpha 7 [FOTD #388] was based on a toy from the 1960s, and Alpha 11 [FOTD #744] was inspired of a contemporary - and ultimately unreleased - redeco. The Zekroyas version from Onell Design is a match for the Crayboth and Quallerran figures released at the same time, so they're siblings in a way. I'm super keen on figures painted like the Outer Space Men so I picked those up, too.
Alpha 7 is a historically short figure. Like, R2-D2 short. Smaller than Noboto short. But not Crayboth short. As such, it stings a bit when he comes out because he still is made of many pieces of plastic and that costs money. At a generous 2 1/2-inches tall, he's one of the smaller Glyos-compatible figures. I count 18 total pieces, all of which are removable or swappable through Glyos pegs or other tabs. Mini Glyos pegs connect the hands and feet - and are found rarely in this line - plus the helmet snaps together through its own unique tabs. He can stand and sit, but the strange hip joints rotate rather than swing, and easily pop out. It's imperfect, but it generally works. His small feet make him easy to tip over, and the hips aren't the easiest to straighten up to keep him standing.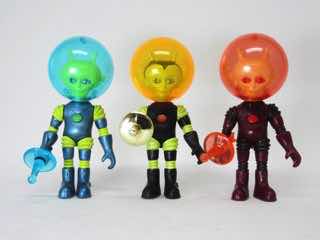 Where this figure changes up the formula the most is in the paint. Namely, he's not completely painted - the original releases are either 99.9% unpainted plastic, or 99.9% covered in paint. This one is molded in a dark red color, with a painted bone-colored face, red eyes and a red planet on his chest, and creepy eyes. What's more, there's an area around his neck painted black to give him the illusion of a shirt under a vest - the previous ones matched the torso. This changes up what he looks like, much like how Orbitron Diversus [FOTD #1,470] also employed color to add new and unique features to what is essentially the same figure as before. Paint can do wonders in changing things, and Onell Design may be king of getting the most out of a figure design. Actually, that distinction probably belongs to Jesse "Callgrim" Moore, but Onell Design is tied or immediately first runner-up here. You can do so much with paint that it almost stings that we aren't seeing more things like this - you could decorate the helmet, or the body, or the face, and get a ton of weird and different takes on the alien.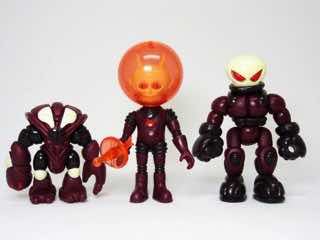 Accessories are no slouch, either. The 2-part helmet can pop off, and there's a rocket pack that is removable from his back. An alternate set of arms is included if you want bent elbows, and the set includes the original Alpha 7 radar blaster in orange, as well as Electron+ [FOTD #379] gear - a blaster, and his chest decoration. You can use the chest ornament as an alternate backpack if you wish, but it doesn't do much here. Cool bonus, though - I much prefer having it over not. Alpha 7's little hands can grip his weapons easily, so you'll have no problem getting him to hang on to those.
I'm always super excited for wild new colorways on existing The Outer Space Men figures. Don't get me wrong - the recent new ones are nice, but these are nutty fun too. I hope the Onell Design team crank out a few of these each year as they're compelling and stand out on my shelf as feeling like they came from a different era, or from a different country compared to their cousins which were truer to the original designs. If you can snag this Alpha 7 at a fair price, do so - he took less than a day to sell out, not selling out as quickly as his predecessors - but I don't know why. He looks great, and it's a wonderful little pre-Halloween figure. I hope Onell Design can sneak a few more of these out this year, perhaps another holiday-themed figure would be fun. Even if they don't, I'm quite pleased with this one. It's not loaded with articulation or next-generation sculpting, but a little charm goes a long way.
--Adam Pawlus
Additional Images


Click here to see more Onell Design figures in Figure of the Day.
Click here to see more Outer Space Men figures in Figure of the Day.

Click here to see more Glyos Compatible figures in Figure of the Day.