Megatron
Voyager-Sized Simplified Figure

Transformers Generations Cyber Battalion Figure
Item No.: Asst. B0785 No. B1301
Manufacturer: Hasbro
Includes: n/a
Action Feature: Transforms from Robot to Tank
Retail: $14.99
Availability: April 2015
Other: Non-US De Facto Exclusive

PREVIOUS
RSS
NEXT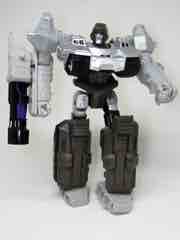 As far as I know, this Megatron was never sold in the USA - or possibly Canada, or Mexico. It's scarce, supposedly developed for emerging markets but US-style and International-style packaging does exist for it. I ordered this on an online shop last week after throwing up my arms after a year, no longer interested in seeing if Hasbro dumps it in the USA somewhere. As of right now, nobody on Amazon or eBay has it - I got it from a place I never heard of before (commence buzz marketing) called Transfan2's Shop N' Look. The dude shipped fast, and if you buy a lot of stuff the per-figure shipping isn't terrible. (It's also not cheap.)
As a roughly 7-inch tall robot, Megatron comes to you in his robot mode. He looks pretty good - not really like any specific incarnation of the Decepticon warlord, but he's a decent pastiche of what the character has been through the various generations tied around what is retroactively called "G1." He's got the dark grey helmet of the original comic art and toy commercials. He has new-to-me purple eyes, and a 5mm Fusion Cannon that plus in either forearm or fist - it's actually pretty versatile. Megatron has lateral shoulder movement, jointed knees and elbows, universal hips, and a neck that can spin. I wouldn't really call his ankle movement proper articulation, but I will say the toy looks like a pretty great "What If?" combining the chunky aesthetic of the toys for kids (which this is) with the kind of gorgeous deco we see on some Generations toys. His chest is slathered in silver paint. The cannon has a wonderful purple highlight.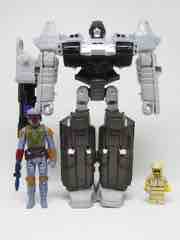 Transformation is not unlike other tanks, but it's a little more irritating. Getting the arms to form the turret and sliding the legs back over themselves to form the back half of the armored vehicle is kind of annoying, but doable - the tank itself is less than thrilling, though.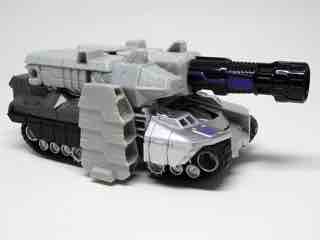 It's not a great tank - but you've probably seen and bought worse over the years. It's sort of a tank - it has wheels under the fake treads, and it sort of looks like the War for Cybertron hover tank - with the only real moving part being the fusion cannon. The 5mm gun can rotate up and down. The turret itself can't move, and the robot feet sort of become a missile battery thing. It's not great. It's kind of neat.
After the Leader Class Megatron [FOTD #1,231] this smaller one seems more than a little unnecessary - until you acknowledge that it's basically a downmarket toy not meant for collectors. In that lens, it makes perfect sense - it has light detailing, soft articulation, and is a superior answer to the "cheap robot toy" when compared to the (for the purposes of Transformers) less-enticing 12-inch figures. Megatron - and indeed the entire lot - are a good bit of fun, once you get the whole "scarcity" thing out of the way. I hesitate to say "get one," but if you buy one of these you may as well just go for the lot of them.
--Adam Pawlus
Additional Images

Click here to see more Hasbro figures in Figure of the Day.
Click here to see more Transformers figures in Figure of the Day.

Want to buy this figure? Check Transformers availability at our sponsors:
Entertainment Earth