Chromedome
Autobot Stylor & Chromedome

Transformers Generations Titans Return Deluxe
Item No.: Asst. B7762 No. B7034
Manufacturer: Hasbro
Includes: Tiny head robot Autobot Stylor, car, small gun, big gun
Action Feature: Transforms from head to robot
Retail: $14.99
Availability: September 2016
Other: Better than you might have guessed

PREVIOUS
RSS
NEXT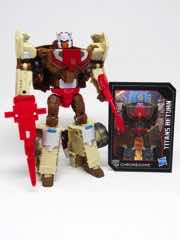 The amazing thing about comic books is that they can make a nobody character a hero. In the 1980s US Transformers cartoon, you had a bunch of characters get introduced and disappear. In Japan, some would get massive cartoon series focusing on them to whatever end they saw fit. With Titans Return we get a take on Chromedome which borrows heavily from the original toy in terms of colors, but the head sculpt comes from the mega-popular More Than Meets the Eye comic book - which has Chromedome and Rewind as a couple. Autobot Stylor has yet to work his way into the story, but the toy colors on the comic model for the head works nicely.
Chromedome is interesting because of what it recycles while being new. The basic transformation is the same as Combiner Wars Dead End [FOTD #1,364] and the many other toys who used his mold - they all transform the exact same way, but share no parts. Chromedome does, however, share parts with Titans Return Blurr [FOTD #1,485]. It would seem that Stylor's body is shared with Hyperfire, Chromedome's smaller gun, his thighs, and his knees are shared. (This means they're also shared with this year's Brainstorm.) Since the shared parts are spread across multiple sprues I have no idea how much - if any - savings come in splitting up pieces this way, but here we are. (Scourge and Highbrow share pieces as well.) It's an interesting way to make very different figures using the same parts.
This 1.5-inch head robot is Autobot Stylor, and his colors changed a tiny bit from the early renderings - the head is now red, and there is no paint to be seen here. All of these guys are largely cut from the same cloth - articulated neck, knees, arms, hips - and he functions well. As a robot, he can sit in Chromedome's driver seat or the big gun. As a head, he fits in the neck socket perfectly without bobbling and wobbling - which seems to be pretty hit and miss across the line so far.
The head mode is good, but having the comic face with a blue visor (rather than yellow) was a curious decision. Fans will no doubt ask for a variant or paint it up themselves, especially since the Japanese version has a face modeled after his starring turn in the relatively obscure-to-Americans Headmasters anime. The US in a toy that is sort of accurate, and sort of not - it's certainly acceptable, but it would seem Hasbro's toy creation process is to achieve a trajectory close to perfection of an update without ever actually reaching it. The 2014 club exclusive Chromedome does have a yellow visor.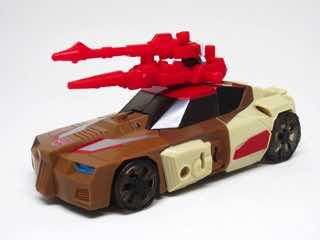 As a car, Chromedome is more or less exactly what you want from a deluxe car minus one detail. I'm not crazy about the clear wheels, which were likely molded with the windshield of the car. The opening top allows a Titan Master (like Stylor) to sit inside and drive the car, and I adore this feature. Figure-and-vehicle play is rare in these lines as the figure is the vehicle, so incorporating little drivers is a fun experience. It also helps store the head so you don't lose it. The coloring is very similar to the original toy, even if the layout is a little different and the car isn't quite as blocky. If you look at this figure, it's clearly Chromedome - and his guns can mount on the roof of his car mode for handy storage, just like the original.
As a robot, it's a lot like Dead-End with a bigger, more heroic chest and added flip-out feet. He's sturdy and looks just like you would hope - minus the aforementioned visor nitpick. Hey, at least it more or less matches the US cartoon, minus the lack of Autobot symbol on his chest. Articulation is good with 20 joints (if you're being generous) allowing him a few decent poses - the toes give him added stability. Hasbro's generous paint applications mean we get more silver and red, plus a bit of blue to bring him to life. It's not an exact match for the comic book version of Chromedome with his huge shoulders, but Hasbro's attempt to marry G1 cartoon coloring with IDW's face and a body that's convincingly Chromedome-esque is successful.
Changing this car into a robot is pretty easy. Did you buy Dead End/Prowl/Lightsteed/Break-Neck/Streetwise/etc.? Then you know what to do here. Everything fits together quite nicely and it's easy to do - you won't jam your fingers or pop off parts. Unlike Blurr, the parts store on the vehicle, and not in it. It's a pleasure to convert and futz with, much in the ways Highbrow isn't.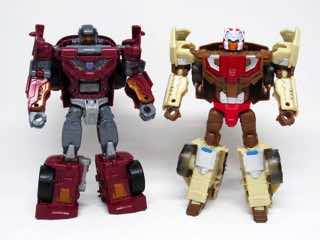 In terms of pure toy mechanics, this is a good one - along with Blurr and Brainstorm you can't go wrong with these deluxes. There's a lot to like for the price, with the added micro figure play really driving home just how much you can do with Transformers when Hasbro and Takara-Tomy agree to put some added play features in the "collector" toys. It's a great figure - and if you read the comics and have bought your Rewind you'll be able to bring home the franchise's favorite couple. I'm feeling increasingly spoiled by Hasbro's character and design choices, and this is one of my faves. Nicely done, Rhode Island toy collective. This mold will be repurposed for Getaway, and I have no doubt it will be the basis of many a Nightbeat or Loudmouth custom. If you can't stand the idea of Blurr being a "Headmaster" and only plan on buying one Deluxe toy this year, Chromedome is the second best so far. And you should see him any day now.
--Adam Pawlus
Additional Images

Click here to see more Hasbro figures in Figure of the Day.
Click here to see more Transformers figures in Figure of the Day.

Want to buy this figure? Check Transformers availability at our sponsors:
Entertainment Earth