Zorak
with Piano Accessory

Space Ghost Coast to Coast Sidekicks Assortment
Item No.: No. ???
Manufacturer: Toycom (a.k.a. Yamato USA)
Includes: Piano
Action Feature: n/a
Retail: $14.99
Availability: Summer 2004
Other: Lone Locust of the Apocalypse

PREVIOUS
RSS
NEXT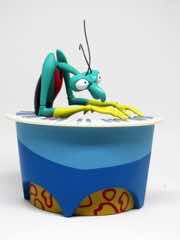 In September we got word that C. Martin Croker, leader animator and voice of Moltar and Zorak from Space Ghost Coast to Coast fame, had died at a fairly young age. The show was a massive influence on those who watched it in the 1990s and 2000s, acting as a long-gestating pilot for the entire Adult Swim block. Action figure lines back in the 1990s were usually tied to big toy companies or huge movies and TV - and the occasional comic book. The idea of a toy based on a cartoon aimed at adults airing at midnight on a channel most people still didn't get was mighty risky, but Toycom gave it a whirl. Space Ghost did great business, so we got sidekicks and repaints of Tad Ghostal. New Space Ghost figures have come from Jazwares and, soon, Mezco, but other than Pop! figures Zorak doesn't get a lot of love. I got mine on clearance, so maybe there's some residual energy in the cosmos from that - but it's a nice figure, and I'm glad I got it.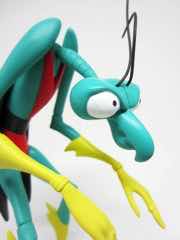 The roughly 6 1/2-inch action figure comes with some strange articulation, even by its day's standards. Shoulders, neck, skull, swivel elbows, swivel knees, hips, and waist - make it posable but not particularly sturdy. Getting him to balance is tricky, but thanks to the piano you may never need to worry about this. You can just prop him up, and the problem is solved. I got him standing but it didn't last particularly long.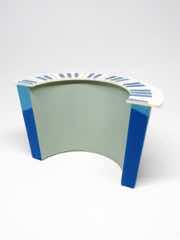 The sculpting is unmistakably Zorak, but the challenge of adapting 2-D art to a 3-D figure is no small one - particularly when you're dealing with limited animation. We all have a very good idea what Zorak looks like, and the outfit color switched between blue (which was more common on the show) and red (which is what the figure went with). Can't win 'em all. The head has the eyes looking up a bit, but the dot size isn't quite right and the mouth/beak is close, but not perfect. Without the lines of the art, it looks a little off. Slightly bigger eye dots and maybe some black lines around the mouth could have done wonders, but seeing this figure created at all, for any reason, is something of a miracle. Getting it right? Well, that didn't happen a bunch in the 1990s. Or 2000s. The unique cut of the gloves, the accordion ribbing of the wrists, even the black mantis wings are all created here in a fashion that's fairly close to the outfit. The tunic on the figure looks more like a vest on the show, complete with a very clear cut in the fabric down the middle of the chest.
I was disappointed with the antenna when I first got it. I still am. They're not exactly posable, and they seem to curl around one another. It's annoying. Maybe you've found a better way to handle them than I have. If nothing else, they're not a huge distraction when you have the giant, colorful piano in front of the figure. As a makeshift display stand, it's fantastic - the keys are painted nicely, the lines between keys were surprisingly filled in, and the coloring closely matches the show. Right down to the blobby red squiggles in the yellow underneath, this sizable 6-inch wide instrument was impressive then and it's impressive now. Sure, it's not the full donut-esque circle which enclosed him on the show but getting the big gear in the packaging was a challenge. Space Ghost's desk was inverted and hidden behind him on his, and Zorak's went through the same thing. Getting the figure and the accessory in the already hefty bubble required some gymnastics.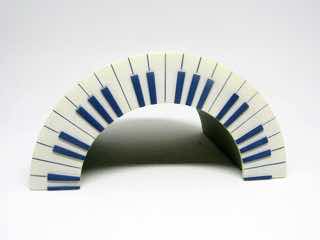 $10-$15 was kind of expensive for an action figure back in 2004, and larger figures were still not the norm. It's no big surprise that the Suncoasts and Media Plays and comic shops didn't always sell out of these toys, nor is it a huge surprise that Brak tended to sell out way before Zorak and Moltar. (He got his own show, after all.) I wouldn't say it's impossible to think someone, some day, may make another Zorak figure but it's been over a decade. Hanna Barberra isn't exactly strict with their licenses, so maybe you'll see one around. Heck, maybe you'll be the one to make it happen. Just be prepared to pay a lot for this one right now if you're so inclined. I'm not saying it isn't worth it, but a better one would seem plausible given how far toy sculpting has come since 12 years ago.
Fans of Zorak can also get a Zorak statue (very expensive), a Comic-Con exclusive Pop! Vinyl figure (fairly expensive), this action figure, and not a whole heck of a lot else. For an adult show of that era it enjoyed quite a bit of fanfare, as many other programs got close to nothing. It's not like Mystery Science Theater 3000 got a lot of great merch during its run, nor did most animation for grown-ups that were not The Simpsons. That is, until Family Guy, and we won't get in to that.
--Adam Pawlus
Additional Images

See more Toycom figures in Figure of the Day:
Day 1,562: Toycom Space Ghost Coast to Coast Zorak Action Figure

See more Adult Swim figures in Figure of the Day:
Day 117: Warner Bros. Studio Store Space Ghost Plush Toy Day 1,562: Toycom Space Ghost Coast to Coast Zorak Action Figure