Galvatron
Cybertron's #1 Boss

Transformers Generations Titans Return Voyager
Item No.: Asst. B7769 No. B6460
Manufacturer: Hasbro
Includes: Nucleon, cannon, card
Action Feature: Transforms from head to robot, also robot to cannon to space ship
Retail: $24.99
Availability: June 2016
Other: Purpley

PREVIOUS
RSS
NEXT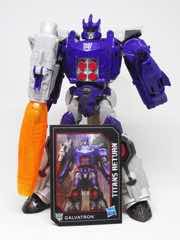 A popular mainstay in fandom, Galvatron has been given a number of tribute toys over the years - but few straight-up recreations of the original toy have even been attempted. This one comes closest - before him, we've had Energon Megatron & Galvatron (both neat), Universe Galvatron [FOTD #26] (arguably one of the worst "classics" toys ever), and numerous Megatron repaints held the name. We never really had a toy with the big orange barrel on a big purple cannon, though, until now. And it's OK. It's not fantastic as Transformers go, but it's the best new one we've had and I'm sure there will soon be demands for another one that's even better, perhaps Masterpiece or Leader class, shortly.
This 1.5-inch robot Titan Master Nucleon is named for a substance from the original fiction, but it's clearly just Megatron. It's grey, and a lot of people have reported stress marks due to the figure getting lodged in Galvatron's neck socket. Mine does not have this problem - but he does have a loose arm that may get lost and fall off. The figure is largely unpainted save for the eyes, which seems to be pretty consistent across the line - there's not a lot of deco here. The body is is decent and blocky, but be careful to not stress the neck or pop the arms off - yours might be fine, but hey, reports are reports.
The head mode - all grey, unlike the painted purple "helmet" on one of the early prototypes - is OK. It's not great, it's not bad - actually, I expect aftermarket add-on heads for this toy to be quite popular. The grey head looks sort of like Galvatron's face with red eyes and sharp cheeks, but it doesn't get the purple helmet and crown until you plop it on the body and open a compartment for a spring-up face mask. It's a fun gimmick, but springs sometimes have problems over time and the helmet doesn't cover the whole head. It's sort of like a head peering through a photo opportunity cut-out from the carnival. The head also can't rotate with the mask, so he's always going to be looking forward. As a display piece it looks just fine - but people could do better, and I assume a lot of people are going to try very soon.
Galvatron has a typical Voyager-class robot mode, in that it's pretty big and has pretty decent articulation. Rocker ankles, double-jointed elbows, a waist, and more await you along with slightly restricted shoulders and the aforementioned lack of viable neck. There are tons of molded details all over the body to make him look bulkier and meaner than the animation mode of Galvatron, which in many respects makes this feel more like a stepping stone to another toy than the see-all be-all version of the Decepticon City Commander we've always wanted. The orange cannon is spot-on, and plus in to his arm via a 5mm port. You'll love it. The underside has a little seat for a Titan Master to fly in too - it's handy.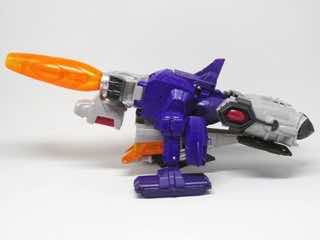 Transformation to jet or cannon is pretty easy, and you can just look at the instructions. The jet mode doesn't seem to piece together quite right, but that could just be misreading the instructions - things seem to splay out near the back. It looks cool but uneven, unable to lay flat on the ground with the cannon mounted on the underside. I love the basic idea, and the canopy area looks fantastic. It also looks like Galvatron with a ship bolted to him. I appreciate the whole "let's do three modes" gimmick we're seeing on most of the Voyager, Leader, Titan, and Legends toys, but I can't help but think it might be even better if it was just a cannon-to-robot.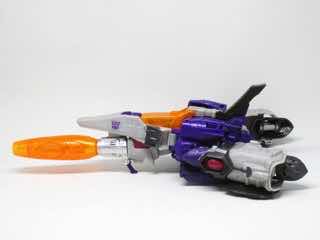 The cannon mode is kind of frustrating in that it's almost great. Galvatron's legs are supposed to peg together in the back, but they don't quite fit - it could be a plastic tolerance, but they seem to just kind of hang out back there. It doesn't fire rockets, but it looks big enough that it could. The treads extend to the ground nicely, but do not roll. It's an acceptable update of that original weapon mode, getting the colors and proportions to generally acceptable proportions. Nucleon can ride it via the pegs on the top of the cannon. It's not bad, it's not great. It's OK. You might get your $25 worth here, but I assume you'll be left wanting for something bigger, better, more impressive, and less gimmicky.
For whatever reason, it's tough to get really good versions of the 1986 movie characters as new toys. Between the original comics, toys, animation models, and other merchandise, nobody is going to have a perfect update - but we've had some real nice ones. This year in particular, Blurr delivered the goods and the rumors of Rodimus and Kup on the horizon sound promising. Galvatron is one figure that many of us have been begging for an improved model for years, and this is clearly an improvement over the last one. It's not terribly frustrating and it plays as advertised - but I'm all ears if Hasbro wants to try another one in a couple of years.
--Adam Pawlus
Additional Images

Click here to see more Hasbro figures in Figure of the Day.
Click here to see more Transformers figures in Figure of the Day.

Want to buy this figure? Check Transformers availability at our sponsors:
Entertainment Earth