Ransack
In Japan, Galaxy Force Gasket

Transformers Cybertron Scout Class
Item No.: Asst. 80285 No. 80316
Manufacturer: Hasbro
Includes: Flip-out gun, Cyber Planet Key sc92
Action Feature: Transforms from motorcycle to robot, gun flips out
Retail: $6.99
Availability: July 2005
Other: Mold Debut!

PREVIOUS
RSS
NEXT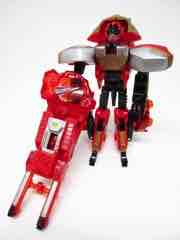 You may not know it, but Transformers Cybertron is secretly one of the best lines of robots in disguise you could have bought. The premise built on the classic Autobot and Decepticon war by adding in planets of unaligned robots who would join up as things went along - there was a Giant Planet, a Jungle Planet, and a Speed Planet. It was also one of the last lines that was largely populated with fresh faces and new characters, even if they did recycle older names. Sadly, the line ended before the concept was fully explored but we got some cool toys like Ransack. In Japan a lot of these figures didn't do well and turned up online and at conventions for incredibly cheap prices, with the US versions having slight deco variants - like a Decepticon tampo on Ransack's gun, and the Hasbro release dropped the silver border on the Speed Planet Cyber Key.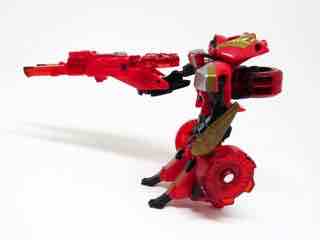 Inflation has not been too kind to most toys. $6.99 in 2005 is about $8.49 today - and today's closest analog to the old Scout class is Legends. Legends are roughly the same height, but are skinnier with no action figures and significantly smaller alt modes. Ransack's cycle mode not only look like an awesome Tron bike with candy red wheels, but it's over 5-inches long - 2015's Legends Groove doesn't even come close. The wheels are big enough so it can stand freely, the bike itself is large enough that you may be able to get a 3 3/4-inch figure to ride it, and the pop-out bike guns... well, they're a little silly since inserting the key makes them pop up and point behind the bike.
This was one of the last lines designed prior to the movie and "classics" duo of 2006 and 2007, which really did a nice job targeting and bringing back older fans - and their kids - giving the line a much-needed shot in the arm. Armada, Energon, and Cybertron were subject to numerous sales and some splendid clearance bonanzas, the likes of which I don't see as much these days. The bike is a pretty nice toy - it rolls, it looks vaguely Cybertronian, and it actually hails from Velocitron. (The planet would later return in other continuities.)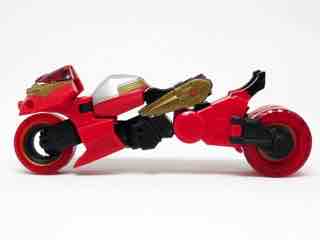 Transformation is pretty simple - the gun pops off, the wheels fold up, and the head is hidden in the windshield. Unlike most modern toys, you can transform him in seconds and nothing pops off (except for the gun, which should.) It's quite a nice experience and one that shouldn't be overlooked.
The robot is about 4-inches tall, more or less the same as Basic toys from the late 1990s and today's modern Legends toys. Ransack has 11 points of articulation and is a little chunkier than some of the other ones. The head sculpt is great - there are green eyes, a black mask/visor, and a lovely silver face that looks like the Takara robots you know and love. There's a lot of paint here, including a glossy black on the hands and feet plus a healthy dose of gold and silver throughout - which I assume is going to be exposed to a lot of wear and tear when you buy an unboxed one.
It's a toy - it looks and feels like one, it's pretty durable, and it's bright and chipper. This little guy would pal around with Crumplezone on the borderline unwatchable Transformers Cybertron cartoon show, and his redeco Override GTS would ship repeatedly and in new packaging over the next several years. It's a decent mold, with a slightly wonky set of feet. If you happen across it on the cheap or as part of a large lot or a collection, keep this one. It's fun. And while you're at it, read up on the general premise of Cybertron and note that little bits and pieces of it were picked up by the Windblade comic books which will morph into Till All Are One, debuting in June. I love the idea of little specialized planets of Transformers and I hope Hasbro trades on this idea more in their toy lines.
--Adam Pawlus
Additional Images

Click here to see more Hasbro figures in Figure of the Day.

Click here to see more Transformers figures in Figure of the Day.

Want to buy this figure? Check Transformers availability at our sponsors:
Entertainment Earth