Nightracer and Shakar
Transformers Subscription Service Figure #7

Transformers Timelines Deluxe
Item No.: No. 337105
Manufacturer: Hasbro
Includes: Transforming Shakar sidekick
Action Feature: Transforms from car to robot
Retail: free with subscription or $42, depending
Availability: October 2015
Other: Packaged with Krok and Gatoraider

PREVIOUS
RSS
NEXT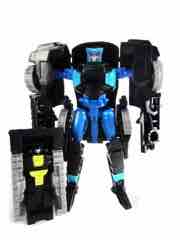 Here's a nifty set - packaged with Krok as the mystery surprise, Nightracer and Shakar is a nod to one of Transformers' early famous fans as well as one of the very first exclusive BotCon toys. In 1995, Nightracer was one of the first (technically the first, since G2 Breakdown was a leftover toy) exclusive for a Transformers convention. This figure is closer to the intended deco according to a fan known best as Raksha, who looms large over the Usenet-era fandom as someone who dug the Decepticons, hated Beast Wars, and was known for bringing (and wearing) her pet snake at events. Having not met her I can't/won't vouch for the stories, but I do know she wrote the bios for these guys and it's pretty cool to see someone who was responsible for the early era of the adult fandom's direction getting to chime in today. (Also, she named Nightracer back in the day - Shakar, supposedly was Fun Publications. Leave a comment if you know more!)
Let's start with Nightracer - a black repaint of Tailgate. The mold is unchanged, but the deco is somewhat similar to the original toy - which was an unpainted G2 Bumblebee Go-Bots toy with hand-painted blue stripes and a purple Decepticon sticker. The new one largely brings that to the table with a few differences - there's no more bright yellow on the toy or the guns, and... there's no guns. If you want something in that color, you'll need to order this from BMOG. (It looks great.)
She looks great! With grey wheels and all the articulation of Tailgate - all 11 points - you've got a pricey but neat homage to one of the great pieces of robot history.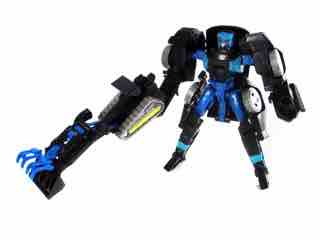 Transformation is nice and easy, and the car mode is a car. It doesn't do much, you can mount Shakar on the hood or you can wheel it around on the little grey wheels with painted hubcaps. I dig it - the coloring looks great, and the only thing I'd have liked to see would be some painted headlights or tail lights.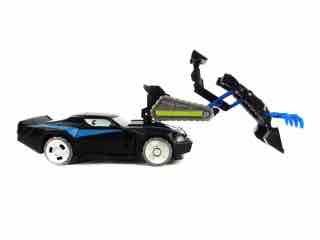 Shakar is mostly amusing because of the name - an anagram for Raksha, and a Tuckerism in the line. There are a few - I don't know all of them, but Matt "Monzo" Karpowich had his nick and birthday printed on the US release of Universe Onslaught plus his email address referenced on Acid Storm's bio. Oil Master was named after a Japanese fan's handle. Greg Black has two - Deduce and Groundbreak. It's a small club which, like the rest, will not probably ever have me as a member. (I can dream. But Adam16bot is a stupid toy name.)
The mold is perfectly nice, but if it didn't have the nod to an actual fan it wouldn't be nearly as fun. Transformation is as simple as standing it up, with moving arms and a claw feature for its vehicle mode. The paint job has traces of that gorgeous toxic spill yellow on it, and in some respects is actually pretty darned close to the original Nightracer. It's cute.
I'm a sucker for toys with backstories, and this one was packed with them - convention and fan history? Wild colors? I'm in! The price has dropped on eBay rather quickly, so you can probably score this one without breaking the bank too much. Of course, it's a lot more than a retail figure, so maybe you don't need it. It is pretty gosh darned cool though, and since we get relatively few women in the Decepticon ranks this is another good addition to the team. If you like what you read and/or saw, go for it.
--Adam Pawlus
Additional Images

Click here to see more Hasbro figures in Figure of the Day.

Click here to see more Transformers figures in Figure of the Day.

Want to buy this figure? Check Transformers availability at our sponsors:
Entertainment Earth