Crayboth Diversus
The Sidekick from Uranus

Glyos Onell Design
Item No.: No. n/a
Manufacturer: Onell Design
Includes: n/a
Action Feature: Pops apart
Retail: $5.00
Availability: June 6, 2016
Other: Matches Orbitron, sold out

PREVIOUS
RSS
NEXT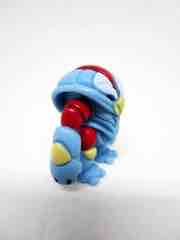 Sidekick figures are more or less commonplace in the Glyos universe, as each series focuses on a new color of plastic and runs a number of new and existing figures in that color. Once in a while you get a cool crossover too, which means a figure like Obritron Diversus [FOTD #1,492] can get a little companion like Crayboth Diversus. Decorated vaguely like the Metaluna Mutant from This Island Earth. Due to the painted figures being developed apart from Onell Design, rarely is there a match - but we've got one now!
The tiny Crayboth returns once more as a small alien with 5 pieces and 4 points of articulation. Each limb pops off and is completely swappable with other Crays or other figures in this line, but some pieces fit better than others. The figure uses the same paint and plastic as Orbitron and, so far, it seems he's the only match for this guy.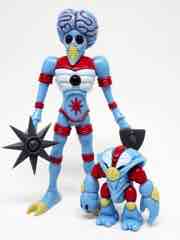 The tiny terror has a painted "blaster" with black highlights, some bone flourishes, whites around his eyes, and red stripes on his arms, legs, and head. As with most Glyos-compatible figures, this one has no copyright markings - so I expect future generations that luck into one won't know what they have.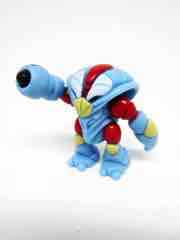 After your collection gets big, but not complete, it's easy to trim a few purchases here and there - but I figured this one was a must-buy thanks to his connection to Orbitron, and I liked quite a few others in this drop. (Heck, most drops.) If you can get it, please do - generally secondary market prices of newer guys hovers around "fair" if you time it right, so be patient and snag him when the getting is good. (Or just get it, and be done with it.)
--Adam Pawlus
Additional Images

Additional Onell Design June 2016 Drop Images

Click here to see more Onell Design figures in Figure of the Day.
Click here to see more Glyos Compatible figures in Figure of the Day.