Godzilla Tokyo Vinyl Mechagodzilla Action Figure
Chunky Tokyo Vinyl Figure

Godzilla Tokyo Vinyl Figures
Item No.: Asst. 96300 No. 96302
Manufacturer: BanDai
Includes: n/a
Action Feature: n/a
Retail: $14.99
Availability: March 2012
Other: From... take your pick

PREVIOUS
RSS
NEXT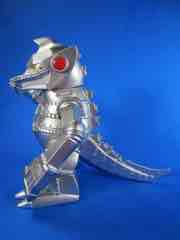 Before Funko really ran with its Hikari line, a few companies were experimenting with the whole vinyl collector figure thing. BanDai's Tokyo Vinyl Mechagodzilla got the memo but missed the point - they took a decidedly Japanese character with a toy vocabulary well-suited to designer vinyl toys, but decided to give it American aesthetics. Were it called "New York Vinyl" this would actually be pretty awesome - but generally speaking Japanese vinyl figures have a specific flavor, and this one tastes differently.
The 5 1/2-inch vinyl figure has 5 joints and a pretty cute sculpt. He's got a little belly, but the face is pure American "attitude." He looks kind of snarky, a little angry, and not adorable or cuddly as Japanese figures frequently are. His arms are unusually long and ape-like, with tiny stubby little legs and a pretty nicely long tail. I can honestly say I don't have another mechanized kaiju toy that looks quite like this.... and for his original asking price, the boxed collectible figure didn't exactly sing to me. This may just be prejudice on my part because if you really scrutinize it, they did a good job. It looks like a very well-executed version of a design that I may not have come up with on my own.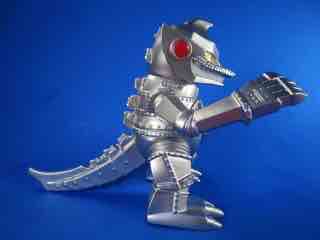 The hollow figure is positively coated in rich, thick silver paint to the point where I'm pretty sure we never actually see the color of the vinyl underneath. His eyes are gold, his ears are red, and his teeth are white. He clearly flosses. This figure is also positively covered in rivets and panels, giving you a pretty clear look at a number of seams all over his not-quite-metallic person. The illusion is, of course, slightly shattered by the clenched white teeth. I don't want to think of this one as an armored monster so much as I want to see it as a thing someone may be piloting, or a robot.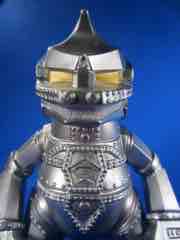 Articulation is typical for a BanDai Godzilla creature. Neck, arms, and legs are usually all you get unless they're feeling generous. Rather than get slapped with the "Adult Collector" age rating, this one was sold for ages 4 and up - so it looks like it'd be fun for kids, and its sturdy build reenforces that.
Even if it was designed in Japan (and I don't know for sure if it was), this seems more influenced by American comic art or skateboard art than anything I've bought from the land of the rising sun - but obviously, I haven't seen everything. Since I got him in a sack for $2 with an Anguiras and a Fusion Gigan, I think I got my money's worth - for ten bucks, this would be a fantastic little figure superior to the overall quality of a Funko Pop! Vinyl figure. Aesthetics, well, that's another matter - but I don't think it can be denied that the factory made a quality figure. I'm not crazy about the art direction, but it's very nicely constructed and will probably be a fixture somewhere on my toy shelves after I finish this sentence. As far as taking a licensed character and running in a different direction goes, I feel like a schmuck to complain about it. I love it when Hasbro does something utterly bizarre and off-model for Star Wars, mostly because after 50 Darth Vaders doing something like blue comic shading with red eyes is genuinely refreshing. With Mechagodzilla, I mostly just see an American twist on Japan's original in a way that I'll probably find more charming as time goes on. If this was a thing in the 1990s I'd probably have grown to love it by now, like Kenner's movie figures or the silly Batman outfits. If you stumble on it at a thrift store, do yourself a favor and buy him. If you love him or hate him, he'll give you a lot to think about.
--Adam Pawlus
Additional Images

See more BanDai figures in Figure of the Day:
Day 22: Tamagoras Get Back To Job Lion
Day 150: BanDai Final Fantasy VII Extra Knights Red XIII Action Figure
Day 167: BanDai Final Fantasy VII Extra Knights Barett Wallace Action Figure
Day 185: BanDai Final Fantasy VII Extra Knights Tifa Lockheart Action Figure
Day 216: BanDai Tick Bounding Tick Action Figure
Day 236: BanDai Final Fantasy VII Extra Knights Sephiroth Action Figure
Day 268: BanDai Megaman Trading Figures Jumping Megaman Action Figure
Day 310: BanDai ThunderCats 4-Inch Lion-O Action Figure
Day 1,360: BanDai Godzilla Tokyo Vinyl Mechagodzilla Action Figure
Day 1,370: BanDai Godzilla Fusion Series 1968 Godzilla Action Figure
Day 1,377: BanDai Godzilla Fusion Series Gigan Action Figure
Day 1,386: BanDai Godzilla Anguirus 2004 Action Figure
Day 1,393: BanDai Godzilla SpaceGodzilla Action Figure
Day 1,408: BanDai Godzilla Rodan 2004 Action Figure
Day 1,458: BanDai Gamera Heisei Gamera Action Figure
Day 1,625: BanDai Shin Godzilla Third Form Vinyl Figure
Day 1,773: BanDai Xyber 9 New Dawn Ikira's Speeder
Day 1,980: BanDai Saban's BeetleBorgs Metallix Mega Spectra Titanium Silver Sector Cycle Vehicle with Action Figure
Day 2,021: BanDai Mystic Knights of Tir Na Nog The Drageen Action Figure
Day 2,135: BanDai Shin Godzilla Second Form Vinyl Figure

See more Godzilla figures in Figure of the Day:
Day 1,360: BanDai Godzilla Tokyo Vinyl Mechagodzilla Action Figure
Day 1,370: BanDai Godzilla Fusion Series 1968 Godzilla Action Figure
Day 1,377: BanDai Godzilla Fusion Series Gigan Action Figure
Day 1,386: BanDai Godzilla Anguirus 2004 Action Figure
Day 1,393: BanDai Godzilla SpaceGodzilla Action Figure
Day 1,408: BanDai Godzilla Rodan 2004 Action Figure
Day 1,469: X-Plus Godzilla Garage Toy Titanosaurus 1975 Version Vinyl Figure
Day 1,540: Funko Pop! Movies Atomic Breath Godzilla Pop! Vinyl Figure
Day 1,625: BanDai Shin Godzilla Third Form Vinyl Figure
Day 2,135: BanDai Shin Godzilla Second Form Vinyl Figure