Tifa Lockheart
with Frog

Final Fantasy VII Extra Knights #5 of 7
Item No.: n/a
Manufacturer: BanDai
Includes: Display stand, frog
Action Feature: Limbs can separate, were you so inclined
Retail: est. $15
Availability: 1997
Other: Japanese release

PREVIOUS
RSS
NEXT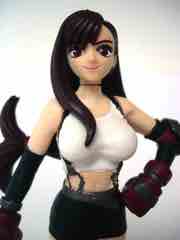 By now I have to wonder if Tifa Lockheart is better known as a strong character in Final Fantasy VII or as the subject of numerous dirty drawings online. The bubbly character was a real fighter in the game, pulling few punches with her comrades or in battle-- as she punched people. Her unique fashion sense was updated in later spin-offs of the game, but in 1997 and for a while afterward, she was best known for this outfit: tiny skirt, tight shirt, huge rack and bigger hair.
By modern standards, Tifa's face is not one you would call pretty. While it seems to capture the essence of the in-game model quite well, it feels sort of crude as her mouth is little more than a boomerang-shaped dent below her nose. The eyes have excellent deco-- particularly for the time-- and the sculpted detail on her costume isn't at all bad. You can see the straining shirt, the suspenders, and the belt as well as her belly button. At just 4 1/2-inches tall, she's pretty much a statue-- the neck and shoulders are articulated, but nothing else can move. Considering the market for this figure is largely older fans (read: older than 10) odds are genuine play value was not a consideration when making this purchase.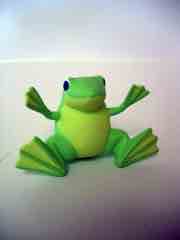 Later releases of the character were far better, and to be honest a better face would have made this an excellent figure. Her accessories help make her a little nicer, specifically as her clear display stand allows her to keep upright and not nosedive off your desk or shelf. The little raised tabs hold her boots in place, and you won't have to worry about a suicidal dip off the TV or anything like that. She also comes with a frog figure, presumably meant to represent a character which was turned into said amphibian. (Square games frequently allowed characters to be transformed into frogs or pigs.) He's a cute little guy and a nice extra-- because the Tifa figure, by herself, really isn't overwhelmingly impressive.
Being a popular character, numerous Tifa toys and collectibles exist. I would argue this is not the best of them. The smaller super-deformed Trading Arts figure may be a better choice, or the more expensive Play Arts figure could be a nicer display item. If you just want the very first action figure, though, this is it-- just don't expect to get too excited once she gets out of the box. You could do worse, but this figure (and the entire line) may be best reserved for hardcore fans only.
Collector's Note: This figure was sold in the USA and in Japan on very similar packaging. The non-Japan release has a big black "CHOKE HAZARD WARNING" box where the Extra Knights graphic appears on the Japanese release. The US version is more common and is missing several paint applications, so be sure that if you're going to pay a premium that you get the Japanese original release. The quality is a little bit higher, but if you get the cheaper US release odds are you won't notice much of a difference. It's still good.
--Adam Pawlus
Additional Images

See more BanDai figures in Figure of the Day:
Day 22: Tamagoras Get Back To Job Lion
Day 150: BanDai Final Fantasy VII Extra Knights Red XIII Action Figure
Day 167: BanDai Final Fantasy VII Extra Knights Barett Wallace Action Figure
Day 185: BanDai Final Fantasy VII Extra Knights Tifa Lockheart Action Figure
Day 216: BanDai Tick Bounding Tick Action Figure
Day 236: BanDai Final Fantasy VII Extra Knights Sephiroth Action Figure
Day 268: BanDai Megaman Trading Figures Jumping Megaman Action Figure
Day 310: BanDai ThunderCats 4-Inch Lion-O Action Figure
Day 1,360: BanDai Godzilla Tokyo Vinyl Mechagodzilla Action Figure
Day 1,370: BanDai Godzilla Fusion Series 1968 Godzilla Action Figure
Day 1,377: BanDai Godzilla Fusion Series Gigan Action Figure
Day 1,386: BanDai Godzilla Anguirus 2004 Action Figure
Day 1,393: BanDai Godzilla SpaceGodzilla Action Figure
Day 1,408: BanDai Godzilla Rodan 2004 Action Figure
Day 1,458: BanDai Gamera Heisei Gamera Action Figure
Day 1,625: BanDai Shin Godzilla Third Form Vinyl Figure
Day 1,773: BanDai Xyber 9 New Dawn Ikira's Speeder
Day 1,980: BanDai Saban's BeetleBorgs Metallix Mega Spectra Titanium Silver Sector Cycle Vehicle with Action Figure
Day 2,021: BanDai Mystic Knights of Tir Na Nog The Drageen Action Figure
Day 2,135: BanDai Shin Godzilla Second Form Vinyl Figure

See more Final Fantasy figures in Figure of the Day:
Day 150: BanDai Final Fantasy VII Extra Knights Red XIII Action Figure
Day 167: BanDai Final Fantasy VII Extra Knights Barett Wallace Action Figure
Day 185: BanDai Final Fantasy VII Extra Knights Tifa Lockheart Action Figure
Day 236: BanDai Final Fantasy VII Extra Knights Sephiroth Action Figure

Want to buy this figure or others like it? Check Final Fantasy availability at our sponsors:
Entertainment Earth