Wardick
Coelacanth Is Android

Zoids Original Japanese Release
Item No.: n/a
Manufacturer: Tomy
Includes: n/a
Action Feature: Walks with use of wind-up motor
Retail: approx. $15
Availability: 1986
Other: This Wardick is a monster!

PREVIOUS
RSS
NEXT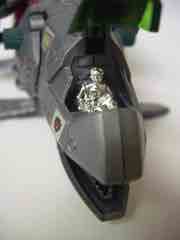 One of my favorite toy lines of all time is Zoids, which was marketed throughout the world with other brand names like RoboStrux or Techno Zoids over the years. Back in the late 1980s and early 1990s, the line was still marching along in Japan while much of the rest of the world (specifically the USA) had to go without these fun model kit/action toys. Thankfully, many of us had dads being sent to Japan on business while others visited stores like the great Hobby Bench, formerly of Paradise Valley Mall in Phoenix Arizona. Not only did they carry the then-new He-Man, Ghostbusters, or other American toys but there was a huge selection of model kits with fantastic imports-- including Tomy kits like the Wardick.
Zoids had a lot of anime and manga made in the 21st century lines, but back in the 1980s you had little stories on the packaging and in the catalog. In Japanese. So it's worthless if you're me and not exactly linguistically inclined, but the short of it is this: there's a Helic (or Heric, their logo is a lightning bolt in a circle) Republic and a Zenevas (or Zenebas, their logo is a snake in a red triangle with a dagger) Empire. They build big robot death tanks, and fight. They also seem to have a thing for dinosaurs, prehistoric beasts, and monsters, so bless their crazy hearts. Like Starriors, Tomy's 1980s Zoids offerings had vac-metal pilots in silver or, in some cases, gold. This is not part of the story, but it's one of the times vac-metal really works well.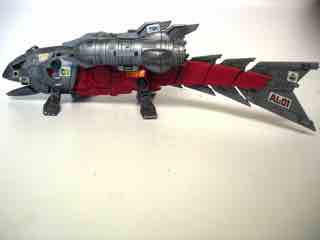 While not a shark as such, this coelacanth-type war machine measures about nineinches long from head to tail. Those two big things on his back are supposed to be cannons, but I'm not sure I buy that. He does have cool sharp teeth in his jaws and I guess those things on his back might be depth charges or something. They have styrofoam inside them which I believe may be so he can float, but I've never put him in water.
Back in the 1980s, what made Zoids a big deal was that they were not only a constructable action toy/model kit, but that you could also make them walk and, in some cases, light up. A wind-up motor was included with nearly all of the smaller, cheaper toys and Wardick is no exception. His fins will propel him across a table if you're so inclined, and his tail moves too. It's quite cute, if you're in to murderous robotic fish in the same way I am. Oh, and he's got a little "1701" sticker on him, so I'm going to assume the designers were fans of the Enterprise. It seems like a reasonable assumption.
Other versions: A recolored kit was sold in Japan in roughly 2000 for a few years, and this was exported to the USA as well. A black-and-green "Guylos Empire" variant was released a couple of years ago in Japan, and Hasbro made a Holotech (clear) version of the kit as well. The original kit is quite uncommon, but you should be able to score the reissue for under $20. I found one on clearance for a couple of bucks at a grocery store, and that newer Zoids line is pretty cheap-- and we'll get in to some of those later, as I delve into my mighty Hall of Unbuilt Kits.
--Adam Pawlus
Additional Images

See more Tomy toys in Figure of the Day:
Day 170: Tomy Zoids Wardick
Day 263: Tomy Zoids Gorgodos Action Figure
Day 364: Tomy Robostrux Brutox Figure Kit
Day 382: Tomy Robostrux Slithor Figure Kit
Day 406: Tomy Zoids Twinhorn Action Figure
Day 484: Tomy Robostrux Brox Figure Kit
Day 486: Tomy Zoids 24 Scale Neptune Figure Kit
Day 1,352: Tomy Robostrux Batlar Figure Kit
Day 1,422: Tomy Zoids Gator Figure Kit

See more Zoids, Robostrux, and Techno-Zoids in Figure of the Day:
Day 170: Tomy Zoids Wardick
Day 263: Tomy Zoids Gorgodos Action Figure
Day 364: Tomy Robostrux Brutox Figure Kit
Day 382: Tomy Robostrux Slithor Figure Kit
Day 406: Tomy Zoids Twinhorn Action Figure
Day 484: Tomy Robostrux Brox Figure Kit
Day 486: Tomy Zoids 24 Scale Neptune Figure Kit
Day 1,352: Tomy Robostrux Batlar Figure Kit
Day 1,422: Tomy Zoids Gator Figure Kit
Day 1,471: Takara-Tomy Zoids Masterpiece Shield Liger
Day 2,000: Takara-Tomy Zoids Wild ZW-05 Gannontoise Figure Kit
Day 2,008: Takara-Tomy Zoids Wild ZW-01 Wild Liger Figure Kit
Day 2,013: Takara-Tomy Zoids Wild ZW-03 Kabtor Figure Kit
Day 2,017: Takara-Tomy Zoids Wild ZW-04 Scorpear Figure Kit
Day 2,039: Takara-Tomy Zoids Wild ZW-06 Gabrigator Figure Kit
Day 2,075: Takara-Tomy Zoids Wild ZW-07 Kuwaga Figure Kit