Struthiomimus and Nimbus
Good Guys

Dino-Riders Boxed Toy Set
Item No.: No. 9114
Manufacturer: Tyco
Includes: Driver, dinosaur, harness, smattering of silver plastic gear
Action Feature: n/a
Retail: unknown, est. $6.99
Availability: ca. 1988
Other: Later repackaged as "Smithsonian Institution Dinosaur Collection" toy

PREVIOUS
RSS
NEXT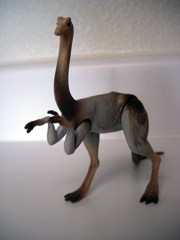 The Struthiomimus was a neat dinosaur, but by no means an action-packed beastie from prehistory. I wouldn't say he's a wuss, but I would say that about Nimbus. These telepathic space hippies were pretty dull as heroes went, especially as the enemy were a tribe of aliens which had a lot in common with Battle Beasts in a spiritual sense. Well, in a literal sense too-- they're little plastic dudes with animal heads. On the other hand, figures like Nimbus were dorky little kids with long hair, and in 1989 long hair wasn't particularly common in the target age group for these figures. While some of the other dinosaurs were pretty spectacular, with great gear, this was one of the lesser entries in the series.
The dino-ostrich stands just fine, the third leg acting as a tripod making a display stand unnecessary-- even with all his gear, he had no problem standing up on his own, which is the way I think most 1980s toy fans remember their toys. Today, toys need display stands-- back 25-30 years ago, they just friggin' worked. The Struthiomimus has no action features and only 4 points of articulation, so he's really more of a display piece than he is an Awesome Toy. The saddle has a gun and storage for spare red gun tips, should you lose any, and the silver, grey, and blue design matches the good guys nicely. I've had this one since I was a kid and I remember not being as excited about it as some of the four-legged lizards, and as an adult I can see why. It doesn't do anything-- it's a model, it's a shelf item.
His companion figure is, at least, not blue. Most of the good guys are blue, but Nimbus is brown, with brown hair, and... well, he does his job. The figures in this line were the accessories, and that's a mentality in toys that's long since left the building outside Imaginext, Playmobil, and LEGO. The vehicle, the playset, the creature is what's important-- the figure is just some dude to sit in a seat, a proxy for the child playing with the toy. Action figure collectors have moved to focus solely on the figure, the character. The toy element is a thing of the past, which is a shame as while I like my action figures, as a kid, the vehicles were damned exciting stuff. I mean, look at Nimbus-- this is a kid who'd lose his lunch money. But he's got a cool dinosaur to ride around on, and I don't care how much of a putz you are-- you can make friends if you ride around on a dinosaur.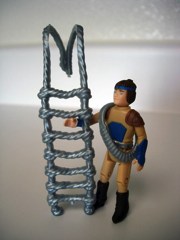 7 points of articulation give him just about enough movement to sit in the saddle or carry his ample silver gear, which included a ladder, a couple of guns, and a bunch of bandoliers/necklaces/hippie crap. I don't know why I'm in such a mood to knock that group today, but man, I thought those sucked as a kid. It's not that I need guns to have a good time, but at least give the kid some tools or a helmet or something. A hat! Would a hat be so bad?
Were this figure released today in this exact format I'd find it exciting, refreshing, and fun. As a leftover from my childhood, at the end of a decade that was a shamefully wonderful period of new concepts and fun playthings, this one stands out as being an acceptable entry in a great toy line. I don't like how the kid sits in the chair, I don't find the dinosaur's gear fun, and the dinosaur doesn't have any fun features. Others in the line had turning heads, flapping wings, opening jaws... they did stuff. Complete samples of this guy sell for about $30 on eBay, which is a fine price given it includes a box, but don't expect to fall in love with the concept of Dino-Riders if you start with this toy. The Styracosaurus, the Monoclonius, these are truly glorious playthings.
--Adam Pawlus
Additional Images

See more Tyco figures in Figure of the Day:
Day 212: Tyco Dino-Riders Styracosaurus with Turret Action Figure
Day 223: Tyco Dino-Riders Monoclonius with Mako Action Figure
Day 244: Tyco Dino-Riders Ankylosaurus and Sting Action Figure
Day 274: Tyco Dino-Riders Struthiomimus and Nimbus
Day 287: Tyco Dino-Riders Dimetrodon and Shado
Day 344: Tyco Dino-Riders Protoceratops and Kanon
Day 399: Tyco Looney Tunes Marvin the Martian

See more Dino-Riders figures in Figure of the Day:
Day 212: Tyco Dino-Riders Styracosaurus with Turret Action Figure
Day 223: Tyco Dino-Riders Monoclonius with Mako Action Figure
Day 244: Tyco Dino-Riders Ankylosaurus and Sting Action Figure
Day 274: Tyco Dino-Riders Struthiomimus and Nimbus
Day 287: Tyco Dino-Riders Dimetrodon and Shado
Day 344: Tyco Dino-Riders Protoceratops and Kanon
Day 2,272: Mattel Dino-Riders Rulon Warriors Battle Pack