Cobra Commander
Chief Evil Metal Head Guy

G.I. Joe Pursuit of Cobra Basic Figures
Item No.: Asst. 24732 No. 20892
Manufacturer: Hasbro
Includes: Stand, staff, rifle, pistol
Action Feature: n/a
Retail: $6.99
Availability: June 2010
Other: Once planned as a mail-in figure

PREVIOUS
RSS
NEXT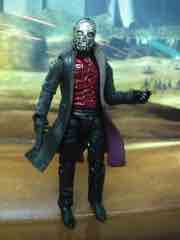 Have you ever bought an action figure because it was kind of dumb and you thought it was funny? That can be dangerous, as this Cobra Commander proved to be less a dumb impulse purchase and more of a gateway buy. This figure was meant to be a special mail-in figure, which was aborted when Hasbro realized they could just slip it into the basic figure assortment. This Cobra Commander is largely based on the design of the 2009 movie toy, with a newly tooled head and a much better looking paint job. A little vac-metal can go a long way, and the figure's big coat and thin build really set him apart from the muscular men and women fighting with or against him. He's a little scrawny, but he has a big honking gun and a stick with a Cobra logo on it. Oh, and he has this red metallic armor with "CCI" written on it. It's a neat piece.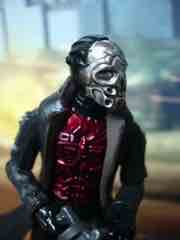 Standing about four inches tall, I dismissed this figure as goofy but potentially fun to futz with so I went ahead and bought it around the time the line actually officially launched around August. In the following weeks I bought the entire line... and this figure wasn't even the best of them! Hasbro's Pursuit of Cobra range combined movie inspiration, like this figure, with original designs and influences from the original toy and cartoon series. This figure doesn't have much in the way of action features, but you can plug his pistol into the side of his thigh. It stays hidden under his coat, which is a nice play feature. It's also his only play feature, it's just a super-poseable 16-joint wonder which lives and dies by how much you like his look.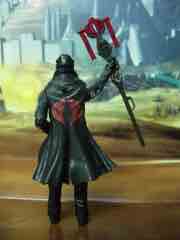 Odds are you hate his look, and I suggest you not buy it unless you want to be inspired to buy more Joe toys. This is a solid release and is a lot of fun, despite not wearing a hood or a mirror battle mask. Hasbro's designers still have a wonderful imagination, and it's absolutely worth your while to give this a shot if the price is right... and if you can find it. It really stands out on the pegs and a lot of fans thought this was a "chase figure," but it's not-- the figure was shipped in greater quantities than Snow Job, but was packaged on a bright red "Cobra" package instead of a blue "G.I. Joe" one. As such it really does stick out nicely, but it's no rarer than any other figure in the line. Perception means a lot in this business, and people are easily duped by misinformation or poor word choice on Hasbro's part. (The Rhode Island toymaker actually said this would be a "chase piece" but well, take a look at online toy sellers and the assortment breakdowns. It's not a chase piece.)
Originally planned as a mail-in figure, the mail-in release was going to have a H.I.S.S. Tank drone but would otherwise largely be identical to this figure. Except the packaging, that is. There is no known home for this "drone" accessory but if I were a gambling man I'd keep an eye on upcoming G.I. Joe collector convention exclusive toy sets. The mail-in version of the figure, complete with box, does exist in very limited numbers and some samples did make it out to the collector's market. Expect it to be very expensive.
--Adam Pawlus
Additional Images

Click here to see more Hasbro figures in Figure of the Day.
See more G.I. Joe figures in Figure of the Day:
Day 5: Hasbro G.I. Joe Pursuit of Cobra Spirit Iron-Knife
Day 10: Hasbro G.I. Joe Collector Club Robot Rebellion Cobra Commander
Day 21: Hasbro G.I. Joe Pursuit of Cobra Quick Kick
Day 49: Hasbro G.I. Joe Pursuit of Cobra Cobra Commander
Day 59: Hasbro G.I. Joe Rise of Cobra Pit Commando
Day 64: Hasbro G.I. Joe Pursuit of Cobra Arctic Threat Destro
Day 74: Hasbro G.I. Joe Pursuit of Cobra City Strike Firefly
Day 80: Metallic Cobra Commander Wackly Wobbler
Day 87: Hasbro G.I. Joe Sgt. Slaughter Action Figure
Day 104: Hasbro G.I. Joe Pursuit of Cobra Kickstart Action Figure with Steel Marauder
Day 109: Hasbro G.I. Joe Pursuit of Cobra Snake Eyes #1101
Day 111: Hasbro G.I. Joe Pursuit of Cobra Duke #1102
Day 119: Hasbro G.I. Joe Rise of Cobra Sandstorm
Day 129: Hasbro G.I. Joe Pursuit of Cobra Storm Shadow
Day 146: Hasbro G.I. Joe Pursuit of Cobra Low-Light
Day 156: Hasbro G.I. Joe Pursuit of Cobra Cobra Shock Trooper
Day 160: Funko G.I. Joe "Pimp Daddy" Destro
Day 162: Hasbro G.I. Joe Club Exclusive Adventure Team Air Adventurer
Day 171: Hasbro G.I. Joe Comic-Con Exclusive Cobra Commander
Day 221: Hasbro G.I. Joe Pursuit of Cobra Cobra Trooper
Day 264: Hasbro G.I. Joe Pursuit of Cobra Steel Brigade
Day 284: Hasbro G.I. Joe 30th Anniversary Hazard-Viper
Day 314: Hasbro G.I. Joe Pursuit of Cobra Shadow Tracker
Day 372: Hasbro Jurassic Park G.I. Joe Heavy Gunner Action Figure
Day 419: Hasbro G.I. Joe Pursuit of Cobra City Strike Destro
Day 473: Hasbro G.I. Joe Retaliation Cobra Commander
Day 863: Hasbro G.I. Joe Retaliation Blind Master
Day 1,427: Burger King G.I. Joe AWE Striker with Snake Eyes Vehicle
Day 1,787: Hasbro Revolution First Strike Comic Preview Mega-Set
Day 1,867: Hasbro G.I. Koe Kre-O Collection 2 Dreadnok Ripper
Day 2,241: Hasbro G.I. Joe Classified Series Profit Director Destro Action Figure
Day 2,458: Super7 G.I. Joe Red Ninja ReAction Figure
Day 2,618: Hasbro G.I. Joe Retro Collection Duke Vs. Cobra Commander Action Figures

Want to buy this figure or others like it? Check G.I. Joe availability at our sponsors:
Entertainment Earth