Loco Ocho
The Wrestler

Uncle Milton Noise-Activated Spiders
Item No.: No. 11006
Manufacturer: Uncle Milton
Includes: Mask, cape, gauntlets, 3 AG13/LR44 batteries
Action Feature: Make a sound and he moves
Retail: $9.99
Availability: Summer 2011
Other: Series 2

PREVIOUS
RSS
NEXT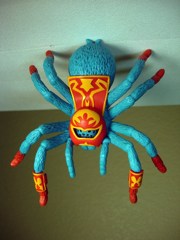 Last year at Toy Fair in New York I was tired, beat, and at a meeting with Uncle Milton seeing new stuff-- the previous year's Star Wars science line wasn't a huge hit and ant farms, as a classic toy, don't necessarily appeal to the collector market. One of the first new things they showed me was the wildly funny Tarantula Planet, which (and I couldn't tell) seemed like a terrible idea or the most awesome thing ever. Mrs. 16bit saw them and went crazy-- this El Loco Ocho is going to end up on her desk rather than in the archives. The entire idea is a line of tarantulas, all basically based on the same mold, with new paint and accessories to make them into mexican wrestlers, the Terminator, a pirate, a punk rocker, and other themes which would have been wildly appropriate in the 1980s. This feels like a line that should have been sold an aisle or two over from He-Man, but it's out now with little marketing support and Target stores already stopped stocking it. Toys R Us still has it, though.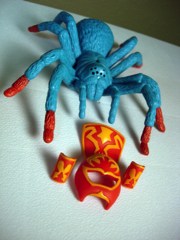 The packaging describes them as "Creepy Racin' Freaks" due to their action features-- in short, someone combined hot rodding with tarantulas. If you switch it on (batteries are included) and it feels like working, the eyes will light up red and the wheels will start spinning. In my figure, it didn't switch on until I opened up the battery compartment and moved them around a bit. Your mileage may vary. Anyway, at this point he lit up and was ready to go. To keep it going, you clap your hands and it will activate it yet again, and you can keep doing this until the race is over. It's an interesting mechanism and I think this was probably primarily developed to torture your cat.
Assembly is smart, taking a cue from brick figures like LEGO or Playmobil. Each figure is the same mold with a hole in its back, and snap-on parts plus new paint give it its unique personality. In this case, Loco Ocho has a removable mask with cape and a pair of... wristbands, I guess. These clip on to the bright blue figure, who has red "socks" on his feet. The result is quite striking, and you can swap accessories between them if you're so inclined. (I've only got the one so far.)
There's no articulation to speak of, and the entire gimmick feels like there should be some badly animated series to go along with it-- each of these guys are tailor-made to wacky accents and ridiculous capers, but right now it'll probably go down in history as that awesome line of toys you passed on, because you are a cruel monster. At about 5-inches long they aren't huge, and (if I participated) I'd get these to give out at some sort of holiday gift exchange. It's clearly a kid's toy, but it's a good one and someone at Uncle Milton deserves a pat on the back for inventiveness. Other variations include an alien, so there's no shortage of goofy ideas for down the road. If it gets to series 4 and I don't see an octopus, I'll be disappointed.
--Adam Pawlus
Additional Images

See more Uncle Milton figures in Figure of the Day:
Day 277: Uncle Milton Tarantula Planet Loco Ocho Figure
Day 383: Uncle Milton Tarantula Planet Red Beard Figure
Day 415: Uncle Milton Tarantula Planet Side Kick Action Figure
Day 428: Uncle Milton Tarantula Planet T-Bot 8000 Action Figure

See more Tarantula Planet figures in Figure of the Day:
Day 277: Uncle Milton Tarantula Planet Loco Ocho Figure
Day 383: Uncle Milton Tarantula Planet Red Beard Figure
Day 415: Uncle Milton Tarantula Planet Side Kick Action Figure
Day 428: Uncle Milton Tarantula Planet T-Bot 8000 Action Figure