Optimus Prime
MechTech Carded Edition

Transformers Dark of the Moon Wal-Mart Exclusive Deluxe Class Figure
Item No.: No. 32094
Manufacturer: Hasbro
Includes: MechTech Gun Axe
Action Feature: Turns into truck, MechTech gun turns into axe thing
Retail: $9.88
Availability: June 2011
Other: The first movieverse proper Deluxe Optimus Prime

PREVIOUS
RSS
NEXT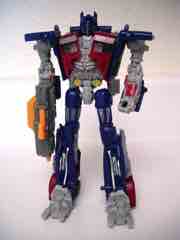 When this toy hit, over BotCon 2011 weekend, I was positively giddy to pick up a new toy and spent a chunk of the weekend running around getting some G.I. Joe toys and this Optimus Prime. This Prime is a really weird piece-- it's rare that a store get a brand-new mold as an exclusive, particularly when you have the best-known character in the franchise being given exclusive status. Sold in solid-packed cases of 8, this figure tended to hit big when he hit, and it's a pretty exciting toy until you get it out of the packaging. And then... well, it's good. It's not bad. But it's not impressive. If you collect Optimus Prime toys, this one is smack dab in the middle of the past few years' releases. It's not quite the collector-focused work of art that was the War for Cybertron figure, but it's also not the misfire that was the Reveal the Shield G2-inspired figure.
Let me start off by pointing out its engineering flaws, or at least what I saw as problematic. When transforming, the figure once again has stress problems in his blue plastic. The tabs and slots are too tight a fit, leading to stress marks in some spots which, on a brand new toy, are just ugly. There's no excuse for that. I'm also not a huge fan of how the axe gun accessory works. As a gun, it's fine-- it looks like a gun, and that's great. As a toy, it's neat-- you can pull this lever and the barrel rotates back and a spring-loaded yellow axe comes out. So what could be wrong with that? Well, the axe blades are molded grey plastic painted yellow-- so they don't match the rest of the axe, and over time the paint will scrape off (it's already uneven.) The other problem is that it can't stay in axe mode-- this is a fan complaint and not a genuine flaw, but I do wish I could display it (or photograph it) in axe mode without my finger literally needing to be on the button. It's a lot of fun to fidget with, though, it just feels like it could be slightly better than it is.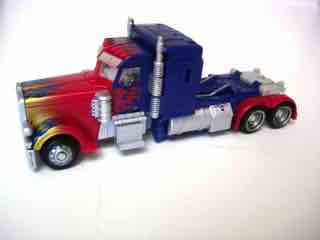 The truck mode is pretty good-- it seems the bulk of the deco money went to ensuring it looks great. It has a painted silver grille (my sample has very uneven paint, though) and multi-colored flames. There are yellows, blues, and reds all mixing together in a metallic pool of love that makes me wonder just how this thing can only cost $2 more than its Deluxe Commander equivalent-- it's just so pretty, and so much better. He has rolling wheels and a transformation that tends to be fairly simple. I'm also excited by the numerous holes on the truck and robot mode, they're about 5mm wide and sized for Energon weapons, Mini-Cons, and other existing accessories. I love when Hasbro does that, sharing gear makes these toys a lot of fun.
As a robot, he's nothing to sneeze at. While light in deco, this 6-inch robot is sized about the same as most of your other deluxe Transformers toys from the past few years. With the "gimmick" an external piece, the robot itself is lacking the typical annoying spring-loaded bits save for one-- the head automatically pops up during transformation, and I find this cool. Other than that, the figure has a lot of rotating and spinning parts including jointed toes, double-jointed elbows, and more. Each arm has 4 points of articulation, which is pretty damn spectacular when you consider that's the original 1984 Optimus Prime toy had about two meaningful points of articulation, period.
Deco is acceptable, but not great. The grey plastic used for most of the body feels weak, the light coloring with tiny flourishes of red on the forearms doesn't exactly scream "powerful alien robot." He's thin, and there seems to be far more blue than necessary. The front of the cab of his truck mode becomes a backpack, but aside from this most of the car bits integrate nicely into his robot form. For you weapons freaks out there, the figure has six places to connect MechTech or other weapons in robot mode. I suggest you use them, as the figure is a little back-heavy and could use the extra weight to keep him standing up.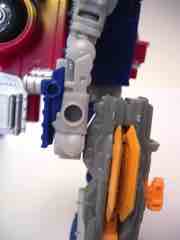 The MechTech axe gun (or gun axe) is a nifty idea but the engineering isn't particularly spectacular. (A redecorated version of the weapon was also included with Deluxe MechTech Mudflap.) If you pull back the lever on top of the gun, an axe pops out. When you let go, it slides back into position, or at least tries to. The force generated by the release of the button may not be enough for the axe blades to fold in and return to their default position, so it's not exactly fun. Also, the axe may not stay extended-- for it to be out, you have to hold down the button. Finally, the axe halves are painted yellow for some reason, giving the weapon an uneven look as there are yellow plastic elements as well.
Capable of assuming numerous fun poses, the figure is a tough one to really insist that you buy. When I got it in my hands, I was thrilled-- and when I got it home, I felt a shrug after playing with it for about 20 minutes. Since then, though, I can't seem to put it down. I feel a need to pull out Mini-Cons and other gear to snap on to his person after initially being put off by the stress mark discovery during transformation. As an action figure (and as one packaged in robot mode) this is a quality toy. If you never change him into his truck form, you'll probably have fun with him-- and if you can get passed the weirdness of that MechTech gun axe in both concept and execution, I think you'll have a pretty good time with this figure. It's simple, even though we're getting an Ultimate Edition Optimus Prime in 2011 I tend to be a fan of the smaller, easier-to-transform toys Hasbro creates for us. I don't want to spend an hour converting a toy.
One final note-- this mold is being released in Japan, repainted (more detail than the US release) as part of a 2-pack. The other toy is yet another reissue of G1 1984 Optimus Prime with a nifty new trailer they can both use.
--Adam Pawlus
Additional Images

Click here to see more Hasbro figures in Figure of the Day.

Click here to see more Transformers figures in Figure of the Day.

Want to buy this figure? Check Transformers availability at our sponsors:
Entertainment Earth