Commander Comet
The Man from Venus by way of San Diego

Outer Space Men Alpha Series Comic-Con Exclusive 2011
Item No.: n/a
Manufacturer: Four Horsemen
Includes: Two-piece helmet, winged triangle staff, crossbow gun, wings, extra arms
Action Feature: n/a
Retail: $40.00 (sold as a set)
Availability: July 2011
Other: First release of Commander Comet in this line

PREVIOUS
RSS
NEXT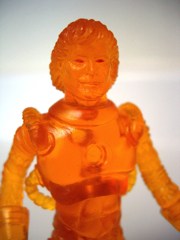 He's an angel! Commander Comet, the Man from Venus comes from an era where women in the action toy aisle were far more unwelcome than they are now-- and that's saying something! Today it seems almost unthinkable that you'd have anything but a female delegate from Venus, but back in the 1960s it was determined that the line's chief hero would come from the somewhat but not really similar-to-Earth planet, playing off the cloud motif with an angel-like presence. This version of the figure-- the first release of the mold-- brings back most of what made the original so striking, save the paint.
As a roughly 3 3/4-inch action figure it's par for the course for a convention exclusive. He's largely unpainted except the eyes, he has a removable helmet, all of his joints are designed with Glyos plugs for assembly and disassembly, plus his body is covered in a quasi-feathery armor texture. It looks pretty good, and in this color it definitely feels just a little more bird-like.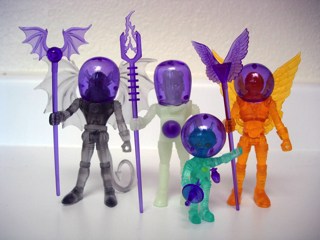 Unlike most figures in the line, this figure is an almost entirely new sculpt-- sure, the hands and feet are similar to other figures, but the arms, legs, and torso required new sculpts. It's fundamentally the same in its general design, but the addition of removable wings does add a lot to the character's style-- and I appreciate that you can take it off were you so inclined.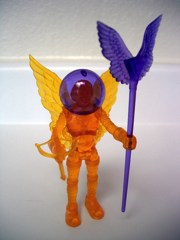 Aiming to replicate the original toy's accessories, the figure has a fishbowl-esque two-piece helmet which does come off, but it does feel somewhat fragile so you'll want to be careful with it. Matching it in purple is a new accessory, a long purple staff with a purple triangle and wings. A pink triangle does hold a certain significance in our cultural lexicon, and given the item wasn't included in the 1960s toy its appearance here either makes it feel like an item lost to time or a surprisingly progressive accessory. I'm not sure which, but it is neat and the work done to it makes it pop out nicely. The final weapon is a crossbow, effectively replicating the original weapon at this new scale.
As an action figure it's good. I'd go as far as to say it may be the best design of the wave due to its flexibility in more ways than one-- he can stand and sit, has a lot of gear, and you can even pop off the triangle design on his chest if you want. (See below for pictures.) It feels like this design was done just in case the Four Horsemen wanted to make a new character with a new head and new symbol down the road. At the rate of four figures per year, I don't believe we're going to see a heck of a lot of new characters in the line any time soon, but it's nice to dream. This figure did sell out somewhat quickly, but other versions (and heck, even these ones) can be had somewhat cheaply on eBay. I'd suggest you get it, but get the 2010 figures first-- they're a lot more fun and feel less fragile. I still love the new guys, but the 2010 ones just feel so darned perfect, you know?
A yellow variant (and this one is orange) was sold at New York Comic Con, plus a fully painted one should be shipping to you any day now if you pre-ordered it. If not, Store Horsemen may still have it for sale.
--Adam Pawlus
Additional Images

Click here to see more Four Horsemen figures in Figure of the Day.

Click here to see more Outer Space Men figures in Figure of the Day.

Click here to see more Glyos Compatible figures in Figure of the Day.