Wheeljack
Remolded from 2010 Turbo Tracks

Transformers Generations Deluxe Figures Wave 7
Item No.: Asst. 98452 No. 28595
Manufacturer: Hasbro
Includes: Shoulder-mounted cannon, twin tools
Action Feature: Turns into racecar
Retail: $11.99
Availability: Spring 2011
Other: The first "classic" Wheeljack in the modern line

PREVIOUS
RSS
NEXT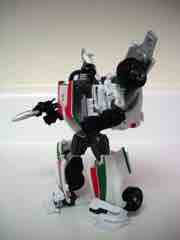 For whatever reason Hasbro has been pretty iffy on updating Wheeljack since Generation 1 ended. In Energon, we received a toy named Downshift that looked a lot like Wheeljack. In Alternators, we got a Wheeljack that looked vaguely like the character in deco with a nice head sculpt. Today, Hasbro has actually given us the real deal, although it was a little slow making it out to retail and fans freaked out about not being able to find one for the longest time. I can say, it was good enough to be worth the wait.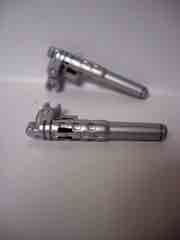 As a toy based on the 2010 Turbo Tracks figure, Hasbro modified the original mold in a few meaningful ways to get two toys from one design. The head, wings, bumper/feet, spoiler, back of the legs, and c-clamp weapons were retooled while pretty much everything else was effectively the same with new deco. Hasbro's quite clever when they want to be. I was particularly surprised to see a place for the tools to clamp onto the legs in robot mode, for storage purposes. That sort of thing is pretty uncommon.
The handheld accessories are guns... or exhaust pipes... or tools. What would you like them to be? As Hasbro designed them to be gripped in a specific manner, it seems they were intended to be Wheeljack's tools. (For those not familiar with G1 lore, he was an Auotbot mad scientist, and in the cartoons was responsible for "inventing" the Dinobots.) As such, the accessory is a nice touch-- the original 1984 Wheeljack just had guns, so a non-lethal character-based accessory is a delightful touch. He still has a gun, it's the same shoulder-mounted (or hand-held, take your pick) accessory which you got with Turbo Tracks down to the same paint job.
As a car... it's a car. Clearly modified with aftermarket parts, he spent some scratch on a new body kit and seems to be lookin' for action, ladies. It's just a shame there aren't too many lady-bots out there. The gun stores in the trunk area, and the two tools clip under the vehicle for transport. The wheels roll freely, and the design holds together pretty nicely in both modes courtesy of some tabs and slots.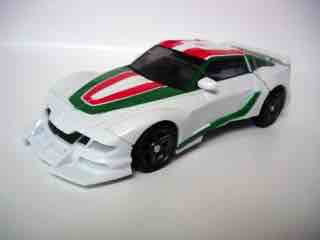 Transforming is fun, and fundamentally the same as Tracks. Unfold the back of the car, enjoy the chest automorph, pull down the legs, and presto-- you're done. It's easier to go from car to robot than the other way around, but it's still a simple enough toy. There are no Easter Eggs or wacky license plates in this design, but it's a strong Wheeljack. It's the kind of figure that, if you buy it, you will want to go and buy additional "Classics" toys in this line, so be careful. It's a gateway purchase, and it'll make you grumpy that you don't have more Dinobots yet.
Variations: There is only one US release, and a Japanese release in the Transformers United line has been considered to be inferior by many collectors. This Japanese toy blog has shots of the Japanese release which has more metallic paint and a much nicer Autobot logo on the roof, plus extra green on the doors. Oh, and the US one is significantly cheaper. As such, I suggest you grab the US one.
--Adam Pawlus
Additional Images

Click here to see more Hasbro figures in Figure of the Day.
Click here to see more Transformers figures in Figure of the Day.

Want to buy this figure? Check Transformers availability at our sponsors:
Entertainment Earth