Metamorpho
The Man from Alpha Centauri

Outer Space Men Holiday Edition Gold Variant
Item No.: n/a
Manufacturer: Four Horsemen
Includes: Ray gun, other gun, spare arms, vac-metal chest piece and head knob (in gold or silver)
Action Feature: Swap parts with other Glyos-compatible figures
Retail: $40.00 (bundled with Inferno, Astro-Nautilus, and Xodiac)
Availability: December 2010
Other: Variant exists-- some have gold accessories, some have silver

PREVIOUS
RSS
NEXT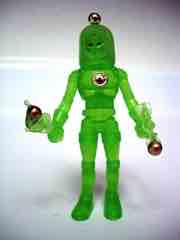 Not one to rest on a perfectly good mold, the Four Horsemen cranked out a holiday series of Outer Space Men including this green version of Metamorpho, the Man from Alpha Centauri. He's basically the same color of green as the Beta Phase Xodiac, and now he has some extra paint that previous clear figures did not have. It's worth noting that some have silver paint while others have gold, and it was really the luck of the drawn what you got when you ordered a set from the Four Horsemen's web site late last year.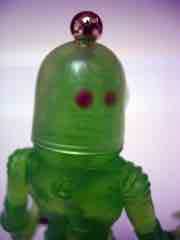 Not every color works well when you start doing clear figures-- one downside of this particular shade of green is that as it gets thinner, you can see through it-- it's very easy to see right through the back of his helmet, showing off his eyes. Ah well.
The green seems to show detail much better than the glow-in-the-dark or clear pink releases, although nothing beats a fully-painted face when it comes to bringing the figure's personality to life. With this particular shade of 7-up bottle green plastic, the figure starts to feel more and more like a holiday item, particularly with the gold added to the design. Even his guns start to look more like ornaments with a big shiny gold ball at the end, giving him a look that's more festive and whimsical rather than retro and whimsical.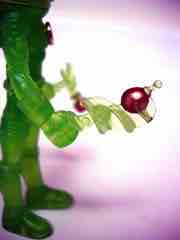 Compared to previous Metamorpho figures, the rotating head mechanism seems to go a little more smoothly and the plastic feels a little less clear than Xodiac-- however it's still translucent, which you can see in the pictures.
The figure is a nice addition to a collection, but isn't much of a substitute for the normal Infinity Series figure released around the same time. The vac-metal parts are really stunning and are something I'd love to see included with more (all) of the figures in the future, even if they don't necessarily add enough to Metamorpho to justify buying a fourth copy of the mold. If the price is right, get one. If you like to mix-and-match figure pieces, get one. Otherwise, pick up the normal one and call it a day.
--Adam Pawlus
Additional Images

Click here to see more Four Horsemen figures in Figure of the Day.

Click here to see more Outer Space Men figures in Figure of the Day.

Click here to see more Glyos Compatible figures in Figure of the Day.