Cobra Shock Trooper
So good he's evil

G.I. Joe Pursuit of Cobra Basic Figures
Item No.: Asst. 24732 No. 25747
Manufacturer: Hasbro
Includes: Helmet, mask, communicator, shotgun, gammer, stun batons, pistols, machine guns, riot shield, stand... I could go on
Action Feature: n/a
Retail: $6.99-$8.49
Availability: December 2010
Other: Looks like a real SWAT guy

PREVIOUS
RSS
NEXT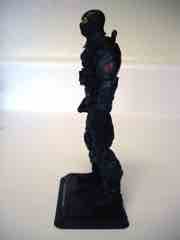 One of the most anticipated (and popular) figures in the Pursuit of Cobra range was the super-cool Cobra Shock Trooper figure. The figure shows off some real love from Hasbro, putting in some amazing work on the accessories, sculpt, and articulation which go above and beyond your average figure. However as a member of Cobra, it's a little less imaginative than evil monocle dentist or crazy vulture man. The Cobra Shock Trooper dares to be realistic, which is a word fans in all walks of life use but deep down may not really want.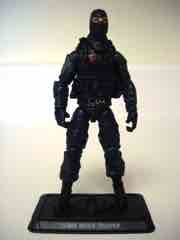 Standing just over 4-inches tall, the sculpt will initially knock you off your feet. It's great-- the costume looks really good, with all sorts of wrinkles, armor, pads, and even a handle to carry an injured man off the field of battle. If you took the Cobra logos off this guy, he'd probably make a great cop figure. His face is hidden behind a mask, which itself can be hidden behind a breathing mask and helmet. In short, he's pretty well-covered. Molded in very dark blue and black plastic, this should be a good addition to anybody's dioramas, I guess, but I'm not a diorama guy. I like my troopers weird and oddly colorful, preferably with a big symbol which doubles as a target for the opposing team. For those reasons, I find this figure to be both completely excellent in execution and incredibly dull. It also had the dubious fortune of shipping along side the most amazing Snake Eyes of all time so far, so it's hard for what should have been the best figure in ages to stand out... because something else is even more amazing.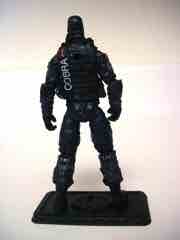 Articulation is largely standard modern Joe fare, with about 16 joints plus bending and swiveling at the wrists. This is more and more common in this line, but it's essential in your getting the most out of his many accessories, like a friggin' sledgehammer and numerous firearms. Each weapon is sculpted nicely, but the real surprise is how much paint has been applied to these guns-- little silver and red markings were added to some, giving the traditionally single-color accessories much more life and also giving Hasbro a reason to charge more for these things. With all the extra stuff, and the extra paint, it's hard to argue that it isn't worth it.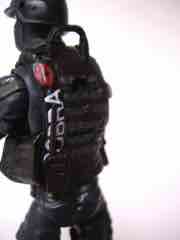 One of the great things about the Pursuit of Cobra range is Hasbro's ability to give you so much gear, you may have reason to buy multiple figures. With all the weapons, helmets, goggles, and so forth, your army has the potential to look quite varied, plus you can swipe the gear for other figures if you're so inclined. Granted, pseudo-SWAT gear isn't ideal for a Cobra Commander or your many Storm Shadow toys, but hey, it's something extra and nice to have. These guys are pretty neat, but they just aren't as fantastical and fun as some other Cobra forces. People who admire Hasbro's attention to detail and improving aesthetics will love this guy, but I come at it from this weird angle where I can see how great it is, how much work went into it, and why so many Joe fans got so excited for it. Heck, it's what drove me to hunt it down when it first hit. It's just that, after having it for a few months, it isn't as fun (to me) as those old cartoony-style figures we've had over the years, so I'm looking forward to more colorful, classic, and ridiculous creations in the future.
It appears that the figure's entire body-- and maybe the head, it's hard to tell from press photos-- will be recycled for the 2011 Steel Brigade figure. Oddly, it seems like a rare occasion where the Cobra mold may be actually more exciting as a good guy.
--Adam Pawlus
Additional Images

Click here to see more Hasbro figures in Figure of the Day.
See more G.I. Joe figures in Figure of the Day:
Day 5: Hasbro G.I. Joe Pursuit of Cobra Spirit Iron-Knife
Day 10: Hasbro G.I. Joe Collector Club Robot Rebellion Cobra Commander
Day 21: Hasbro G.I. Joe Pursuit of Cobra Quick Kick
Day 49: Hasbro G.I. Joe Pursuit of Cobra Cobra Commander
Day 59: Hasbro G.I. Joe Rise of Cobra Pit Commando
Day 64: Hasbro G.I. Joe Pursuit of Cobra Arctic Threat Destro
Day 74: Hasbro G.I. Joe Pursuit of Cobra City Strike Firefly
Day 80: Metallic Cobra Commander Wackly Wobbler
Day 87: Hasbro G.I. Joe Sgt. Slaughter Action Figure
Day 104: Hasbro G.I. Joe Pursuit of Cobra Kickstart Action Figure with Steel Marauder
Day 109: Hasbro G.I. Joe Pursuit of Cobra Snake Eyes #1101
Day 111: Hasbro G.I. Joe Pursuit of Cobra Duke #1102
Day 119: Hasbro G.I. Joe Rise of Cobra Sandstorm
Day 129: Hasbro G.I. Joe Pursuit of Cobra Storm Shadow
Day 146: Hasbro G.I. Joe Pursuit of Cobra Low-Light
Day 156: Hasbro G.I. Joe Pursuit of Cobra Cobra Shock Trooper
Day 160: Funko G.I. Joe "Pimp Daddy" Destro
Day 162: Hasbro G.I. Joe Club Exclusive Adventure Team Air Adventurer
Day 171: Hasbro G.I. Joe Comic-Con Exclusive Cobra Commander
Day 221: Hasbro G.I. Joe Pursuit of Cobra Cobra Trooper
Day 264: Hasbro G.I. Joe Pursuit of Cobra Steel Brigade
Day 284: Hasbro G.I. Joe 30th Anniversary Hazard-Viper
Day 314: Hasbro G.I. Joe Pursuit of Cobra Shadow Tracker
Day 372: Hasbro Jurassic Park G.I. Joe Heavy Gunner Action Figure
Day 419: Hasbro G.I. Joe Pursuit of Cobra City Strike Destro
Day 473: Hasbro G.I. Joe Retaliation Cobra Commander
Day 863: Hasbro G.I. Joe Retaliation Blind Master
Day 1,427: Burger King G.I. Joe AWE Striker with Snake Eyes Vehicle
Day 1,787: Hasbro Revolution First Strike Comic Preview Mega-Set
Day 1,867: Hasbro G.I. Koe Kre-O Collection 2 Dreadnok Ripper
Day 2,241: Hasbro G.I. Joe Classified Series Profit Director Destro Action Figure
Day 2,458: Super7 G.I. Joe Red Ninja ReAction Figure
Day 2,618: Hasbro G.I. Joe Retro Collection Duke Vs. Cobra Commander Action Figures

Want to buy this figure or others like it? Check G.I. Joe availability at our sponsors:
Entertainment Earth