Optimus Prime
Playskool Heroes

Transformers Rescue Bots
Item No.: Asst. 33065 No. 33074
Manufacturer: Playskool
Includes: Nothing
Action Feature: Turns into a truck
Retail: $12.99
Availability: August 2011
Other: No weapons included

PREVIOUS
RSS
NEXT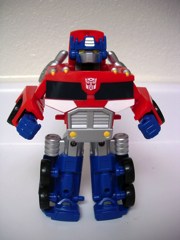 The reviews I've read tell me I'm supposed to hate this Optimus Prime toy but I don't-- I picked it up in August and I keep futzing around with it. It's actually fun to transform, which I can't say about the bulk of the deluxe figures, or many of the larger Cyberverse toys. I don't necessarily want every toy to be a challenge or a puzzle where pieces fall off if I screw up, this one is a great desk toy because in 7 seconds you can convert it and feel like you've actually accomplished something with your day. Aside from continuing to not go by the recommended age on the packaging.
While the few Imaginext toys I've played with require no instructions to understand, Optimus Prime is a little tricky in spots. The package boasts a one-step transformation but that's not entirely true. Packaged in robot mode, you have to push his legs all the way back (a small latch needs to be pressed firmly against the legs to lock in the head), then you can lock in the head, push in the arms, and rotate back the feet. Going from truck to robot requires you push down the legs, and rotate down the feet-- the rest is done automatically.

At about 7-inches tall, this weapons-less figure has a 5mm peg hole in his fist for accessories sold separately with human figures (a smart ploy to upsell the less-exciting human characters) unless you're sitting on a cache of MechTech or Energon weapons from older lines-- those work too, but he still looks OK without a gun.
Were this same engineering applied to "classics"-style toys, I bet a lot of fans would complain, but having just prepared for a move I can say transforming a lot of these guys is a huge pain in the neck. This toy takes about 5 seconds, rather than about a minute, and it always goes smoothly. I wish it had better arm joints (which is to say, any) but the toy has stayed on my desk for several weeks and I keep playing around with it, while Wreck-Gar got transformed once and I immediately said "well, this is a pain, off to the shelf with you." And I was much, much more excited to find Wreck-Gar. While not as detailed and lacking in the gee-whiz factor of a normal "Classics" toy, it's certainly more enjoyable to goof around with this one.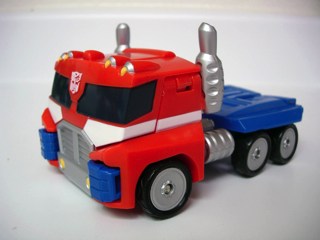 In vehicle mode, Optimus Prime has six rolling wheels and no other features. As long as the legs are pushed up in place, the head will remain locked down and you can roll him around on the floor or on your desk. Given how few of the Hasbro toys have really good rolling wheels, I guess you could make a strong case for this vehicle mode being better than other toys. There's no trailer hitch and, obviously, his fists are visible in truck mode.
I haven't picked up Bumblebee or Heatwave (or the others) yet, and I'm not sure I'm going to. I really like the format, and the motors on the human figure accessories make a pleasing, Starcom-like sound. Optimus is basically a cute transforming statue, which you can tell from the hands-on packaging which will allow kids who put their fingers in their nose and on God knows what on your toys before you get a shot at it. WHY DO YOU AND FISHER-PRICE DO THIS, HASBRO? I'm probably the only collector who wants more closed-box packaging with no windows or try-mes on them. But even though this is basically a loose toy on a cardboard tray, I like it, and I may pick up the others if there's a sale or price drop. I hope the line continues and includes Decepticons some day, I'd absolutely buy a grey tank Megatron to go with Prime, and if the line ended tomorrow my toy collector disorder may prompt me to complete the set. But if this goes on forever, I think I'd be happy with just Prime here. It's a good purchase, I just don't feel I need to own the set just yet.
If you're a parent looking to buy a gift and found this review, I think most little boys over 7 would be insulted by this. Heck, I'd say the same about older collectors-- but having no shame, I feel this is a toy that delivers on its promise of quick transforming fun and its limitations remind me a lot of earlier Transformers toys in the 1980s and 1990s. It's a refreshing change, but I don't know if I'd want to see all figures made in this style going forward. For the little kids or lovers of fun toys which may not look particularly baadasssss, as the kids (of 1971) might say, I can't think of a better purchase.
--Adam Pawlus
Additional Images

See more Playskool toys in Figure of the Day:
Day 273: Playskool Transformers Rescue Bots Optimus Prime Action Figure
Day 1,405: Playskool Transformers Rescue Bots Roar and Rescue Heatwave
Day 1,419: Wendy's Playskool Definitely Dinosaurs Triceratops
Day 1,434: Wendy's Playskool Definitely Dinosaurs Anatosaurus
Day 1,446: Wendy's Playskool Definitely Dinosaurs Apatosaurus
Day 1,473: Playskool Transformers Rescue Bots Deep Water Rescue High Tide
Day 1,473: Playskool Transformers Rescue Bots T-Rex Optimus Prime
Day 1,513: Playskool Transformers Rescue Bots Quickshadow
Day 1,523: Playskool Transformers Rescue Bots Salvage
Day 2,109: Hasbro Playskool Heroes Series 2 Marvel Super Hero Adventures Clear Spider-Man

Click here to see more Transformers figures in Figure of the Day.

Want to buy this figure? Check Transformers availability at our sponsors:
Entertainment Earth